Top 7 Internet Filters for Families
Internet filters act as a security gate between the user and the web, allowing them to block or filter unwanted content (social media sites, gambling, YouTube, violence, games, addiction, and other damaging materials). With so many different options on the market, it can be challenging to decide which one to pick.
To help you out, we've created a comprehensive guide on the most accessible filtering solutions. So, let's see what's the best internet filter and learn how to filter the Internet.
Different types of computer filters
When it comes to home internet filtering, before deciding on a product, you should educate yourself more on which types of internet filters exist. You might not have known this, but content filtering can be performed in a couple of different ways.
Moreover, different tools are suitable for various purposes. So, before diving deeper into our recommendations, let's see what type of internet filtering software can be found:
Software Filters – web filtering software is the most common method for filtering internet traffic. It most commonly comes in the form of an application that should be installed on desktop computers or mobile devices.
Hardware – hardware content filtering technology utilizes a physical device that should be connected either to your computer or the Internet. These devices are either set up beforehand. Then, all you need to do is to connect it to your home network, and it will do its job.
DNS – this is a free option that entails using services such as OpenDNS as a web filter. All you need to do is to update the primary and secondary DNS addresses in your settings, open an account on OpenDNS. It can filter all connected devices at once.
Internet Proxies – some internet service providers also offer filtering as a part of their service. This can be done through proxies. However, you can also install proxies on your own. The configuration process will only take a couple of minutes.
VPNs – VPN is a virtual private network that keeps your devices safe when browsing. VPNs internet filtering feature can be used either on a router, smartphones, or home computers.
What are the best Internet filters?
Best For iOS and Android Devices
Best For Windows and macOS Devices
Best Free iOS Internet Filter
Best Free Android Internet Filter
Best Router-Based Internet Filter
Best DNS-Based Internet Filter
KidsGuard

⭐⭐⭐⭐⭐

Qustodio

⭐⭐⭐

Norton

⭐⭐⭐⭐

ESET

⭐⭐⭐

Circle

⭐⭐⭐

CleanBrowsing

⭐⭐⭐⭐
​
Best iOS and Android Parental Control – KidsGuard
KidsGuard is another internet filtering solution that can be used to filter a webpage that contains adult content. This is an app that requires a subscription, though.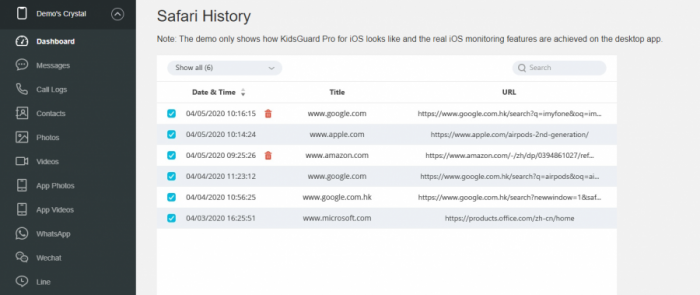 What makes KidsGuard great is the fact that it operates in stealth mode . That means that your kid won't know that they're being tracked.
Besides regular content filtering software features, this app also enables users to do the following: location tracking, social media tracking, checking phone files, taking remote images, and more.
A lot of advanced features
No jailbreaking requires
It requires a subscription
Pricing:
Android monitoring – $29.95 / month
iOS monitoring – $39.95 / month
iCloud monitoring – $29.95 / month
Compatibility: Android, iOS
Best Windows and macOS Internet Filter – Qustodio Internet Filter Software
Qustodio parental control software is a website blocker that comes in both free and paid versions.
Free subscription enables users to control one device, while the paid version allows you to filter up to 15 devices simultaneously.
Some standout features include blocking damaging content – drugs, pornography, etc., monitoring device searches, and SMS and phone call tracking.
This app is compatible with all operating systems. Users can also record child activity, monitor calls, track location, and apply app usage limits.
Advanced features
Has a free version
The free version only allows one device per user
Pricing: Free
Compatibility: Android, iOS, macOS, Windows
Best Free iOS Internet Filter – Norton Family Content Filter
Norton Family is among the best internet protection for families who'd like to ensure that their kid is safe and productive at all times.
Parents can monitor all web pages their kid has been visiting, blacklist, or whitelist certain websites, block porn, and set time limits.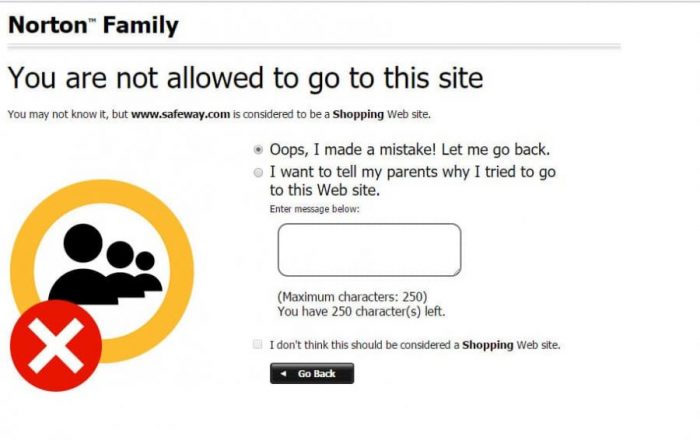 Moreover, they will receive alerts if their kid is trying to break the rules. The paid version allows location tracking and video supervision.
Advanced features require a subscription
You can't see online chats
Pricing: Free
Compatibility: Android, iOS
Best Free Android Parental Control – Eset Parental Control
Eset Parental Control is likely one of the best internet filters for families that use Android devices, the app also made onto the list of the best parental control apps for Android.
All parents need to do is to enter their kid's age, and content restrictions will be applied automatically.
Moreover, parents will be able to see their child's internet history, internet activities, and apply different web filters. And, they can also track their kid's location at all times.
This is particularly great for beginner-level users, as it will save them a lot of time on configuration.
Suitable for novice users
It's free
Only basic features
It's exclusive to Android users
Pricing: Free
Compatibility: Android
Best Router-Based Web Blocker – Circle Parental Control
Circle Parental Control is a router-based solution that enables users to control all devices on a home network. This can be used both as a filtering and security solution.
Once the users tweak the settings, only filtered content for children will be displayed.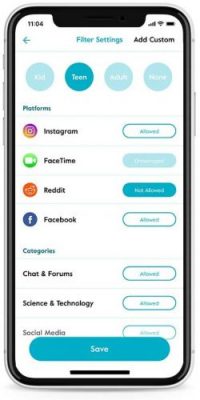 Moreover, Circle also has an app that allows users to control everything with ease and convenience. The device is very compact and stylish, making it a perfect addition to any home!
Advanced filtering and security features
Supports a large pool of devices
It's the most expensive solution on the list
Pricing:
1-Year Subscription – $95.51 / year
Compatibility: Works with almost every Wi-Fi-enabled router.
Best DNS-Based Web Page Blocker – CleanBrowsing
CleanBrowsing is a DNS filter alternative to OpenDNS that can be used to block websites. It intercepts all domain requests, and then filters content that should be blocked.
CleanBrowsing doesn't track any user data, making this solution quite safe. It can be configured either on the router or the device.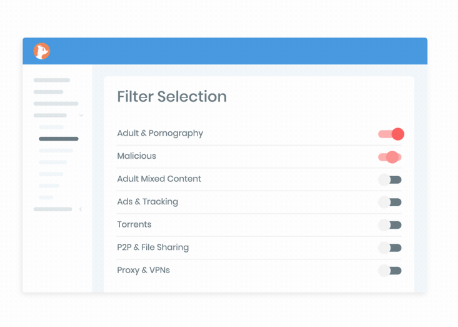 The setup process takes up to five minutes to complete. The company offers three free filters, and some paid options as well. The differences between them include:
Free – blocks adult and obscene content, and it also has safe search filters for search engines that restrict malicious activities.
Paid – has 14 predefined filters. It gives users more control over what they want to add to their blacklists or whitelists. Users can also create customized block pages.
Compatible with all devices
Has a free version
Advanced features require a subscription.
Pricing:
Basic – $59.99 / year – 1 home
Pro-50 – $110 / year – up to 50 devices
Pro-100 – $220 / year – up to 100 devices
Compatibility: Android, iOS, Windows, macOS
FAQs
Do Internet filters really work?
That depends on the internet filter type of choice. If you opt for advanced parental control apps, then they are almost guaranteed to work, as long as they operate in stealth mode. You can also try to use free Google Chrome internet filters.
However, the issue with that is that kids can quickly turn them off or delete browsing history, as long as they have internet access.
How do I filter Internet searches?
You can easily filter search results with software solutions such as KidsGuard. KidsGuard can be used as an internet filter for adults, but also schools and kids.
The setup process is quite simple; here's how it goes:
Go to KidsGuard's website and find the sign-up page.
Choose a subscription plan, enter payment details, and download the app.
Follow the given instructions to set up the app.
Once done, go to your control panel and create filtering categories.
How do schools filter the Internet?
When it comes to the best internet filtering software for schools, they usually use one of the three following filtering mechanisms:
The Blacklist Mechanism – it checks each access request against a list of previously set prohibited websites, Lists are updated by the service provider and can be found on other internet safety groups.
Category Filters – these are used to block content categories on the Internet. This often includes adult websites, violence, and child abuse.
Keyword Filters – keyword filters block browser access to websites that contain high volumes of inappropriate keywords. The school's administrator can configure the keyword list.
Lastly, schools also use whitelists to allow access to websites that might have been previously blocked by accident. This is usually done manually, and it can be categorized by age.