TeenSafe Review – A Parental Control App That's Worth Your Attention
Spy apps have become increasingly popular in recent years, as parents and employers seek ways to monitor digital activity on target devices. Teensafe was one such spy app that was once popular among parents looking to monitor their child's digital activity.
Even though Teensafe has been out of the game for a while after their humiliating data leak, it doesn't stop us from writing a review on it.
So, we'll dig deep into Teensafe's:
Compatibility
Features
Pricing
The installation process (Android & iOS)
Pros and cons
Ready to get started? Let's dive in!
What is Teensafe?
Teensafe is a remote child tracking and monitoring app that boasts a wide range of features. You can track messages, listen to calls, track GPS location, and set up geofences to keep them safe – all that from a single control panel on the company's website. Also, the easy 3-step sign up process means you can be up and running within minutes.
Quick Review
Our rating
6 / 10
Compatibility
iOS
Android
Live Demo/Free Trial
Yes/14-day money back guarantee
Key Features
Call and text message monitoring
GPS tracking
Social media monitoring
App monitoring
Jailbreak/rooting required
No
Link
Learn more
Teensafe Compatibility
Teensafe was designed for use with Android and iOS devices. Therefore, if your child, employee, or spouse has one of these, you are in luck! However, not all devices are supported. Below is a table showing the minimum OS versions that Teensafe currently supports:
| | |
| --- | --- |
| OS | Minimum Version |
| Android | 4.0.3 and up |
| iOS | Any version of iOS |
Note: It's worth mentioning that most Teensafe features don't require your phone to be rooted/jailbroken for it to work.
How Does Teensafe App Work?
Once installed in the target device, Teensafe works by stealthily fetching and sending information to your account. This information is stored in their cloud servers.
You can then see, inspect and act on this information at your convenience. From the Teensafe dashboard, you will be able to see:
Contact information
Social media messages
Whatsapp conversations
Incoming & outgoing calls/ activities
Browser history
GPS location
SIM Card location
Teensafe is 100% undetectable to the user. It manages this by not being resource-intensive and hiding the icon.
Once you have an account and subscription, all you need is to set up the device. You can then monitor it from the dashboard.
Teensafe Features
Whether you want to know where your loved ones are at all times, or you are just trying to keep them safe, Teensafe has something for you.
Teensafe offers a ton of features. Besides, most of these features are available for both Android and iOS devices.
However, in this article we will discuss the following seven:
Call tracker
SMS tracker
Web History tracker
Location tracker
Geofencing
Social media tracker
SIM tracker
Call Tracker
With the amount of time kids spend on the phone nowadays, knowing who your child is talking to is crucial. That's because they could be talking to sexual predators too.
As such, Teensafe's "Call tracker" feature allows you to:
Call logs
Call duration
Contact information
Call type
Date and time stamps
Frequency
Log overview
The log overview feature is particularly unique to Teensafe. It allows you to analyze the call logs for a red flag.
Teensafe also boasts the ability to listen to any call made to or from the target device. This may either be recorded or live and as it happens.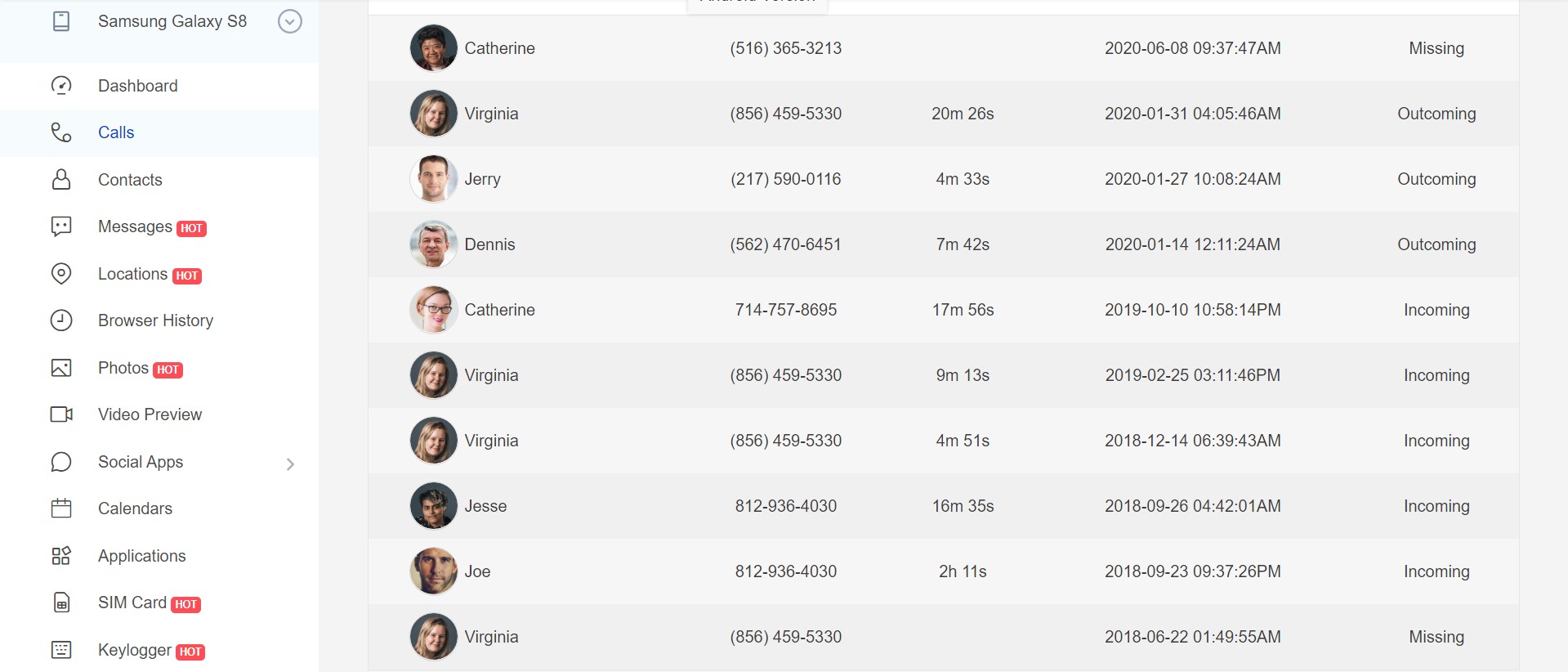 The information is all neatly arranged on the dashboard. This is one of the neatest we have seen. It allows for the sorting of logs based on different parameters.
SMS Tracker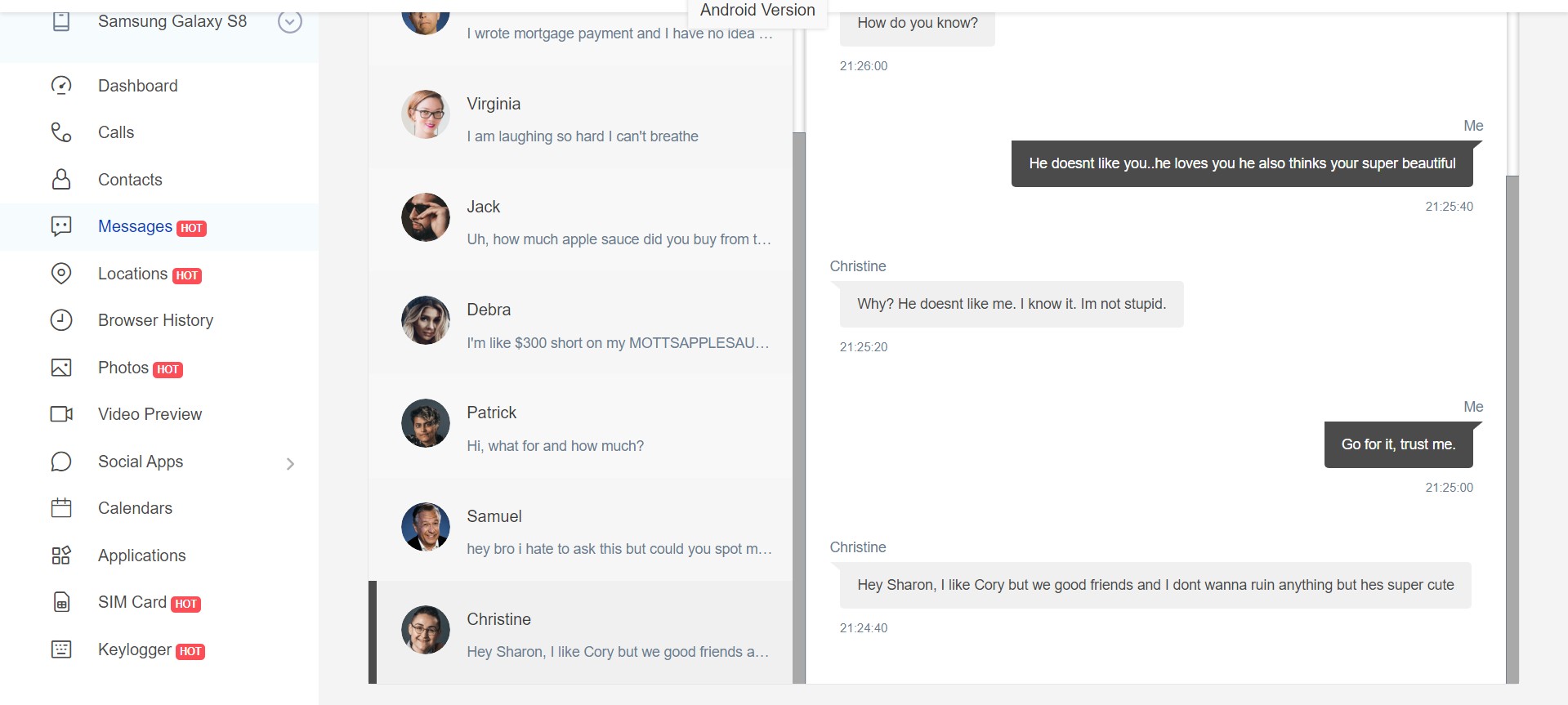 Many employees often slack during work hours, just texting. Also, do we even know what these kids are up to nowadays?
Teensafe SMS tracker allows you to 100% discreetly do workplace monitoring and parental control. The information then makes it easy to protect your loved ones.
From the dashboard, Teensafe allows the user to:
View all incoming and outgoing SMS and iMessages
Read their deleted SMS and iMessages.
View media files,
Timestamps
Contacts info
It is also great that TeenSafe just takes a few minutes to get the texts. This is because of the easy setup and installation process.
Another unique and neat feature is the ability to view OTP (One Time Passwords). This allows you to log into their accounts even if they have two-factor authentication.
Note: Root or jailbreaks are not required for Teensafe's SMS and iMessage features to work.
Web History Tracker
If someone close to you has been acting strangely, you can know a lot about them through their browser history.
For starters, you will be able to know which websites they visit and how often. And in today's digital world, Teensafe can shield you and your loved ones from the harms of the internet.
Teensafe allows you to view:
Browsing history
Favorite websites
Website URLs
Visit frequency
Date and Timestamps
If bookmarked or not

You can view all this information conveniently from the Teensafe dashboard. Just select the Browser history option on the tab.
The information is well arranged, making the dashboard a pleasure to use. The dashboard also features different customizations to suit the unique needs of Android and iOS users.
Note: Root or jailbreaks are not required for Teensafe's Web History Tracker to work.
Location Tracker
If your child or loved one has been spending too much time away recently, Teensafe can help you know where they have been going to.
This is important because children easily succumb to peer pressure. They can easily fall victim to bad behavior.
Teensafe is also very useful to employers. According to Teensafe, countless employers regularly use it to keep tabs on their field job employees. They can know if the employee is on-site.
Teensafe allows you to precisely track target Android and iOS devices. It also allows you to view:
GPS location
Exact coordinates (Latitude and Longitude)
Addresses and neighborhoods visited
Location in detailed 3D street view

Every time you are concerned about your child, you can easily see where they are. Simply go to the Location tab on the left-hand side of the dashboard.
You can view the simple google map view as seen above. Streetview is also available.
Geofence
As parents, we are always wondering where our children are where they are supposed to be. For example, you may be worried your teenager is not at school.
With Teensafe's Geofence feature, you can quickly and easily set up a virtual fence. You can also set alerts for when they enter or leave these virtual zones.
Teensafe's Geofence feature will also let you:
Add and delete fences
Exact entry/exit timestamps
Set home or office perimeters
Once you use geofences, it is hard to go back and Teensafe knows this too. It's extremely convenient for keeping tables on children, loved ones, or employees.
Social Media Tracker
People around you collectively spend unbelievable amounts of time on social media. What's worse is that you never really know who they are talking to.
Your child may be talking to scammers or rapists, your spouse may be flirting, or an employee may be bad-mouthing, selling secrets, or intending to harm you.
Teensafe's social media tracking feature was made to shield you and your family from social media harm. With access to their social media accounts, you will be able to monitor them and prevent such harm.
Teensafe supports many social media apps depending on your subscription and target device. In this review, we will discuss:
Facebook
Whatsapp
Snapchat
Instagram
Facebook Messenger Spy App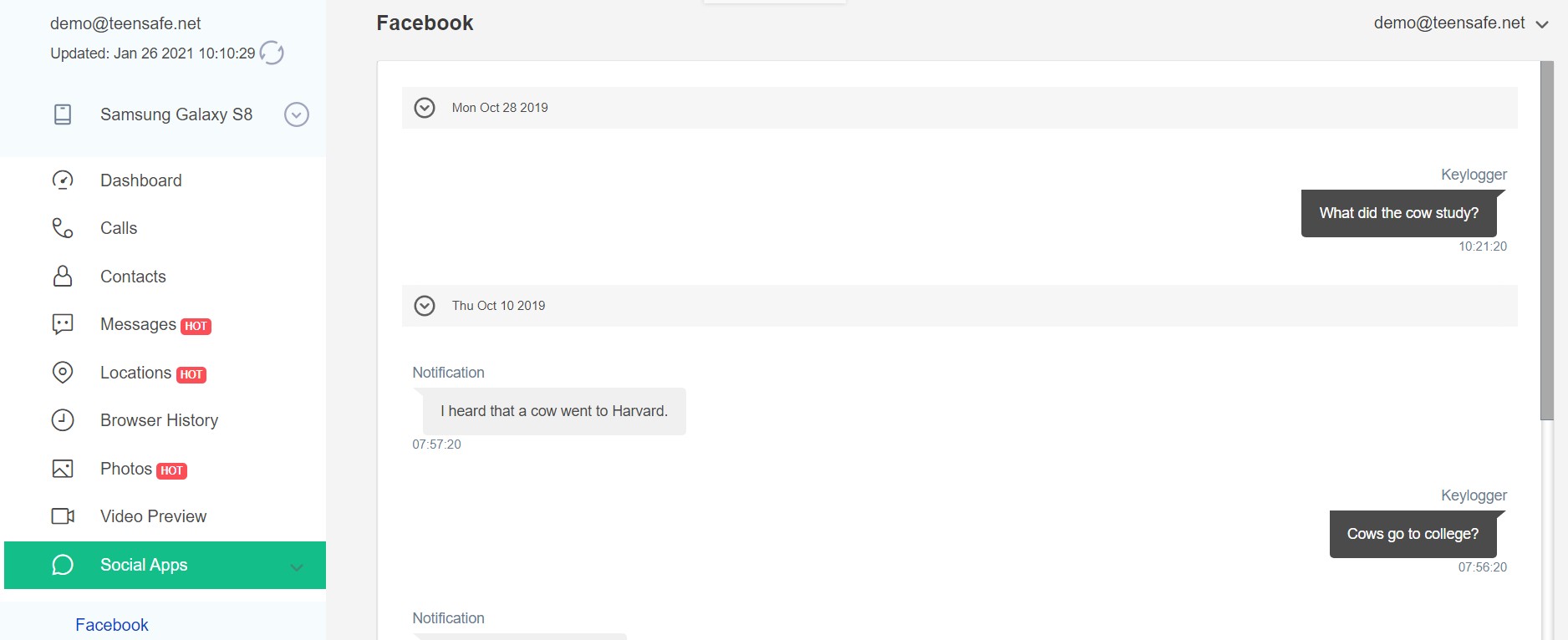 Parents always want to know what their children are spending their time on. Children, to be honest everyone, spend a lot of time on Facebook.
Facebook is filled with online predators and whatnot. Teensafe allows you to rest your concerns by knowing who they talk to and what they say.
TeenSafe can monitor all Android and iOS target devices without having to compromise their integrity.
It gives you access to:
Voice/ audio files
Messages
Pictures
Videos
Documents
Note: Teensafe's Facebook spy app feature allows you to access both Full and Lite versions. There is also no need to root or jailbreak the devices.
Whatsapp Messenger Spy App
Whatsapp is one of the most popular online messaging platforms. As such, a lot of information is shared there.
Having access to this information allows you to protect them. And Teensafe allows you to spy on their devices 100% discreetly.
It will let you:
Read their private messages
Group messages
All the multimedia sent or received
Contact details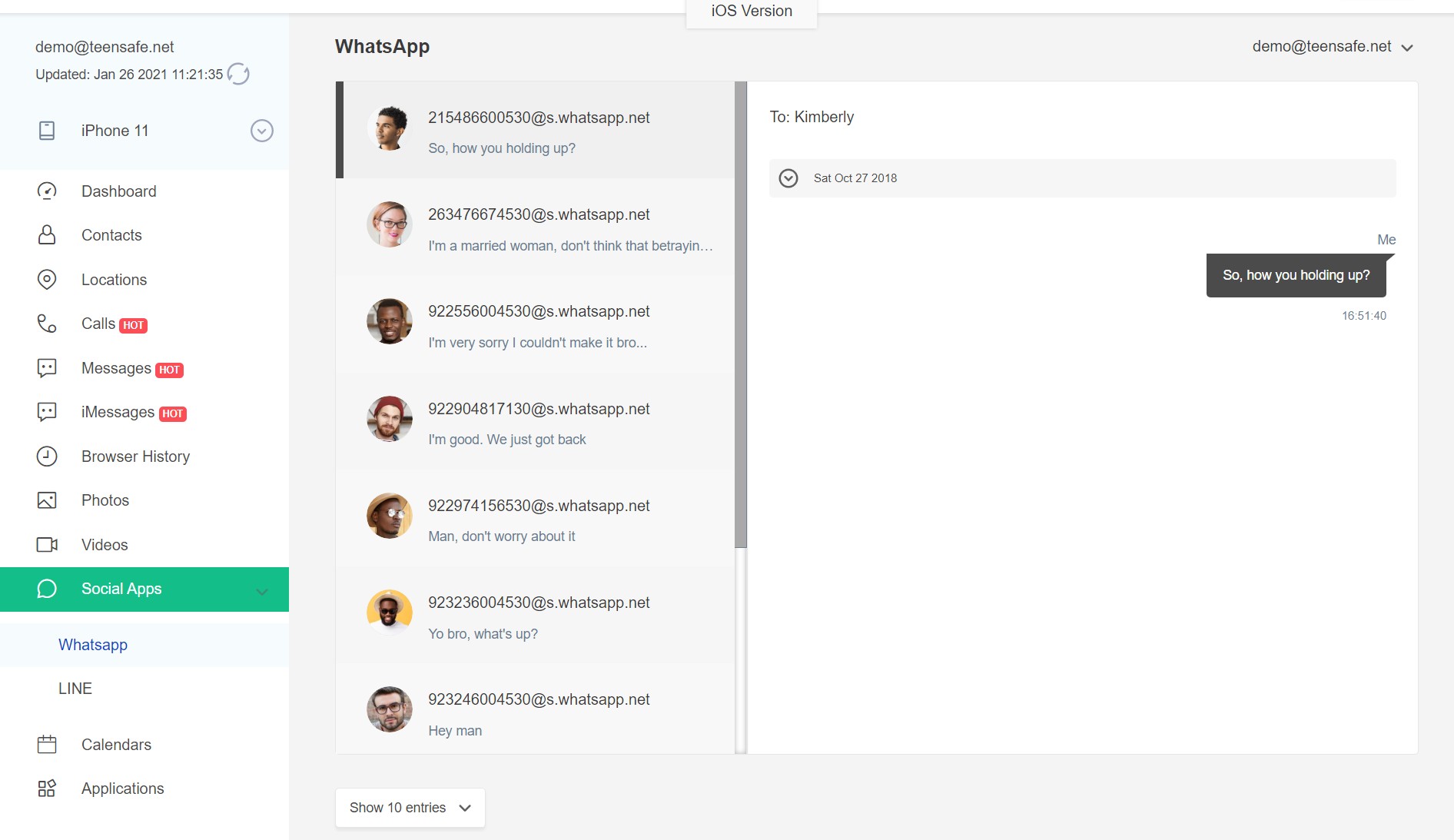 All the information can be accessed conveniently from the dashboard. We did not like the lack of features such as the search functionality. Such omissions make sorting or looking for information harder.
The iOS dashboard is neater and has more information compared to the Android version.
Note: Teensafe allows you to view the entire WhatsApp conversations without rooting or jailbreaking the target device.
Snapchat Spy App
Teenagers share a lot of stuff on Snapchat. This may include inappropriate content such as explicit photos and videos.
Knowing what your child is up to on Snapchat is, therefore, important. You may be able to prevent them from doing regrettable things.
Teensafe, ensures your teenagers are safe by allowing you to:
View incoming and outgoing Snapchats
View deleted chats
Know the people they talk to
View shared media files on Snapchat
Instagram Spy App
Parents continually express concerns over their children's Instagram habits. As such, they need to know what teenagers are up to.
Teensafe allows you to access your teenager's phone through its Instagram spy app feature. It allows you to:
See who they are chatting with
See who they follow and who follows them
Access the Photos and Videos they share with others
Note: Like most of its other features, Teensafe allows you to use Snapchat without rooting or jailbreaking the target device.
SIM tracker
SIM tracking is a very useful monitoring tool. It gives better results in unique cases such as phone tracking when GPS is turned off. This makes it a great backup.
Even if your child, employee, or spouse turns off location services on their phone, you can still track them.
You will be able to see:
Location history
Current address
Longitude and latitude
Time and Date stamps
Teensafe SIM tracker features notifications too. This means you can be alerted when the target device's SIM card gets changed.
We also like the fact that it will send the email notification, in addition to details of the new sim card. All these can be viewed on the dashboard.
Note: Teensafe's SIM tracker is available for both Android and iOS. Others we have reviewed before only have it for Android.
How Much Does Teensafe Cost Monthly?
Teensafe's pricing is dependent on:
Android or iOS
Number of devices
Features
The price will also increase depending on the subscription plan.
Teensafe for Android
| | | | |
| --- | --- | --- | --- |
| Subscription Plan | 1-Month Plan | 3-Month Plan | 1-Year Plan |
| Basic | $39.99 | $49.99 | $69.99 |
| Premium | $59.99 | $69.99 | $99.99 |
| Family | $99.99 | $119.99 | $119.99 |
Teensafe for iOS
| | | | |
| --- | --- | --- | --- |
| Subscription Plan | 1-Month Plan | 3-Month Plan | 1-Year Plan |
| Family | $99.99 | $199.99 | $399.99 |
| Premium | $49.99 | $79.99 | $129.99 |
| Business | $199.99 | $699.99 | $999.99 |
The pricing seems to be fair for the features offered. However, it would be great if the features on Android were standardized as they are on iOS.
Teensafe Installation & Setup (Step by Step)
Teensafe is simple and easy to install on target devices. All installations are stealthy making them 100% undetectable.
Teensafe has a different install procedure for Android and iOS. However, in both, you can be up and running within minutes.
Installing Teensafe on Android
In just three steps, you can be up and monitoring a target device according to Teensafe:
Step 1: Signup for a free Teensafe account using your Email.
Step 2: Download, Install & Set up Teensafe on the target device.
Step 3: Log in to the Teensafe dashboard to monitor and control from any web browser.
Requirements
Teensafe account and subscription
Access to the target device
In this review, we provide you with our detailed five-step process which we found easier and convenient for installation and setup.
Step 1: Signup for a free Teensafe account using your Email
Before you can start monitoring your spouse, employee, or child's phone, you'll need a free Teensafe account. Follow the following steps:
Navigate to Teensafe and click on the "Sign Up Now" button to register for a free account.
Enter your email and key in your password of choice. These will be your Login credentials.
Step 2: Prepare the Android Device
To set up the target Android device for Teensafe, complete the following steps on the Setup Wizard Page:
Enter a name to identify the owner of the target device. Select the mobile device as "Android"
Go to "Settings" > "Security"> Enable "Unknown Sources" and tap on "OK"

Go back to "Settings" > "Google" > "Security" > "Google Play Protect" and Disable from the toggle "Improve harmful app detection" & "Scan device for security threats".
Step 3: Install Teensafe on the Android device
Now you can finally proceed to install the spy app on the target device. To get started, here's what you need to do:
Use the TeenSafe Android app link provided during the TeenSafe set up on the web browser you are using.
Proceed to follow instructions on the page to download Teensafe's APK file which you'll be installing shortly after.
Note: The APK file can be found from the "Notifications" pop-up window or in the "downloads" folder
Once you find the APK file, tap on it and the clock "INSTALL" and "OPEN" to start the app.

Once you've launched the app, read the Privacy Policy & EULA and press "Agree".
Proceed to enter your email and password and then press "Sign In".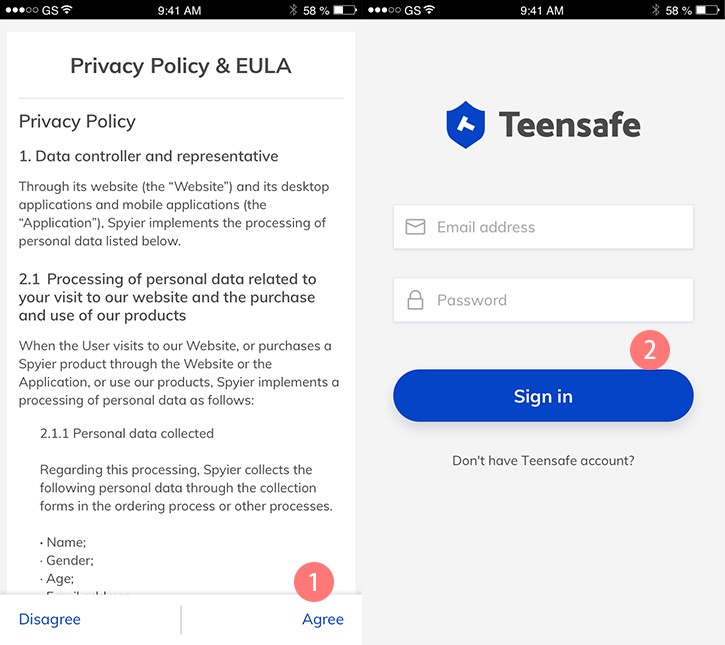 Step 4: Finish The Settings On The Target Phone
After signing in, complete the setup wizard to finish the target device setup. It is important to allow all permission requests for the app to function as intended.
Follow the prompt below to grant the required permissions.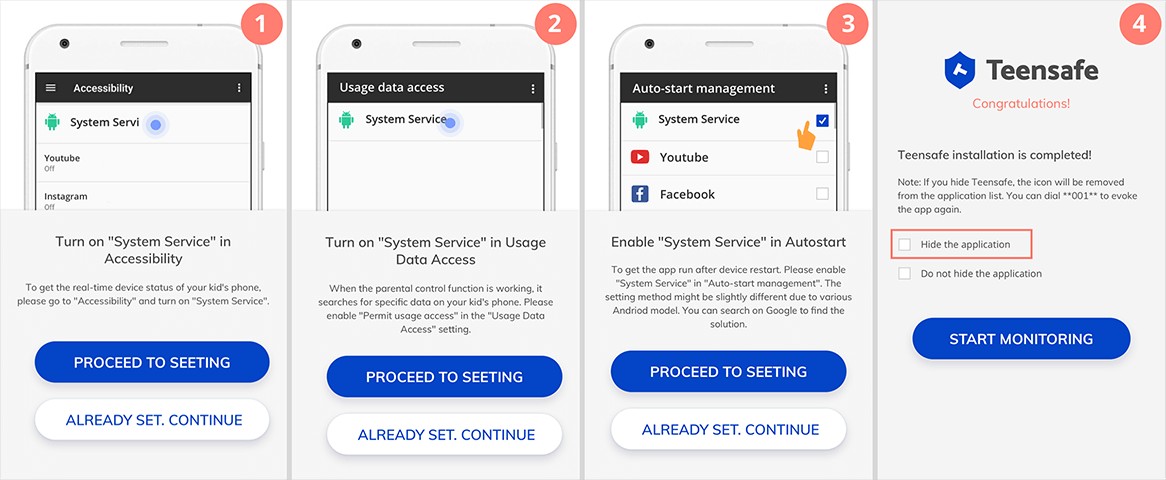 Note: Do not forget to select "Hide the application". The user will see the app icon and know that they are being monitored.
Step 5: View Information From the Target Android device
You can view the data from the Android device from the intuitive dashboard on your left of the web browser. Any other devices with web browsers can be used.
Expect a delay of seconds, maybe minutes before data begins to stream in. please note that the target device cannot be accessed if:
Not powered on
Has no internet access
Unlike other spy apps, Teensafe has also not provided a search bar to browse through data quickly. This might make going through a lot of information difficult.
Installing Teensafe on iOS
Unlike in Android, Teensafe for iOS doesn't need physical access to be installed onto the target device.
Requirements
Premium Teensafe Account
iCloud credentials for the target device
Step 1: Create a Free Teensafe Account and Choose a Subscription
Begin by creating your free Teensafe account by pressing the "Sign Up Free" button and select one of the three iOS plans to access premium services.
Step 2: Complete Target Device Setup
After the purchase, you will receive an email. Click the "Start Monitoring" to enter the Control Panel.
Before the data starts to stream in, you will complete the following four steps in a wizard:
Enter the name of the child, their age, and select the target OS as "iOS".
Enter the target device iCloud credentials and press Verify. ( for devices without a jailbreak)
Select the iOS device you want to monitor e.g. iPhone or iPad then proceed.
Once your installation is successful, press START to go to the dashboard to start monitoring the target device.
Note: Ensure iCloud backup is enabled on the target iOS device and Two-Factor Authentication should be disabled.
Pros and Cons
Pros
Root/jailbreak not required
Remote installation possible on iOS
Easy to install
Easy to use dashboard
100% undetectable
SIM tracking on Android and iOS
Cons
Not all features are supported on both Android and iOS
iCloud credential required for iOS
TeenSafe vs Qustodio: Which Should You Choose?
To find a good phone tracker, sometimes you have to compare different options. TeenSafe and Qustodio are two very popular parental control applications. However, how do they compare when they're put head-to-head in a TeenSafe vs Qustodio comparison? Let's find out.
Call tracking: Both TeenSafe and Qustodio offer impressive call tracking features. They show you details such as the call duration, call type, timestamps, frequency, and the phone numbers on both ends. Further, while TeenSafe allows you to listen in on calls live or records them to listen to later, Qustodio allows you to redirect a call from your child's phone to yours. Both are thus impressive when it comes to this feature.
Social media monitoring: This is one feature where TeenSafe strides ahead of Qustodio. It gives you access to hats on various social media platforms like WhatsApp, Instagram, Snapchat, Kik, Facebook, and more. On the other hand, Qustodio only gives you comapriely in-depth monitoring for Facebook, with the other apps only getting basic monitoring.
SIM Card tracking: Another feature unique to TeenSafe in this comparison isSIM card tracking. This allows you to track your child's location on the map even if they have GPS or Location services turned off.
Pricing: In terms of pricing, Qustodio takes the lead as it offer a free version with limited features, and its most expensive package offers monitoring for up to 15 devices, while TeenSafe only extends monjoring to a maximum of 3 devices.
Customer service: TeenSafe takes the lead when it comes to their customer service. They offer quality customer service regardless of which plan you opt for. On the other hand, if you happen to use Qustodio's free version, you won't enjoy quality customer servce.
Overall, TeenSafe takes the lead in this comparison. A more detailed comparison between the two will show that TeenSafe offers far more features than Qustodio, many of which are also more sophisticated in their implementation. However, if you want an app that can be used to monitor up to 15 devices, Qustodio will be your only option.
How Much Is TeenSafe?
TeenSafe costs $14.95 per month and it offers a free 7-day trial. The price includes all features and an unlimited amount of devices.
How Does Teensafe Work?
TeenSafe works by analayzing and gathering all data on the target device, which is then relayed to the control panel on the company's website. It operates in the background, takes screenshots, and records all phone activities. The installation process is simple:
Open TeenSafe's website
Choose a subscription
Install TeenSafe on the target device
Log into yoru control panel and start monitoring.
Is TeenSafe Legit?
Yes, TeenSafe is legit, but it's not a favorite in the spy app community. Currently, it ranks 54th among other parenting apps and has a 2.12 star rating on consumer review websites. Users also frequently report a lack of communication from the customer service department, as well as a lot of bugs.
Can TeenSafe Be Installed Remotely?
This depends on whether your target device runs on Android or iOS. On Android, TeenSafe can't be installed remotely.
Also, you must have physical access to the target device to install the app. iOS users with jailbroken phones are lucky because they'll be able to install it remotely.
Will the TeenSafe Icon Be Visible in the App Drawer?
No. If you choose to hide it from the phone when finalizing the installation, it will disappear and run it in stealth mode after the setup is complete.
The TeenSafe app icon will also disappear from the installed apps list as soon as you are done. It will then run in the background without the user knowing.
Is It Legal to Use TeenSafe?
Yes. The Teensafe app itself is 100% legal. However, there may be restrictions depending on where you live.
Always check your local laws before using Teensafe. In the US, Teensafe can be legally used to monitor your underage child or spouse with consent.
How Do I Pay for TeenSafe?
Even though Teensafe is a spy app, it is 100% legal. This means you can use any standard payment options. Teensafe accepts Visa, MasterCard, and American Express.
International users can also use PayPal, JCB, and Giropayfor for their payments. If requested, Teensafe will also accept vendor-to-vendor, purchase, and fax orders.
Note: Teensafe's name will also not appear on your bank statement. The purchase therefore cannot be identified easily.
How Often is the TeenSafe Monitoring Log Updated?
By default, TeenSafe updates the data log every 24 hours. However, the update frequency can be as little as 10 minutes for rooted/jailbroken devices.
It is important to note that a higher update frequency will lead to more battery drain. Teensafe recommends setting it at once every 12 hours to avoid suspicion.
Is Teensafe Safe to Use?
Back in 2018, Teensafe closed down due to a customer data leak.
After an investigation, the data leak was attributed to the company leaving their servers unprotected and easily accessible.
It is estimated that at least 10,000 records containing customers' data were downloaded before the servers were taken offline.
This is because, like many other spy apps, TeenSafe stored user information such as Apple ID, email, and phone number, on external servers on Amazon.
In many ways, this can be attributed to a simple case of employee negligence. However, nothing can be left to chance when it comes to security.
Final Verdict
Teensafe is one of the most feature-rich spy apps we have covered. It offers a lot of what the competitors have and then some.
This makes it very well suited for an all in one parental control, tracking and spying app. Whether you are a business or an individual, Teensafe has you covered.
It will not leave you desiring more, and as such, it is one of the best spy apps to consider in 2021.