Spy on iPhone Without Access to Target Phone
Are you always worried about your loved one's activities, or do you want to monitor your employees while at work? In such situations, you can spy on their mobile phones. Yes, you can spy on iPhone without access to the phone! But be careful. This spying must be anonymous. Otherwise, it might strain your relationship with the concerned person.
Now the question is, how can you do that? How can you spy on an iPhone without having it?
The good news is that there are tons of spy apps that can fulfill your tracking and spying needs.
Okay, I know what you're thinking! Are all these apps worth trying? Are these safe enough to ensure your confidentiality? Is it possible to spy on an iPhone without them knowing? Our experts have all the answers.
Can You Put Spyware on an iPhone Without Having the Phone?
Yes, with the latest technologies and modern spyware applications, you can do it quite easily. There's no need to physically access the target iPhone. But of course, there are a few pre-requisites. To be able to do it, you'll need the iCloud credentials of the concerned user.
After real-time testing and rigorous experimentations, we have found the best spy apps for iPhone without target phone to fulfill your spying needs. Let us share them with you!
How to Spy on iPhone Without Access to Phone
Whether you're concerned about your child's wellbeing or suspicious about your spouse's infidelity, spy apps can clear your doubts. There's no need to touch or reach out to the target device as modern applications have eased the hassle.
Let's talk about some of the handpicked spyware apps.
Use the Best Spy App for iPhone Without Access to Target Phone: Spybubble
Spybubble is claimed to be one of the most secure yet effective spyware applications. Exceptional 24/7 customer support is one of the unparalleled features of this tool. It offers effortless access from all browsers. Spybubble's multi-platform compatibility makes it an ideal pick for spying on any device without touching it. It's important to note that the no-touch method only works if you have access to the target's iCloud credentials.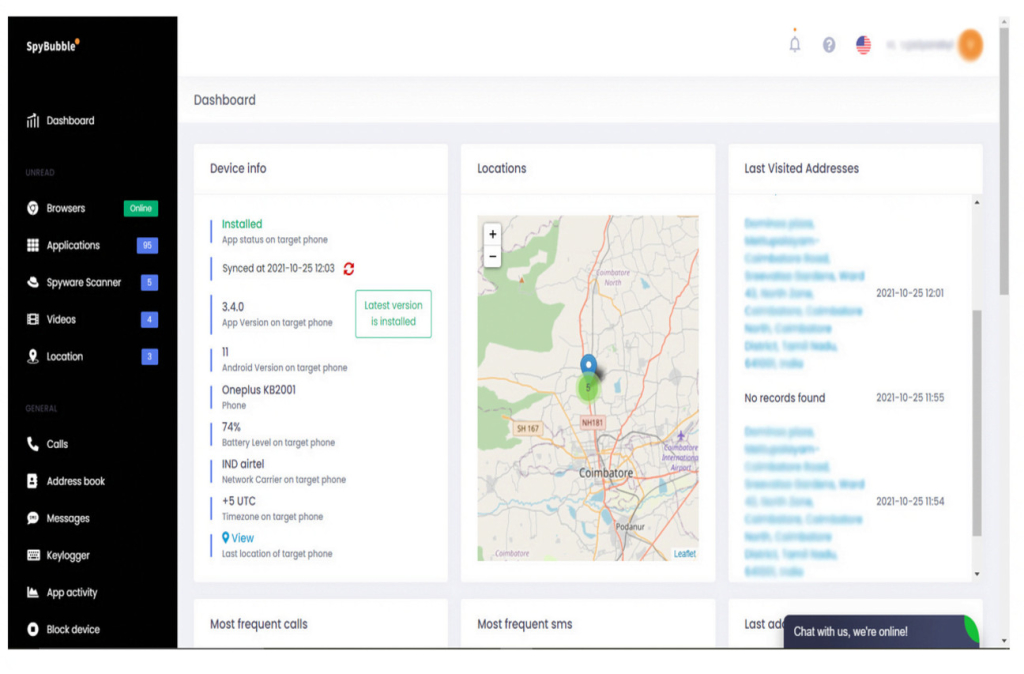 On top of that, this undetectable tool assists users in remaining anonymous throughout the spying process. That's why thousands of people are regularly using this amazing spy app. From location tracking to social media monitoring, Spybubble never disappoints its users when it comes to features, so let's explore some of them.
Features of Spybubble
Spybubble seamlessly tracks anyone's location without any pre-requisite of GPS activation. Even if the target device's GPS is turned off, you can still spy on the iPhone without touching it.
With this feature-rich application, you can track the live activity of any well-known messenger or social media application like Facebook, WhatsApp, Instagram, or Snapchat.
On top of that, reading someone's sim messages has never been so easy before this application. You can even track the browsing history of your child.
You can enjoy app blocking, photo monitoring, and 25+ exciting features without physically accessing the concerned mobile phone.
But everything comes with certain positives and negatives. Let's analyze the pros and cons of Spybubble below:
Pros cons:
Pros
No need to root or jailbreak your device
Interactive and easy-to-use interface
One-stop-solution for all spy-related needs
Shows app usage in real-time
Cons
Requires iCloud credentials for accessing an iPhone
Pricing
Spybubble pricing varies according to your requirements and the device's operating system.
For Android Users

For iPhone Lovers

Use iCloud to Spy on iPhone Without Installing Software
You might be wondering if it is possible to spy on an iPhone without installing any software or applications. And the answer is yes! You can use natively installed iOS applications such as "Find My iPhone" and "Find My Friend" to spy on any Apple device.
These applications can sync with iCloud. Basically, Apple introduced the "Find My iPhone" functionality to counter issues of mobile theft. Using Apple ID details, the owner can easily locate a lost phone or make its data inaccessible to the thief.
If you can get access to someone's Apple ID and password, you can effortlessly track their location as long as it's turned on.
Here's how you can access an iPhone without touching it:
1. Open the Find My iPhone application or go to iCloud.com/find from your browser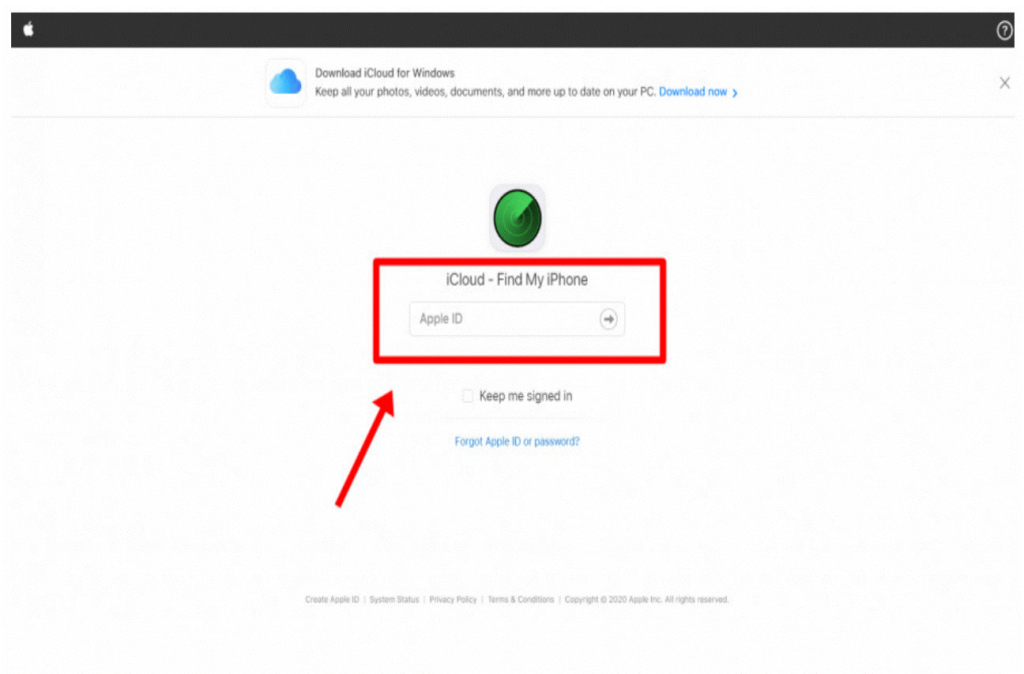 2. Enter the Apple ID details of the target user and make sure to click on 'Select All Devices'.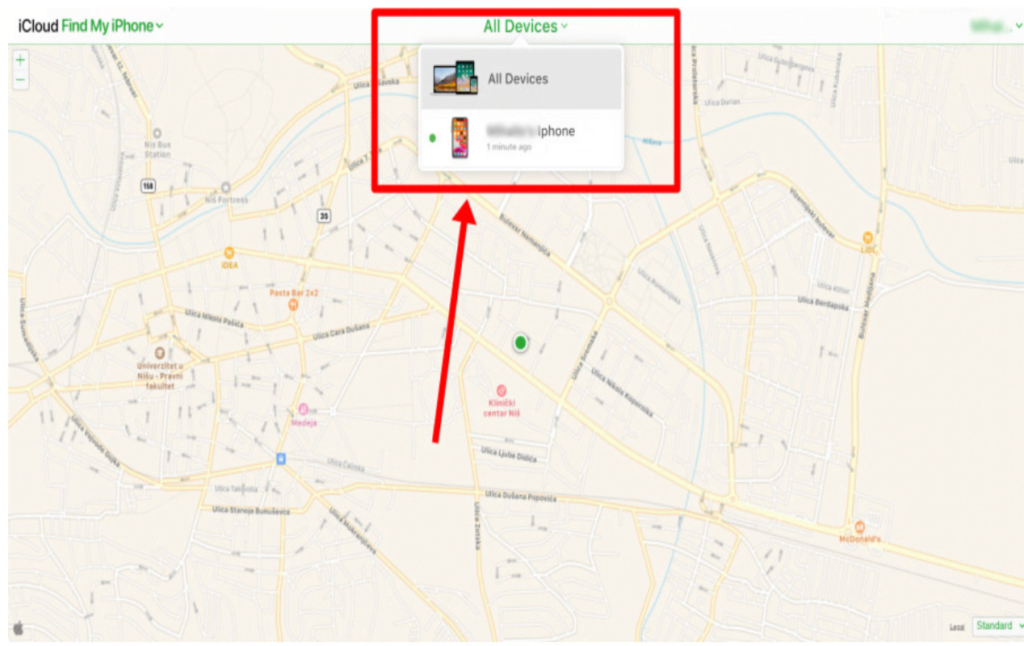 3. Click on 'Find iPhone' to get the location of the concerned mobile phone.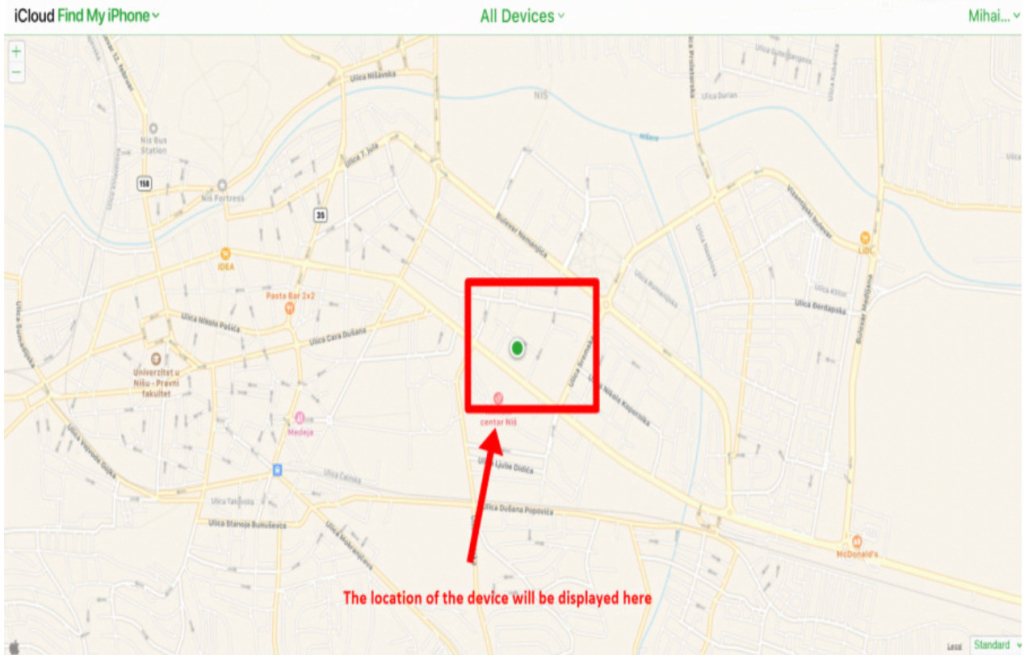 Pros cons:
Pros
Root/jailbreak not required
Remote installation possible on iOS
Easy to install
Easy to use dashboard
Stealth mode
High accuracy
Has near real-time data sync for some features
Cons
Expensive, especially for iOS users
Some advanced features require root/jailbreak
Not all features are supported on both Android and iOS
iCloud credential required for iOS
Use a Recovery Stick to Spy on iPhone Without Target Phone
The Recovery Stick gives fast access to deleted data of the target user. When someone deletes messages, images, or any kind of data from the phone, it stays there for some time. After deletion, normal file managers can't read these files. But, with this amazing recovery stick, you can work like a real spy and retrieve all the deleted data.
You can recover deleted messages (from messengers like FB, KIK, and others), contacts, and even the browsing history of the targeted device. Let's discuss how to spy on iPhone using PoofPronto's pen drive. 
How Does Recovery Stick Work?
The working mechanism of Recover Sticks is extremely simple. You just need a window-operated PC with at least two USB ports and do the following:
Connect the required iPhone to the Computer via a USB port.
Now, side by side, insert your PoofPronto's pen drive in the other port.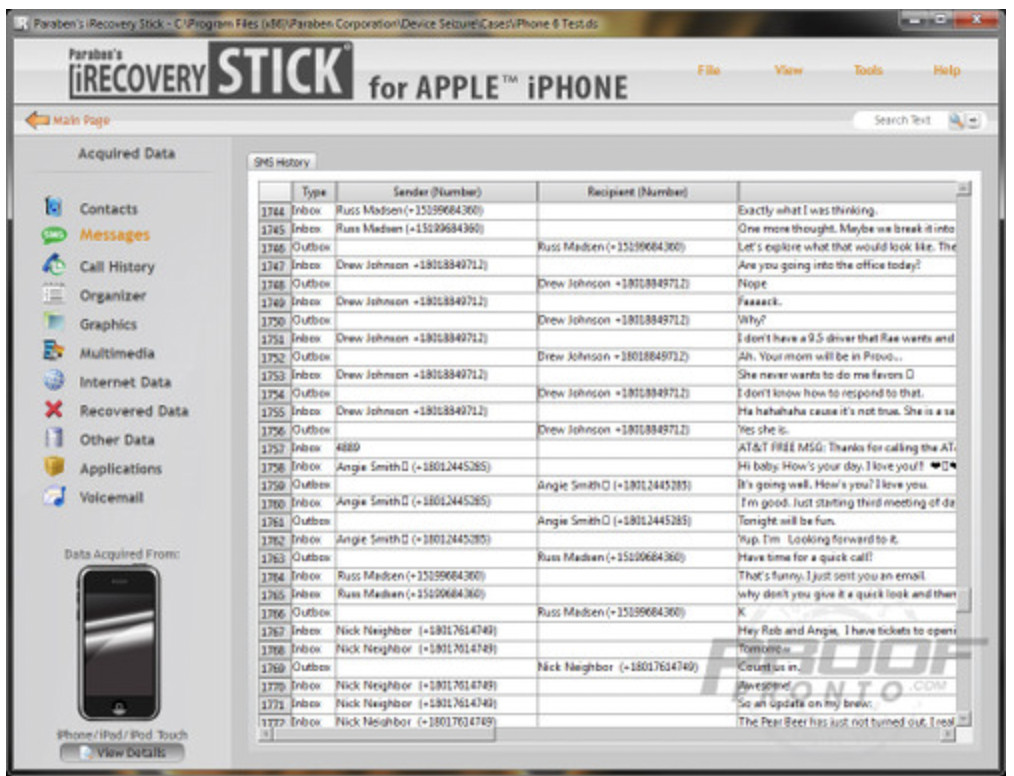 The Recovery Stick will start the data recovery process, which may take some time depending upon the amount of retrievable data.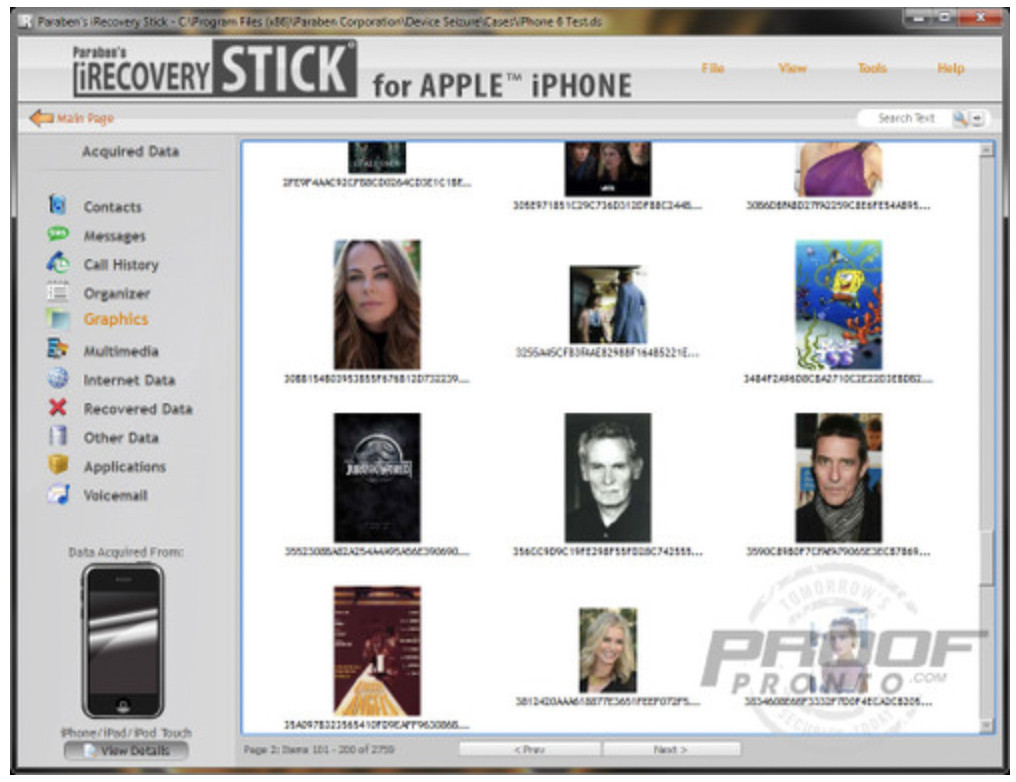 Once done, select the required data and recover it.
Recovery Stick offers an exceptional search feature that allows you to look for any particular data you want.
Pros cons:
Pros
It can give you access to previously deleted data
You can even restore iTunes backup without physical access
Offers free lifetime assistance for customers
Cons
It requires a Windows computer and temporary access to the target device
Does not facilitate spying on WhatsApp, Insta, and Snapchat conversations
Can Someone Put Spyware on Your iPhone Without Touching It?
As we've mentioned earlier, with apps like Spybubble, spyware can be easily put on your iPhone without touching it. Spy applications track, collect, and report cell phone activities to you via a handy dashboard. 
How To Spy on an iPhone Without Them Knowing for Free?
You can use natively installed applications like 'Find My iPhone' and 'Find My Friend' to track anyone's location for free. Open the "Find My iPhone" application and enter the required details. Select all devices and hit 'Find iPhone' to start tracking.
What's the Best Spy App for iPhone Without Access To Target Phone Free?
"Find my iPhone' is the best free spy app for remotely accessing any iPhone for free. To get aid from "Find My iPhone" Apple ID and password would be required. If you want to enjoy all spying functionalities, an affordable Spybubble subscription would be worth your investment.
Can You Put Spyware on an iPhone Without Having the Phone?
With spy applications and iCloud credentials of the target user, you can easily access someone's iPhone without having it physically. There's even no compulsion to jailbreak or root the target device.
Conclusion
Nowadays, it's hassle-free to spy on iPhone without access to the phone. Applications such as Spybubble can assist in spying on anyone's sim details, location changes, social media conversations, and many more. 
With a few clicks, you can monitor everything about your loved ones without being caught!