pcTattletale Review: A Spy App With A Completely Different Monitoring Style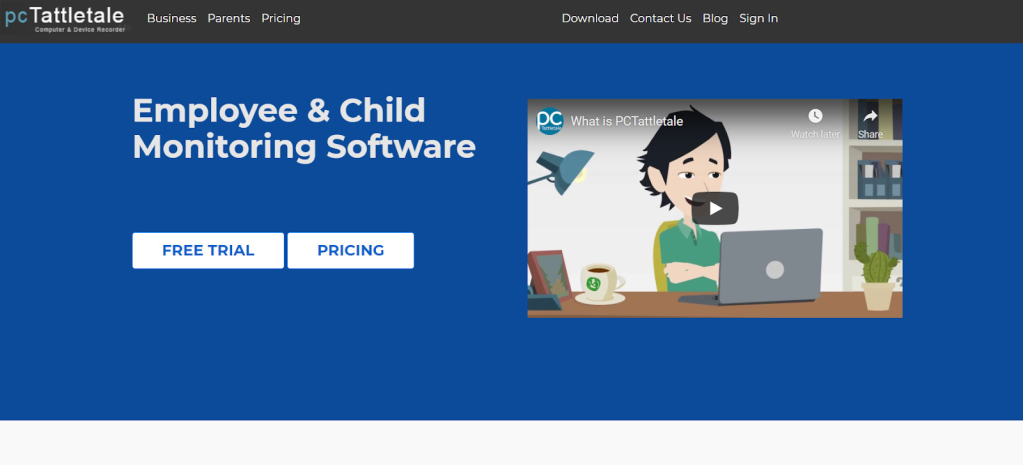 People have been doing dubious things behind others' backs since the garden of Eden! Yes, humanity is inherently bound to go against the norms. Whether it is a stubborn child, a stealing employee, or a cheating partner, deception and non-compliance come from all fronts.
Luckily, humans have evolved to anticipate this and tools have been developed to keep us in the know. Spy apps are such tools and today we will be discussing pcTattletale. pcTattletale is an employee and child monitoring software, for concerned parents, employers, and spouses. If you want to see what your kids, employees, or spouse is up to online, pcTattletale is the software for you. In this review, we will take a look at pcTattletale's:
Compatibility
Features
Pricing
Pros and cons of pcTattletale
FAQ
What Is pcTattletale?
pcTattletale is a powerful spy app for phones that lets you monitor all sorts of activities performed by the target user. It works silently in the background, capturing all data and relaying it to a personalized control panel which you can access on the company's website. It's jam-packed with different features, all of which we'll discuss in detail further in the article.
How pcTattletale Works?
pcTattletale is an Android spy app that works like most other parental control and monitoring software in the market. It is a small piece of spyware, which once installed on the target device, it can upload all requested information. To get the app, you have to register on the pcTattletale and get a premium subscription for all the features to work. You can then access all the information captured by the app on your online dashboard. This allows you to monitor your employee, child or spouse remotely at your convenience. The app can also easily be uninstalled from the target device once its purpose is served.
pcTattletale Compatibility
pcTattletale phone location tracker app is compatible with Android, Kindle and Windows devices. Sorry iPhone and iOS fans, pcTattletale is not compatible. The table below gives you a detailed compatibility list.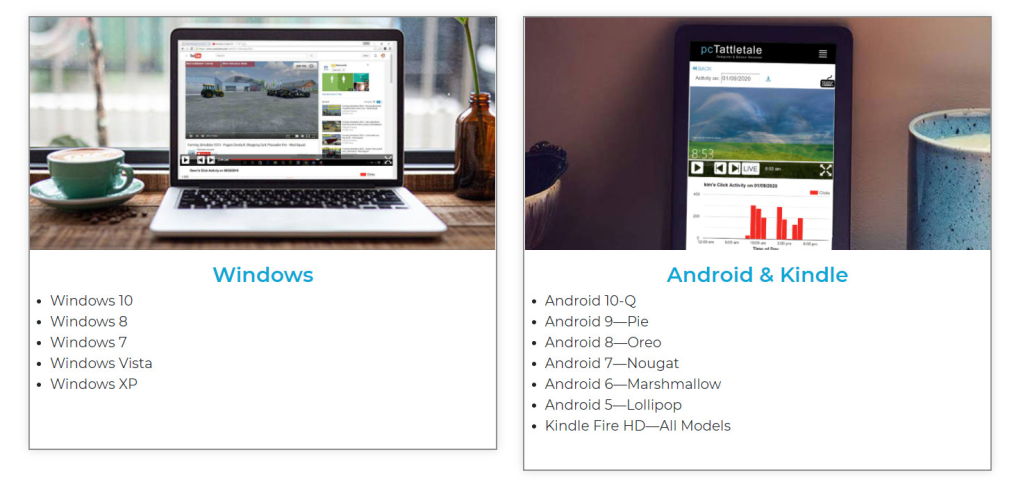 pcTattletale Features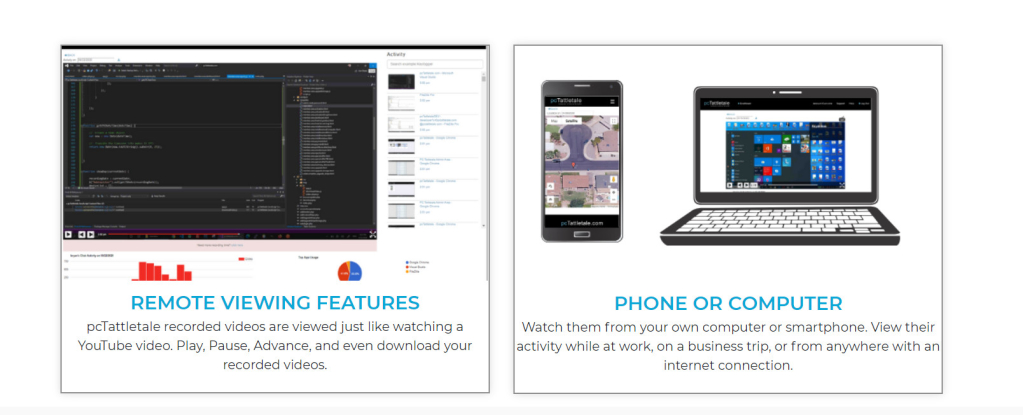 Real-Time Employee Monitoring
Anyone who has managed a business will tell you human labor is very expensive. Whether it is simple salaries, or other resources required for an employee to work efficiently, all are costly! It would therefore be a shame if an employee is wasting valuable company resources. In the past, it was impossible to keep employees in check. However, pcTattletale makes this a past phenomenon.
With its real-time employee monitoring capabilities, employers can actively see what their employees are doing. You can see live capture of their company smartphone and computer screens. Simply install the recorder on every compatible company device, then monitor your entire staff from your secure online control panel.
Remote Workforce Management
It's seldom a company that doesn't have operators in the field. From company drivers to other forms of employees, there are always people out of your immediate reach. As an employer, it is pertinent that you ensure they are the correct locations. An angry customer due to employee lateness is simply unacceptable.
pcTattletale phone tracking suite does all this by giving you real-time GPS locations for your offsite employees. If something is off the schedule, you can intervene in time, before getting customers angry. This system also brings about responsibility and accountability into your business. Another advantage is the data collected can be employed to optimize your business, leading to better profitability and utilization of resources.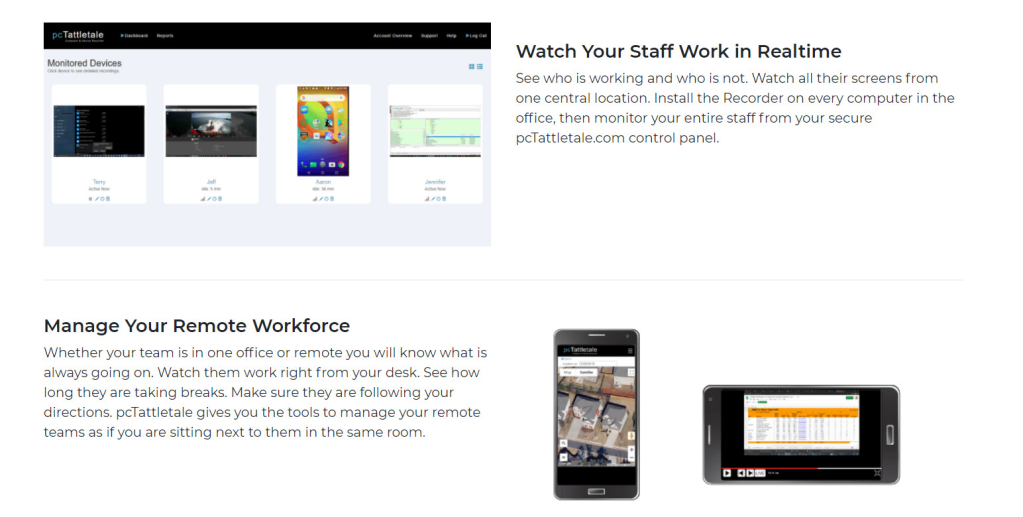 Measure Employee Productivity
Features such as employee productivity measuring are some of the utilities that set the pcTattletale app apart from the rest. You see, unlike other spy apps, pcTattletale is customized for business use cases. The Click-Count Chart is such an indispensable and powerful employee productivity monitoring tool.
Employers can scan the most active employees or system users any time of the day or night. pcTattletale records all clicks, making active times very easy to gauge. The intuitive user interface also allows you to see your whole staff's workday at a glance.
This will give you insights into how your team works, giving you insights into their behaviors and habits. These are all very important factors to monitor for any modern business! This might just be the competitive advantage you need in your business sphere.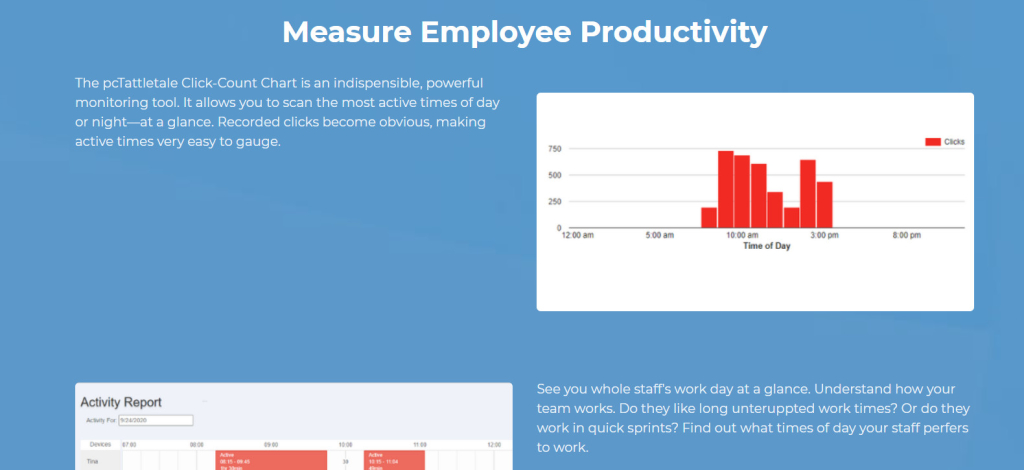 Child and Spouse Location Tracking
No matter how caring or attentive you are, keeping exact track of your kid or spouse is almost impossible. The same can be said to what they are doing or who they are talking to. That is why remote monitoring software like pcTattletale are so valuable to parents and couples like yourself.
pcTattletale utilizes the GPS location tracking chip of the monitored device to give the exact location of the device. This means you can know exactly where your child or spouse is. By looking into movement patterns on the map, you can also gauge what they are up to. The map can show addresses and locations. This gives you a clear picture of where they might be. With the digital world filled with predators daily, one can never be too safe. Make sure to keep track of your loved ones with apps like pcTattletale. You can basically track anyone's phone without them knowing.
Social Media Activity monitoring
Every household has easy and individual access to tablets, computers, or smartphones. This makes it impossible to restrict or monitor your child's communication with strangers as well as the time they spend together. pcTattletale has a ton of tools that can be used to monitor social media accounts. We cannot deny the fact that our kids, employees, and spouses spend almost all of their time online. You can use it to spy on Instagram, or completely access all instant messenger accounts.
This is very dangerous to the young minds of our children. Research has proven time and again the negative effects of extensive online presence on children and adults. It is therefore important that you can monitor time spent as well as who they are spending it with. pcTattletale allows you to protect your children from online dangers as well as dangers like adult content and cyberbullying.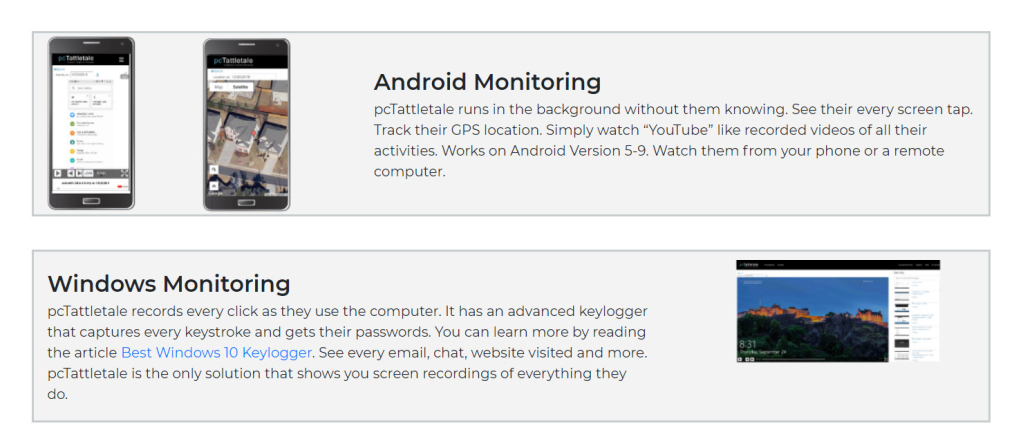 Record Everything On The Target Device
Remote spying is of no help if you miss out on important details. Having the ability to capture everything on the target device is very important. The Viewer feature on pcTattletale allows you to do just that. Once the Recorder is installed, you can have a movie of everything that occurred on the target device. You can even listen to phone calls.
What is more, you can do this across all devices. Children and spouses often have more than one device. Make sure to cover all bases! This way, you become aware of your child's exposure to online risks early. As a parent If you see something that concerns you, you can act on it in time. pcTattletale records the screen with clear date and time stamps for your referral later.
pcTattletale Price
pcTattletale prices all their plans to last for one year. Unlike other app sellers who bug you with automatic rebilling, pcTattletale leaves it up to you. If you are impressed with their services, purchase a new license the next year to keep using. pcTattletale also offers other premium services apart from regular subscription offerings. You can get additional devices as needed after you purchase.
Unlike most spy apps, pcTattletale has a storage limit. Usually, this concerns how long your videos are kept. Usually, you can only "View Last 7 Days" which means you can see the previous week's videos on the family subscription plan. Any older videos are automatically removed. The table below shows the detailed product pricing. So, how much is pcTattletale? These are the prices:
Family – $99
Family Plus – $147
Business – $297
How Do I Install pcTattletale?
To start monitoring with pcTattletale involves very few steps. This hassle-free installation makes it fast and convenient to use. There are different installation procedures for Android, Kindle, and Windows devices. In this review, we will take a detailed look at how to install pcTattletale on an Android device.
How To Install pcTattletale On An Android Device
You can set up pcTattletale on any Android device by following the simple steps below.
Make a free pcTattletale account
Install the android app
View everything from the pcTattletale site using the account
Here is a sample installation.
Step 1: Head on over to the pcTattletale home page to create a free pcTattletale account and get the download links.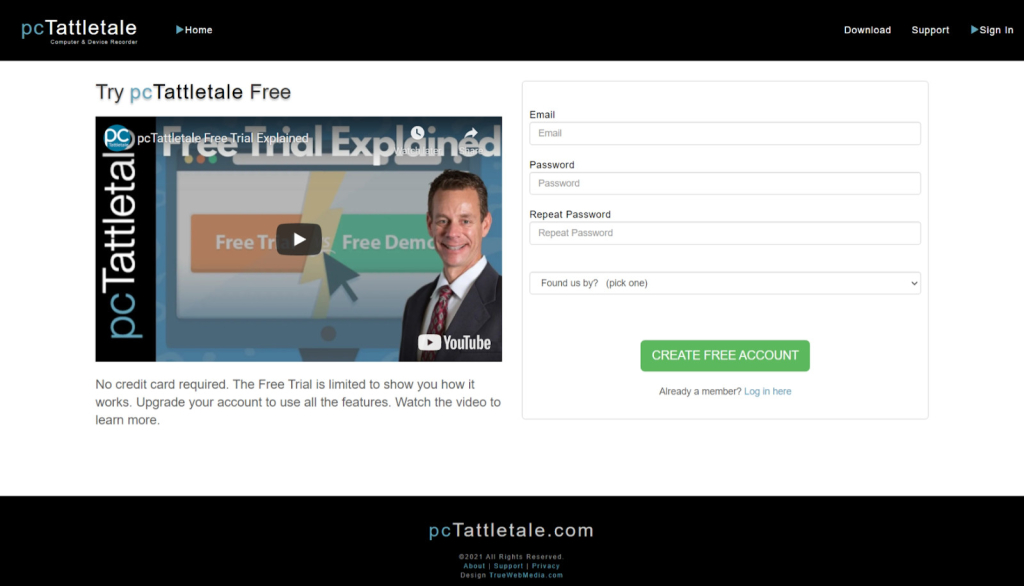 Step 2: Head on to "Account Overview" and "add Device"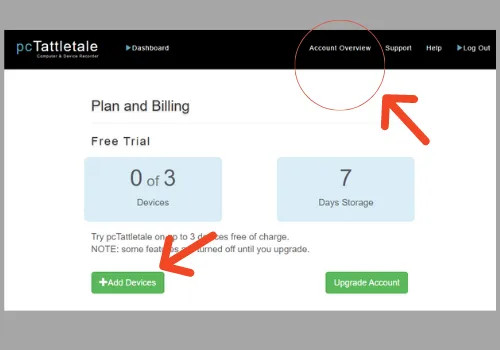 Step 3: Copy the special Android download link provided in your account. This link is unique to you. You can then text, email, or type the link into the target device's web browser to download the app.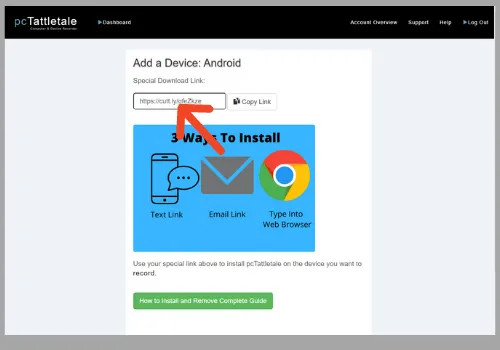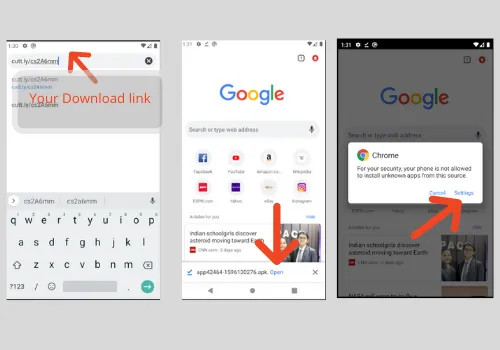 NB: Android will ask you to allow the installation of apps not in the Google Play Store. Make sure to enable this function to install pcTattletale onto the target device.
Step 4: Follow the on-screen instruction to successfully install the app and tap on START NOW once done.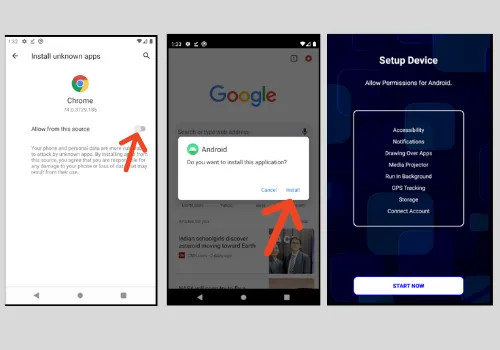 Step 5. Accept all requested permissions. This is necessary for all pcTattletale features to function as intended. Tap on START RECORDING once complete.
That's it. You are done with your installation. Depending on the Android device manufacturer, some additional steps are recommended for a full stealth setup.
Refer to this full installation guide from pcTattletale to check if your device may need extra setup, or in case you run into a problem during installation.
Pros and Cons of pcTattletale
While we would want every product to be perfect, unfortunately, that may not always be the case. There are always the good and bad sides of any app and pcTattletale is not unique in this case. The table below illustrates the pros and cons of pcTattletale.
Pros
Money-back guarantee
Free trial available
Advanced child and employee monitoring features
Simple to register and install
Cons
Not as feature-packed as other spy software
Other spy apps offer more flexible subscriptions
Doesn't support iOS devices
Is pcTattletale Safe?
Yes. pcTattletale is safe and has been in operation for more than a decade. It has helped thousands of families and employers just like you. They understand the importance of privacy and security. pcTattletale stores all recorded data in a secure, cloud server. All the information transfer and storage is secured with AES and SSL encryption technologies. This means you can sit calmly knowing all your spy data is secure and safe for your use.
How Many Devices Can pcTattletale Monitor?
You can monitor as many devices as you want with pcTattletale. Your initial subscription is for a single device. You can pay to add as many more devices as you want. All the device data will be kept separately. All this information can be accessed from your dashboard. You do not need to create a separate account for every device monitored.
Is pcTattletale Legal?
Yes and no, depending on how you use it. Any device that is not your own cannot be legally monitored. The only way to legally use your spouse's phone is to ask for their permission. However, if you want to use it to monitor your underaged child, then you are allowed to do that. Legal requirements may vary depending on your location. Make sure to read and understand all legal laws of the land before using spy apps. Failure to conform with authority risks legal and financial ramifications.
Is pcTattletale Free?
Unlike most remote monitoring and spy apps, pcTattletale is available to test for free. Simply register for a free account. Once you are satisfied with their service, you can go ahead and get a subscription to start monitoring. pcTattletale has three flexible subscription tiers depending on your needs. Follow our simple setup and installation instructions to begin monitoring.
How Do I Delete pcTattletale?
Here's how you can remove and delete pcTattletale from your phone:
Turn off accessibility for pcTattletale on your device
Open the "Apps and Notifications" section and locate pcTattletale
Click "uninstall" and pcTattletale will be removed from your phone
The Verdict
pcTattletale does take on a different style of monitoring children, employees, or spouses. Unlike the majority of the spy apps we have reviewed, it is not jam-packed with features. Don't get us wrong, pcTattletale has all the features for normal spy use. It is also heavily focused on business monitoring.
This is unlike other spy apps which are jack of all trades. However, it may not be for you if you want to monitor everything on a target device. We like unique features like a live recording, which was unique to this product. Advanced users can check out our other reviews for heavily featured options like Mspy and FleXispy.