KidLogger Review: Everything You Need to Know in 2023
There are a lot of cell tracking apps available in the market. Each of them offers different features, among which some might also be common. However, not all of them are reliable and trustworthy. One among these tracking apps is KidLogger, which is marketed by the parent company as a parental control application that's compatible with most operating systems in the world.
This KidLogger review discusses the various aspects of this monitoring software, from its features, pricing, reliability, and more.
What is KidLogger Parental Control Software?
KidLogger is a parental control software that's compatible with Android, Windows, and macOS devices. While it misses out on monitoring for iOS devices, it aims to compensate for this with its features, such as monitoring app activity, tracking social media applications, GPS locations, and much more.
What Devices is KidLogger Compatible With?
Given below are the various operating systems that KidLogger is compatible with –
Android – Version 4+
Windows – Windows 7-10
macOS – Version 10.5 – 12
KidLogger Features
Call and Text Message Monitoring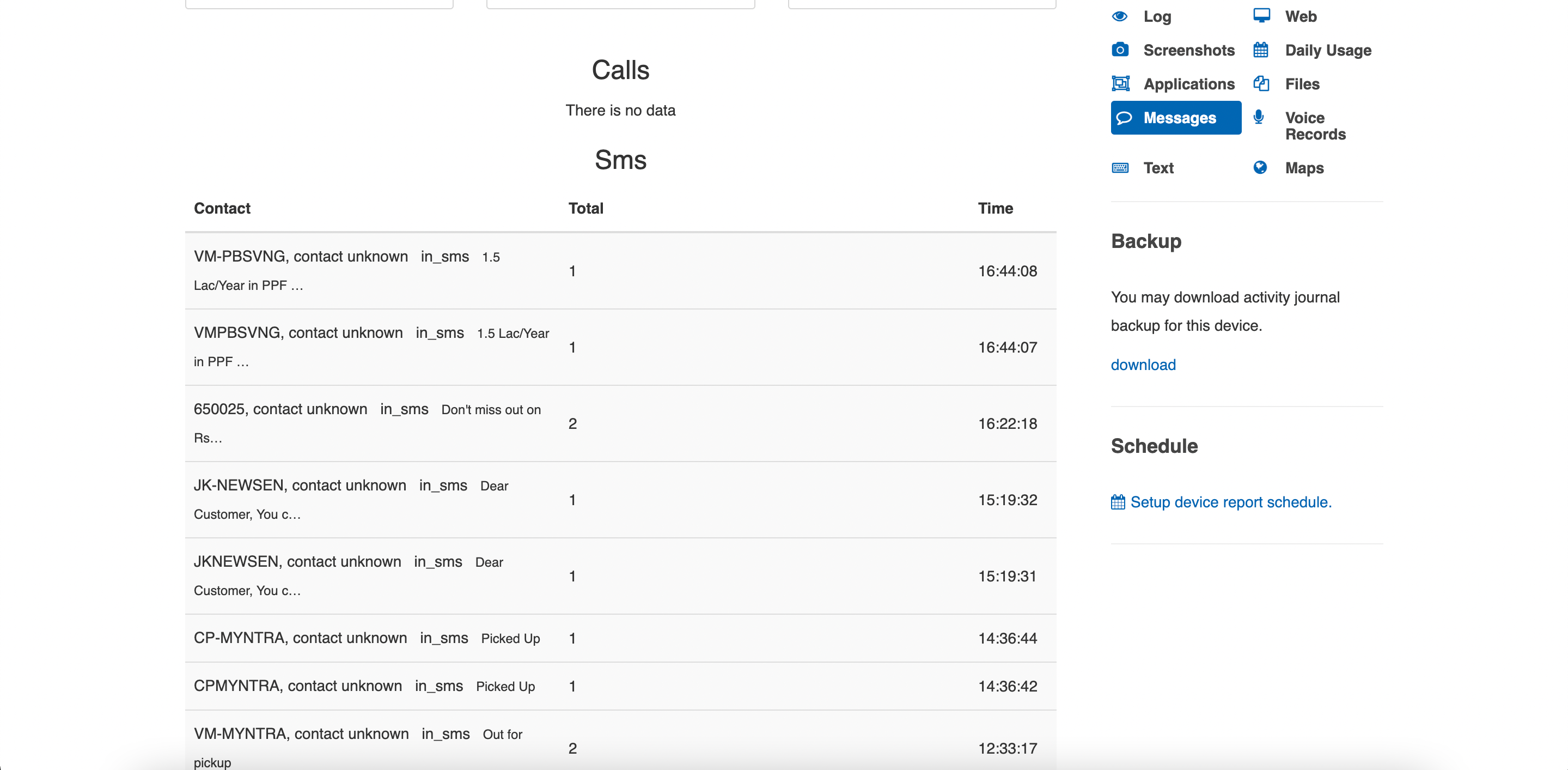 One of the key features anyone looks for in a parental control app is the ability to monitor calls and text messages. KidLogger offers this feature, too, and it presents all the entries in the form of a list. You can click on each one, for example, and read the whole text message. The app also gives you the date and the timestamps next to each text message or call, be it incoming or outgoing. This is an effective way to identify the most often used contacts that your child talks to.
Time Tracker
This is one of the most important features that KidLogger offers, and that people expect when using a parental control tool to monitor their kids. This feature allows parents to monitor their kids' screen time on Android and Windows devices. This can be a great way to limit kids' use of their devices, especially during school hours or when they're supposed to be studying.
However, KidLogger isn't perfect in its implementation of this feature. While the app will show you the total time spent on the device in a day, when we clicked on the entry for a particular day, we noticed the app showing us incorrect information. For instance, any messages sent using Instagram were labeled as being sent via WhatsApp, and so on. This ultimately results in parents having incorrect information about what their kids are doing on their phones.
Web Browser Monitoring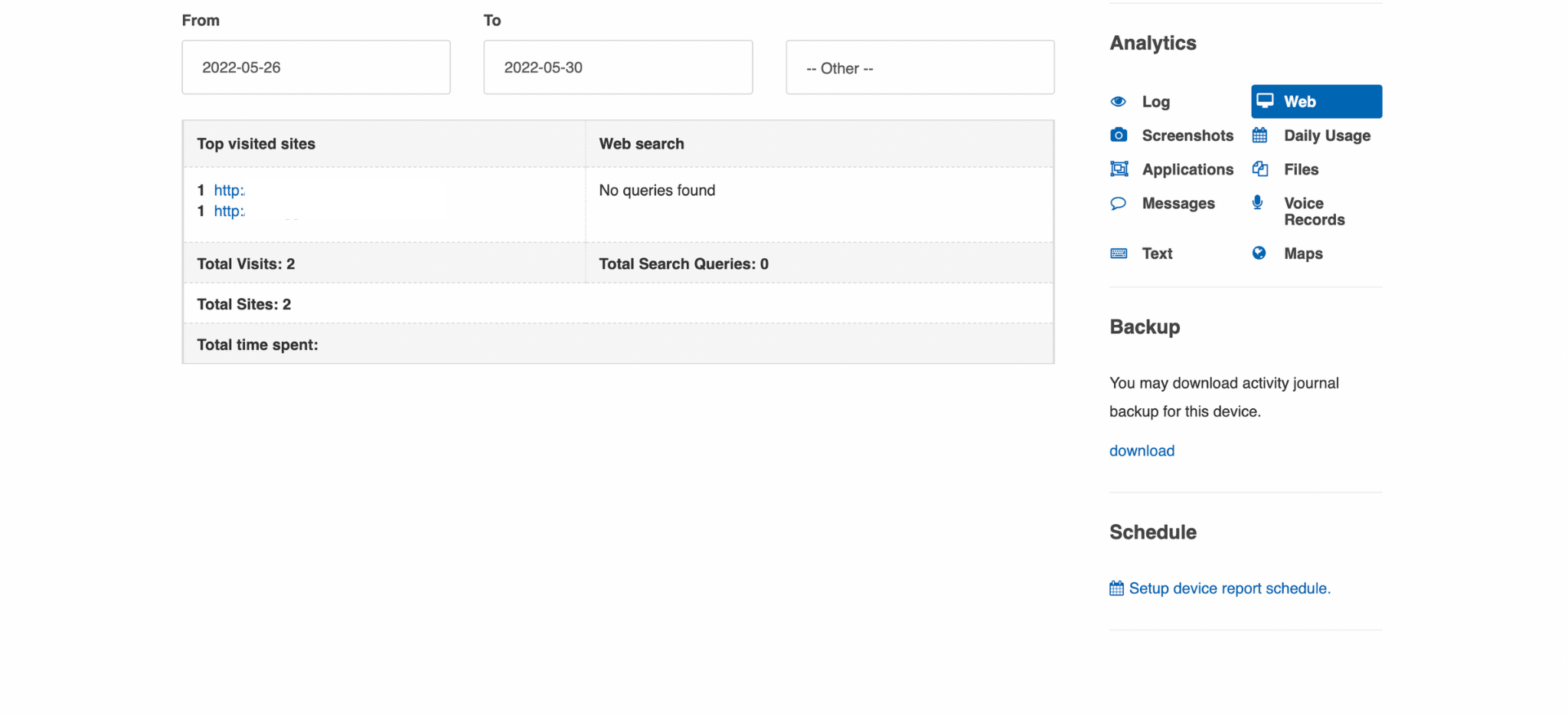 KidLogger also allows you to monitor the target's web browsing history across browsers like Firefox, Chrome, Safari, Internet Explorer, or Microsoft Edge. KidLogger claims to give you a list of all the URLs your child visits, along with how much time they spent on each website. However, when we tested the app, it failed to show us the time spent, giving us only half the information.
However, one good aspect of this feature is that the app allows you to filter through the logs via the date, so you can narrow down your search if you're looking for a specific entry.
Application Log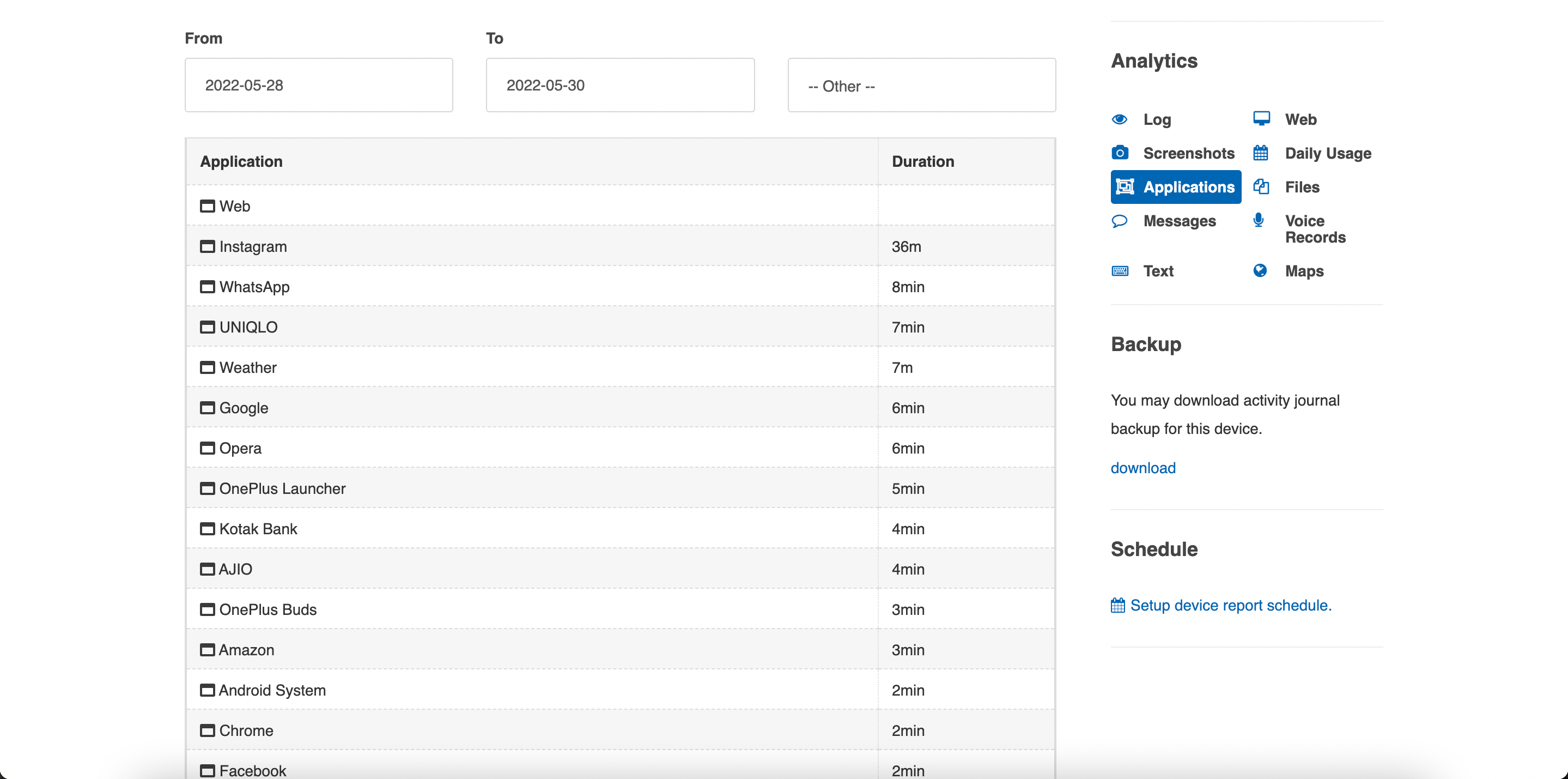 Like a lot of other cell tracking apps, KidLogger also gives you a list of all the apps installed on the target device. This feature is available on Windows, Android, and macOS. One bonus feature that you get in this Application Log is that it gives you information about how long each app was used in a day, thereby serving as some kind of time tracker in a way.
However, the app doesn't offer you the ability to block apps on the target device, which is often a necessity for parents monitoring their kids' devices.
Social Media Monitoring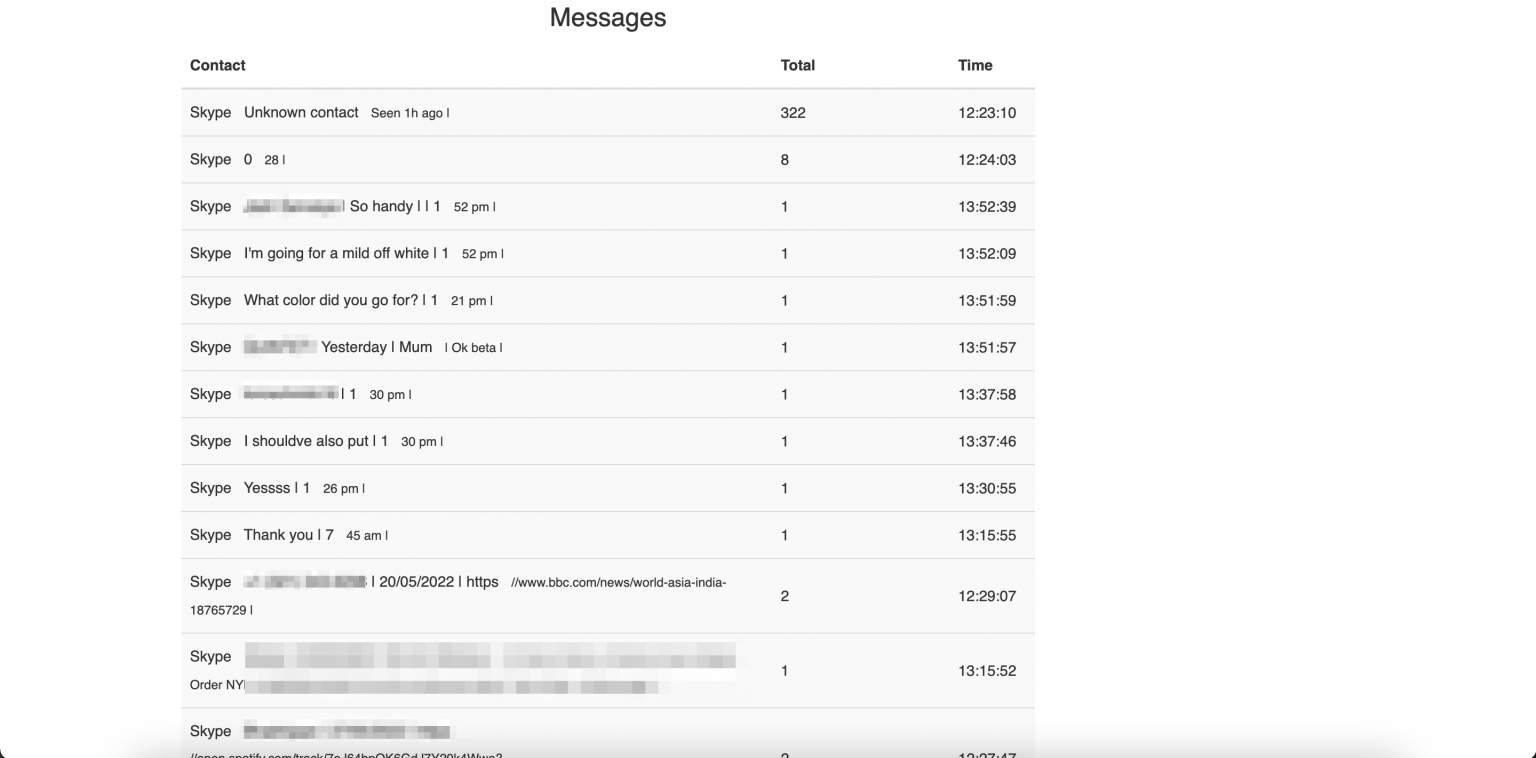 Another key aspect of any tracking app is its ability to monitor conversations on social media platforms. KidLogger allows you to monitor your child's conversations on apps like Skype, WhatsApp, Facebook Messenger, and more.
However, while testing this feature out, we came across a major flaw, which is that all the messages across different social media apps were shown as Skype entries. This renders the social media monitoring feature rather ineffective as it makes it difficult to figure out which app a conversation is truly taking place on.
Further, unlike some other apps, KidLogger doesn't offer these entries in a conversation view, so reading and navigating through them isn't the most seamless process.
Location Tracking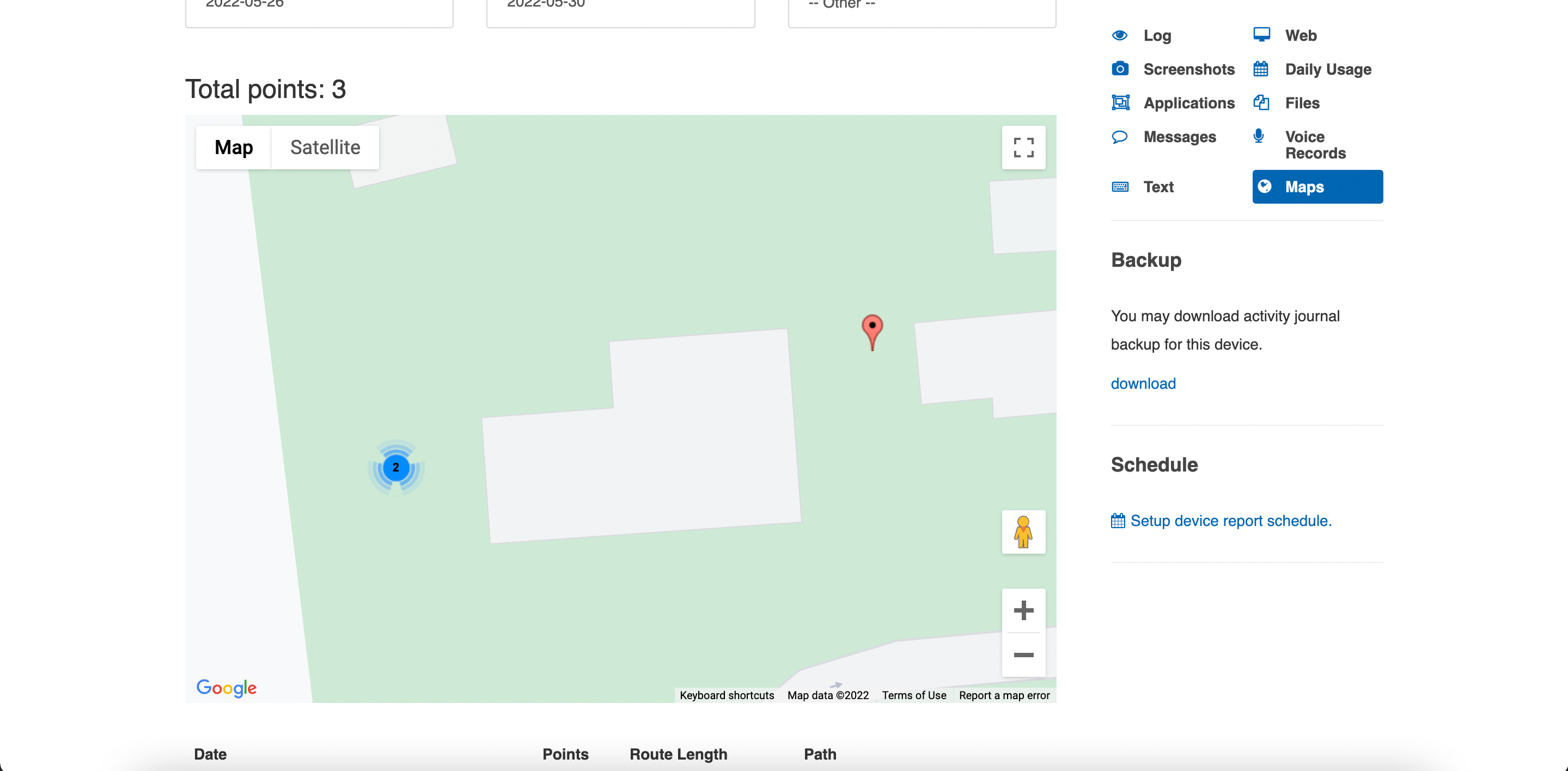 Location tracking is another crucial feature of any phone tracking app, and while KidLogger's version is rather basic, it's useful enough to track someone's location on a map.
The app gives you their accurate location on the map, along with the option to view it on Google Maps too. Here, you can choose between a Map view and a Satellite view. However, while the app supposedly gives you the option to view the target's path on the map, clicking on it gave us an error in our testing. As a result, the GPS tracking feature came across as rather basic in its functionality.
However, in terms of being able to track their location in real-time at a basic level, the app is still useful enough.
Recording Voice Notes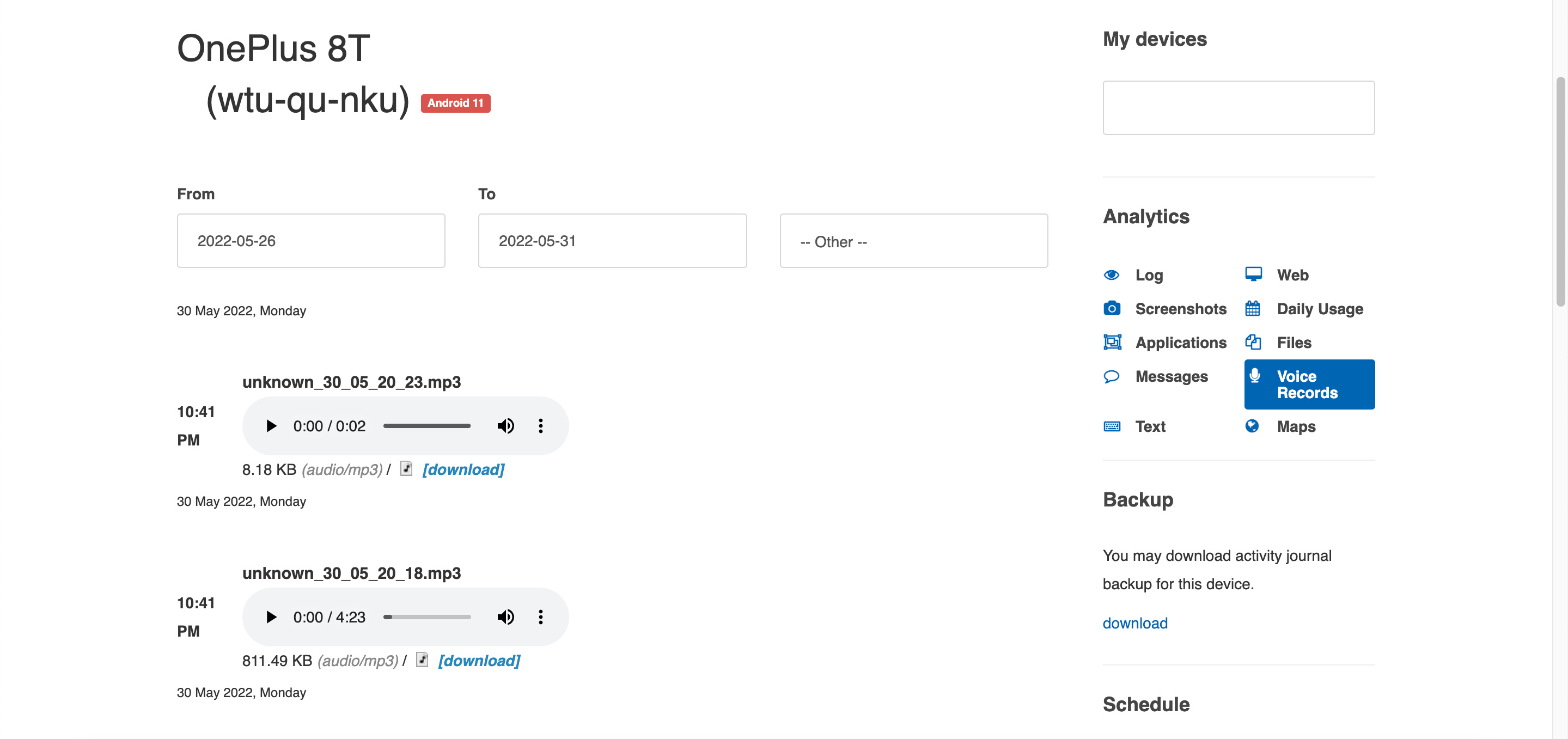 This is another feature that KidLogger offers for apps that allow you to record voice notes, such as Facebook Messenger, Instagram, and WhatsApp. As a part of our testing, KidLogger was able to correctly offer up all the sent and received voice notes for us to listen to. Once again, however, the app had difficulty recognizing which app the voice notes were sent and received on.
On the other hand, KidLogger does allow you to download these voice notes and save them to your device to review later, which not a lot of other apps offer.
Email Reports
This is one of KidLogger's best features, as it allows you to receive weekly email reports of all the activities on the target device. This report gives you information about calls, texts, social media conversations, GPS locations, and so on.
Screenshot Capturing
KidLogger's screenshot capture feature allows you to take screenshots of your child's devices at regular intervals, and it works together with the app's keylogger. The app saves all these screenshots on the app's online gallery, so you can view them at any time. Further, given that this works with the keylogger, the app also makes use of a keyword tracker to take screenshots whenever certain words are typed on the device.
NOTE: The keyword tracking feature is only offered for Windows and macOS devices, and not Android. This makes it an effective Windows keylogger.
How to Install KidLogger on Android Devices
Like most tracking applications, installing KidLogger on an Android device requires physical access to them. The steps to install this app on an Android device are easy, and we've listed them below –
Prepare the target device: the first step is to prepare the target device by disabling the antivirus system and disabling Google Play Protect.
Open the download page on the KidLogger website and download KidLogger PRO for Android, and install the apk file.
Install the file on the target device and click Done on the dialog box that appears.

Open Settings > Accessibility > Installed Service > System Android and turn it on. On the new dialog box that appears, tap Allow.

Tap Settings and then tap Activate Application.
Allow the application all the permissions it needs to access the necessary resources for its functioning.
Then, click on each of the options on the list and configure the app to function on the device. All these steps are provided on the KidLogger website and are easy to follow.

When configuring Prevent to Launch this activity, tap on the option to make the app invisible on the target device. Additionally, you can also delete the installation package from the target device (apk file) to remove any trace of it.
Log into your KidLogger dashboard with your login details and start monitoring the target device. This will be your supervisory account from which you can monitor all the activities on the phone.
How to Install KidLogger on Windows
Just like installing the app on Android, doing so on Windows is also a relatively simple process. The steps to do so are listed below –
Open the Control Panel, and click on Update and Security, Windows Security, and Virus and Threat Protection.
Tap Manage Settings, and Add or remove exclusions.
Add the folders – Downloads and the C:Program files (x86) to the list of exclusions mentioned in the previous step.
Download KidLogger from the website.
If your web browser doesn't allow you to download the file, Open Menu > Downloads > Keep dangerous file.

Extract the files from the zip folder in Downloads.
Run the .exe file by selecting Run as Administrator.
Tap Connect to server on the program's main window.
Open your web browser, and then open the KidLogger website KidLogger.net.
Use your credentials to log into your account. Tap Connect to Account, enter the device ID in the field, and then tap Connect to Account.

Return to the main window and you can start monitoring the target Windows PC.
How Much Does KidLogger Cost?
KidLogger's pricing comes as a part of three major plans – Basic, Standard, and Professional. The Basic plan allows you to monitor up to 5 devices and offers basic features that include call and text message logging, time tracking, and GPS tracking. This is a free version and thus comes free of cost.
Next, the Standard plan also allows you to monitor up to 5 devices but keeps all the logs stored for 30 days. This plan offers more advanced features such as App analytics, social media chats, locations, and web browser monitoring. This plan also offers technical support from the KidLogger team.
The Professional plan, which is the most advanced, allows you to monitor up to 10 devices and keeps the data logged for 60 days. This plan offers all the advanced features KidLogger comes with, such as routinely scheduled email reports, keylogging, and keyword tracking, and remote recording of the target's environment. Android devices get all the features the app offers as a part of the Professional plan.
The pricing for all three plans is given below –

Pros and Cons
Relatively easy-to-use interface
Offers monitoring for multiple devices even with the Basic plan.
Offers scheduled email reports
Basic plan is free
Several features have flaws
Discrepancies in identifying applications
Is KidLogger Safe to Use?
Given that KidLogger is a keylogger, some antivirus software will flag it as malware. However, KidLogger isn't intended to be used maliciously, and it is entirely safe to use by parents who want to monitor their children's activities on their phones.
Is KidLogger Really Free?
Yes, KidLogger does come with a free plan that comes in the form of the Basic Plan. This offers all the basic features that the app offers, including call and text message logging, time tracking, and GPS tracking, while allowing monitoring for up to 5 devices at a time.
Final Verdict
As you've seen from this KidLogger review, there are several things that this app does well, such as email reports, the ability to monitor multiple devices at once, and so on. However, it also has its own share of flaws, such as the discrepancies when presenting data about social media chats, the errors when requesting the target's path on the map, and so on.