How to Recover Deleted Text Messages on iPhone and Android in 2023?
You are probably here because you accidentally deleted your phone messages in the past. It can be a gut-wrenching moment, especially when you face the thought of losing delicate data. The data can be business information, passwords, cherished moments, and various other forms of data. Fortunately, our experts have devised this step-by-step guide that you can use to learn how to retrieve deleted text messages
Can You Retrieve Deleted Text Messages?
Yes, it's possible to retrieve deleted text messages, and it all boils down to a few factors. Have you ever heard people saying that files never actually disappear when you delete them from your computer? This theory is also applicable to the files you have on your mobile phone's hard drive. It's one of the main ways people use to undelete text messages.
Any form of data you delete, such as SMS, is likely still hidden deep within the memory blocks of your device. The data stays in the hard drive until enough time passes, or perhaps when the memory blocks are needed for data storage.
Given the simple nature of phone storage drives, you may wonder how such an occurrence is possible. Usually, deleting a file from your device doesn't mean that you won't be able to access it completely – metadata is still stored in your computer.
The first thing that happens is your device marks the deleted SMS file as inactive. It means that the given SMS file becomes replaceable or invisible in your phone's file system storage.
How to Retrieve Deleted Text Messages on Android?
Here are the most common techniques that you can use to retrieve deleted text messages on Android for free:
Use Google Drive to Recover the Deleted Texts on Android
If you recently deleted the texts from your device, there are various solutions you can use for retrieval. While these retrieval measures don't provide a guarantee of access, they are your best bet at getting the data back. To use Google Drive for text message recovery, follow these steps:
Activate the Airplane mode on your phone – Activating the airplane mode should be the first step in this process to recover deleted text messages. Your phone system won't eliminate SMS content once you delete the content. Instead of deleting, the phone classifies the data as inactive until a new set takes its place. By activating the airplane mode, you prevent your phone from creating new data, which will stop the deletion process.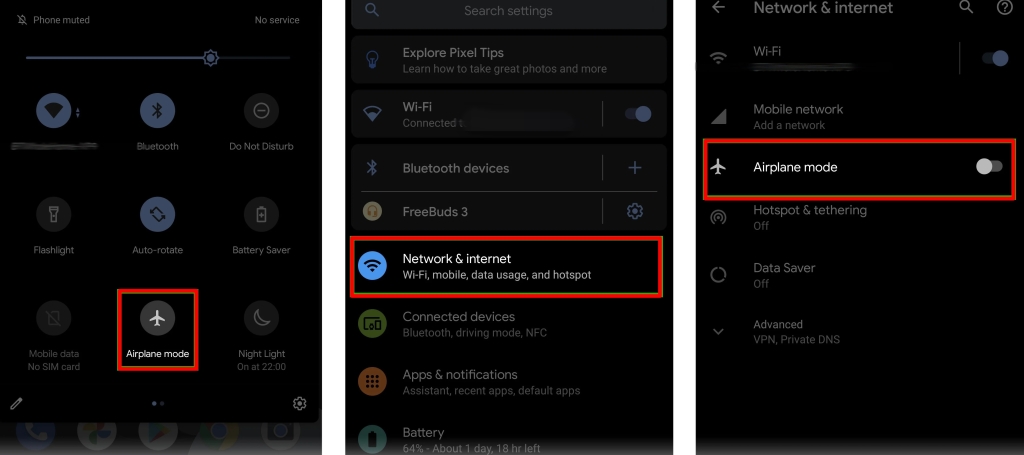 Use Google Drive Desktop – Google Drive Desktop is also a convenient solution for how to get old text messages back. You probably set your Android phone up with your email contacts, which also helps with SMS back ups. You can check whether your phone has kept a store of your SMS content in Google Drive through the following:

Go to the menu icon.
Then proceed to settings.
Select the Google Back Up icon.
If you set up your device correctly when you first got it, you should notice it as part of the device listing.
Then, click on the SMS tab, which often comes with accompanying time stamp information. Back this content up before you lose it any time soon.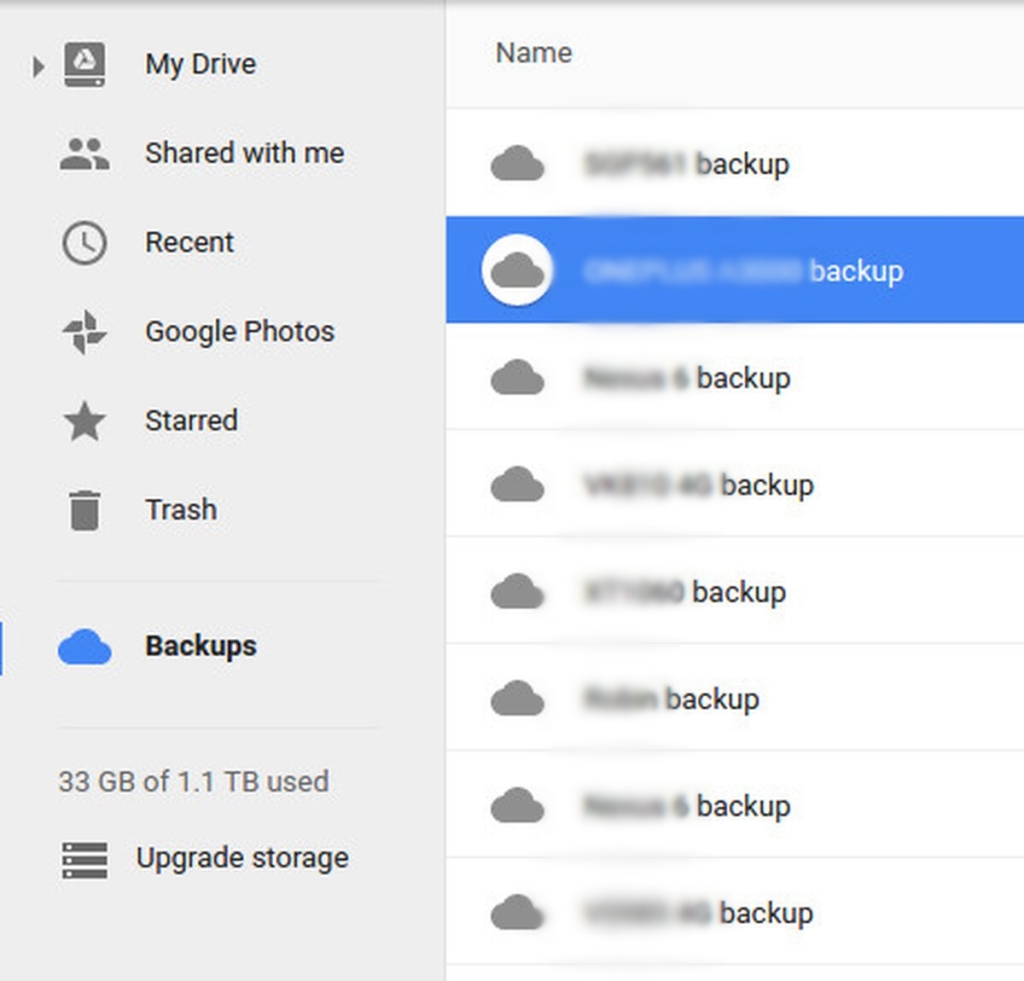 Factory Reset Your Phone – This will restore your device's memory to a previous one, so you can finally access the data. The Graphic User Interface (GUI) you might notice during this process might look different. However, expect the following steps:

Click the settings icon on your Android Phone.
Go to the Reset option.
Next, click on factory system reset.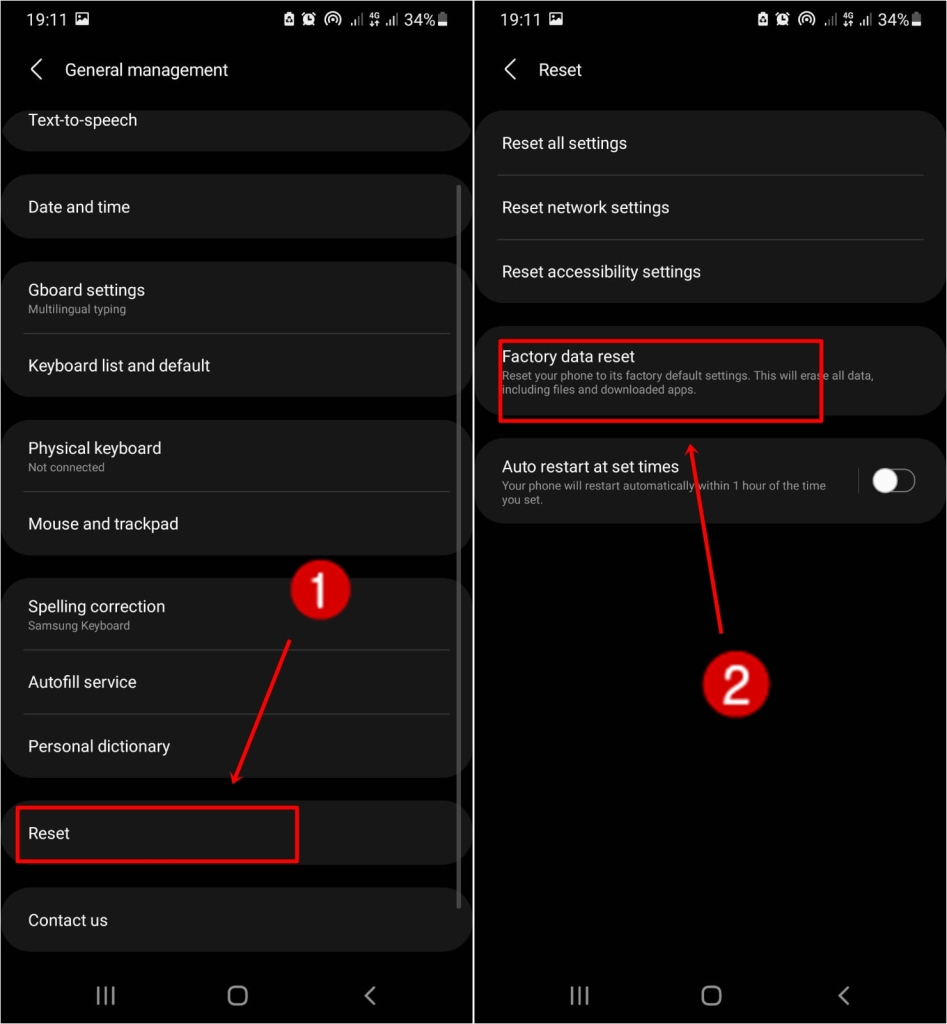 PRO TIP – After completing the reset process, access your Google Drive account to restore the last SMS data up.
Use Android SMS Recovery Software
You can also use android SMS recovery software, which involves the use of algorithm-based tools. Usually, these tools are available based on subscription packages, and two Android SMS recovery software include:
WAMR – Recover Deleted Messages
It is a recovery app that allows users to recover deleted or lost messages. The app can also recover content such as any attached media. The app also works to recover any messages that anyone deletes before having the chance to access the content. Best of all, there are no technical settings involved in customizing this app, as it's simple to use. However, you have to have your phone if you want to use this app. It won't let you read messages without access to the phone – you can learn how to do that here.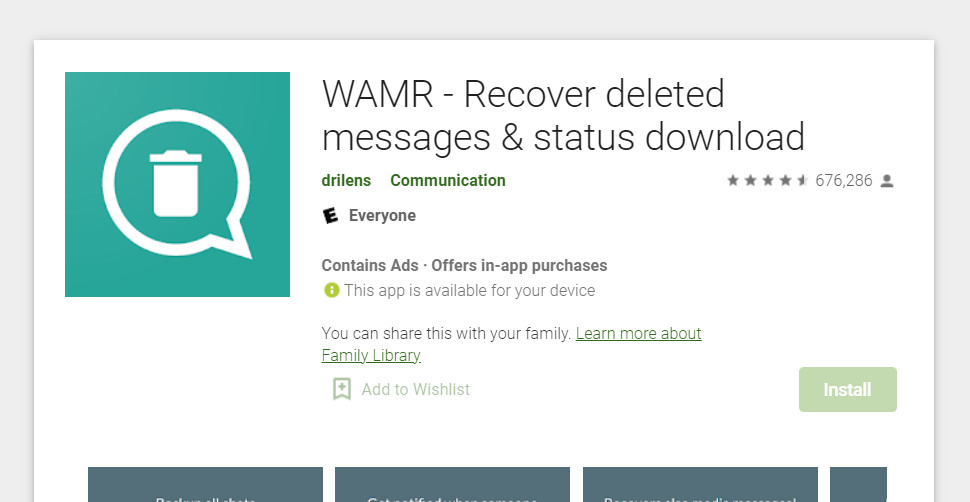 The WAMR app will access the notification content on your phone and use them to recreate the content of your previous SMSs. The app will also ask you to perform a data back of the message notifications. Doing this will help make SMS recovery much more convenient.
Use SMS Backup and Restore SyncTech Pty Ltd
SMS backup and restore by SyncTech Pty LTD is an application that can track different types of data. It can track SMS, MMS, and your current phone logs. The app can also restore your messages from the existing data store backups your device uses.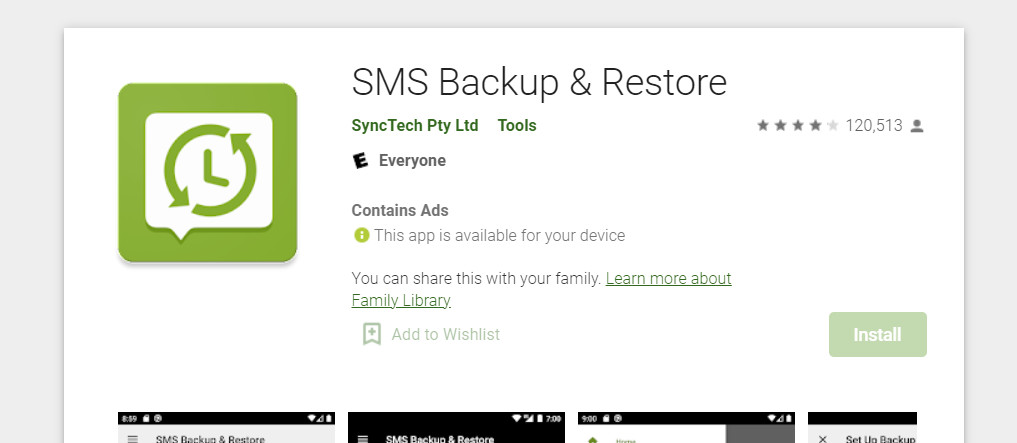 You may have to provide the app with access to your backups before it can find deleted texts.
Contact Your Phone Carrier for Android Text Recovery
While this is not a direct solution for restoring SMS content, it can still help when all else fails. You should realize that most phone carrier services store your SMS records and other relevant data. However, they often have strict regulations regarding the release of recently deleted messages.
For instance, you might have to go through various verification procedures to determine whether your claim is legitimate. In some instances, you might need assistance from parties such as law enforcement officers. However, not many people have legal reasons for accessing their lost contacts, and we should consider other alternatives.
Several phone carriers today have dedicated messaging apps, which you can integrate to cloud storage systems. A good example would be Verizon messages, which can backup messages using the cloud and sync them on your phones. You can then use these backups to restore text messages.
The service also provides desktop and web app alternatives that you can use to access your texts conveniently. The other alternative would be AT&T Messages & Sync. So, if you are using any of these services, try and find out whether they have a store of your lost data.
How to Find Deleted Messages on iPhone?
There are various techniques you can use for finding or viewing deleted text messages including:
Use iCloud to Find Deleted Text Messages on iPhone
You can use iCloud to find deleted text messages on iPhone using different techniques, including:
Use iCloud Recovery
iCloud backups are an excellent solution for how to recover iPhone text messages free. You just have to log in to your iCloud account to determine whether you can use a suitable data store.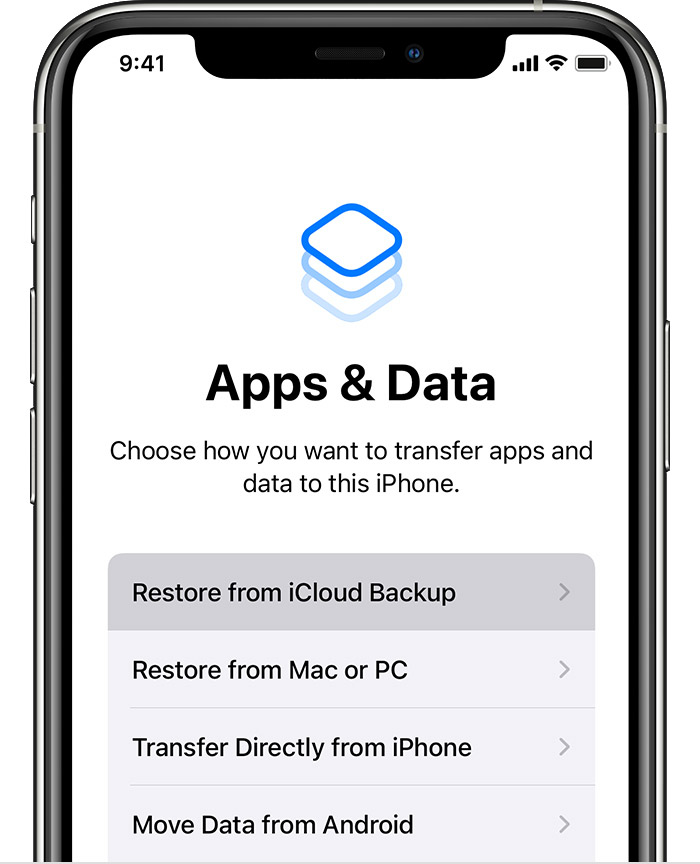 You must send an email to the iOS team first to confirm your identity and provide you with access to the data. However, this will only work when you have set up the iCloud account correctly.
Restore Deleted Messages on iPhone with Backup
If the messages were delicate and the previous techniques have not worked, consider using iCloud backup. It's a data store that is perfect for how to look at deleted messages on your iPhone. Activate the airplane mode first to ensure your phone no longer receives any more data. Then go to the factory reset settings, and perform an iCloud backup process. You might also have to log in to your accounts once the process is complete.
Recover Messages on iPhone with iTunes
You can only use this approach when you backed up your phone when it still contained the SMS you were searching for initially. For this process, the software you can use is iTunes, which is still functional on MAC OS devices, quite contrary to popular opinion.
Here are the steps involved in iTunes to recover deleted iMessages:
Connect your iPhone to the computer you have been using and open the iTunes application. However, the app often comes up automatically once you connect your phone to the laptop.
Select the phone on the top section of your screen and select the summary function in the left menu area.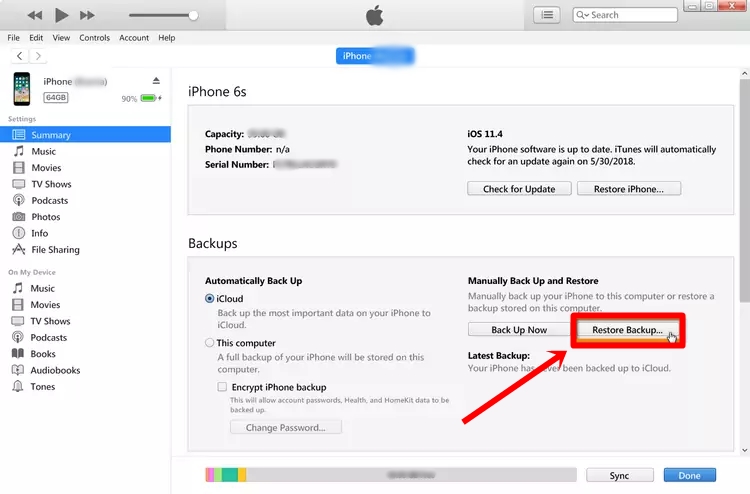 How to Recover iPhone Text Messages for Free – Contact Your Cell Phone Service Provider
When all else fails, consider contacting your cell phone service provider. It may seem like a tough call, but it may be the only other option you have if all else fails. However, you may have to go through verification procedures before you can access the data.
Plus, you have to ask for the data early enough because phone services often replace stored data periodically. You may eventually have to visit your phone carrier's facility for verification purposes.
How to Retrieve Deleted Text Messages from Another Phone for Free?
You can retrieve or read text messages from another phone for free using many different techniques. Both measures vary for both Android and iPhone devices. The techniques you are likely to come across for each device brand include:
Use third-party apps which you can install on your given device. However, most of these software can only work when you have been updating your device regularly.
Use iTunes. iPhone users who hack up their data regularly to computers can also use this free version.
Use cloud storage backup recovery data. Both iOS and Android devices have to cloud storage backup measures that you can use.
How to Recover Deleted Text Messages from Verizon Account?
Verizon provides various options you can use to recover deleted text messages, including:
Technique #1: Use Verizon Cloud

You have two options when using Verizon cloud to access your data:
On the Website
Access your Verizon account, and then click on Add – ons & apps. Then locate the Verizon cloud section.
Click on the Manage Add-on, which sits on the Verizon Cloud Section. Finally, click on the Access Verizon Cloud section on your device.
Click on the Verizon Web portal, which you shall find on the Access My Cloud part. Next, proceed to the 'How to Access Verizon Cloud' page.
Here is where you should now find your contacts. Click on Settings > Trash > Media > Contacts. Finally, choose the specific message check box that you want to restore to your device.
Click on the "Restore" button, and confirm that you want the phone to retrieve trash content.
Through the App
Access the Verizon App on your device and choose the navigation menu on the top left section.
Next, choose Settings > Tools > Content Restore.
You then have to choose the specific SMS files you want to restore by clicking on the checkboxes.
Finally, choose your preferred period for SMS restoration, and click ok.
Try the Verizon Messages Application
The Verizon app can also work well for this process, and the steps can include:
Download and install the Verizon Messages App. Access the app and click on the menu item on the top left section.
Choose the Setting > Account function, and finally select the "Restore SMSs function."
Once you are through with this process, choose the "Restore from SD card" function. Doing this will make it easy for you to access your preferred backup function.
Bear in mind, though, that this only works for personal accounts. If you're trying to read someone's messages you don't own the device, this method won't work – but we have a separate guide on reading messages without installing software.
How to Retrieve Text Messages from T-Mobile?
The T-mobile app also has an option for retrieving text messages. However, it only works for Android devices, and the steps include:
Start by backing up your data by clicking on the home screen to access user apps.
Click on Settings > System > Backup.
Then, activate the "Back Up to Google Drive" function to store your SMS alongside other delicate phone data.
Once this process is complete, you will access the data back up once you access your Google Drive account once again.
Conclusion
There are many options that you can use to restore text messages on Android and iPhone. While it's possible to restore your SMS data using the above-mentioned measures, be careful to ensure the best results. The technique that works best for your phone depends on various factors. To prevent this incident from happening again, always enable SMS backup across all your devices.