How to Install Spyware via Text Message and Email
If you suspect your partner is up to no good, it is time to use spyware! Spyware allows you to see everything someone is doing on their phone. You can read their texts, Facebook, Instagram, and WhatsApp messages, view their browser history, and even track their location!
Unfortunately, most spyware is either unreliable, filled with malware, or simply too complicated to install. That is why we have extensively tested over 50 different spyware apps and come up with the three most reliable options, which all can be easily installed via text or email! Keep reading to learn how to install spyware via a link that can be sent to email or text!
Don't have time to read the review? Here are the best apps that let you spy on cell phone by sending a text:
mSpy – Install in less than 5 minutes!
GEOfinder – Ultra reliable!
Spybubble – Beginner-friendly but still loaded with features!
Can You Install Spyware via Text Message?
You can install spyware via text message. The spy app will provide you with a special download link that you can send to the target. The target then needs to click on the link and follow the installation instructions. The app can be installed in just a few minutes.
Once the app is installed, it will run in the background of the target's device and send all of their phone activity to your spyware account. You then can log into your spyware account to view and download the target's phone activity. We will break down the step-by-step instructions you need to follow to install spyware via text message iPhone and Android!
Method 1: Install Spy App via SMS Using Phishing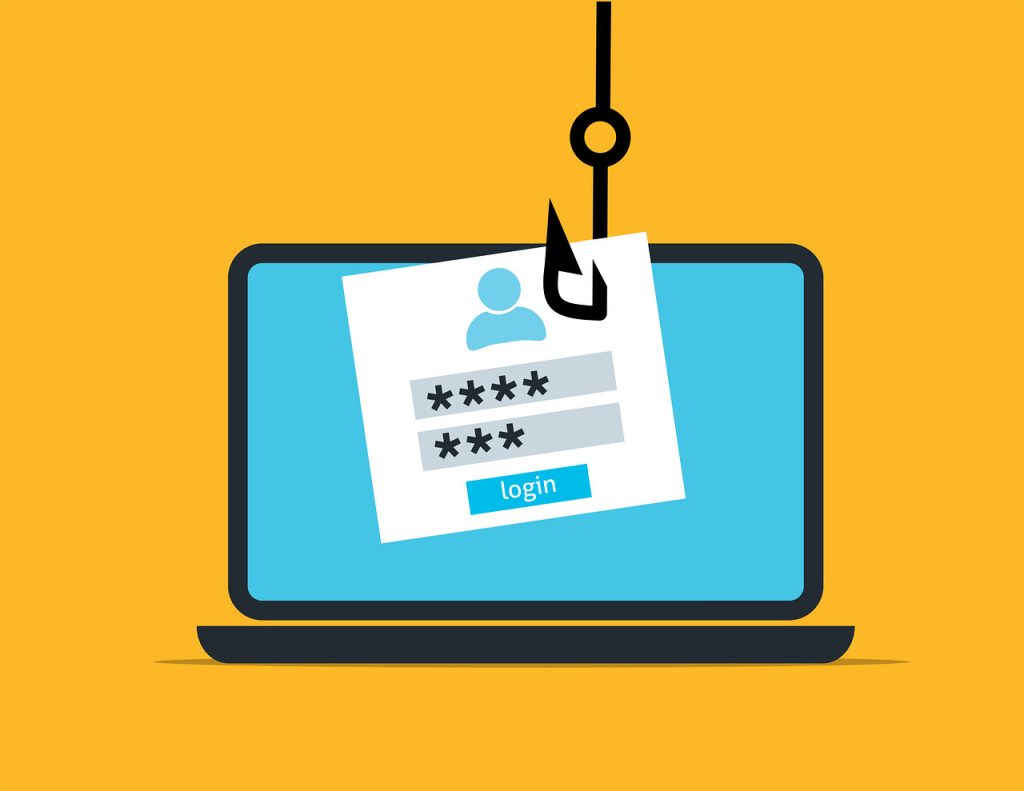 By using phishing you can trick the target into opening a malicious link and get them to share their precious login. This method is a little tricky and does require some tech skills.
How it works is you create a fraudulent login page for a particular site such as Skype. You then send the target a text message pretending to be from Skype, explaining that the target must sign in to their account to fix an issue. You include in the text message a link to your phishing page. When the target clicks the link and enters their login details your phishing page will capture them, giving you access to their account.
Here is a simple step-by-step guide on how to use phishing to hack someone's phone:
Select the site you'd like to copy. We recommend Facebook.
First, you need to grab the HTML code of the page you want to copy. Open the page, right-click and select View Source.
Now copy all of the code and paste it in Notepad and save it as index.html
Find a PHP code for recording login credentials online. Paste it into Notepad and save as post.php.
Find a free hosting service.
Upload your PHP and HTML files to the FTP server on your website.
Select a name for your website that is similar to the original for example Faceebook.com.
Create a text message or an email pretending to be from customer support and include a link to your phishing site.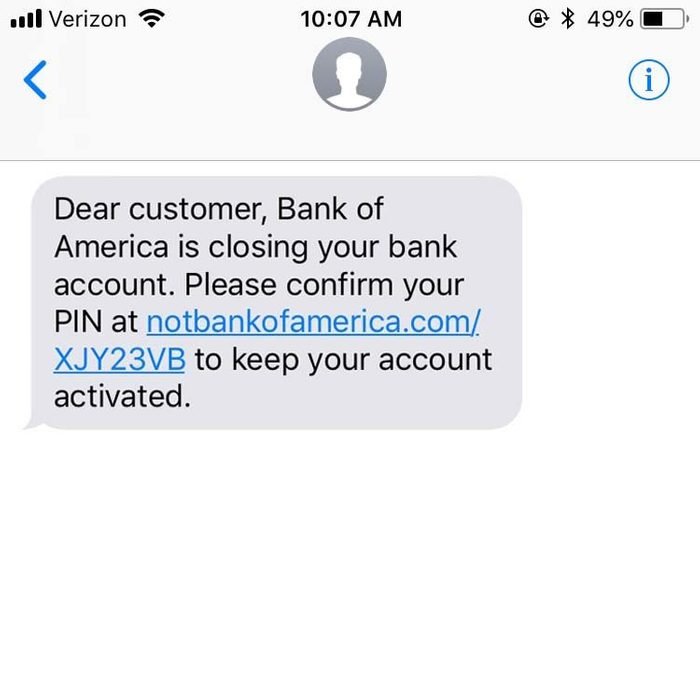 As soon as the target enters their login details you will be alerted and now you have their password. Unfortunately, this method is time-consuming and there is no guarantee they will click your link and enter their login.
It is better to simply install a spy app on their phone. For an Android device, you need physical access to the phone for 5 minutes. However, spyware for iPhones can actually be installed 100% remotely. You don't have to physically touch the target's phone or worry about them sending them text messages. All you need is their Apple ID login!
Method 2: Use Spy Apps to Install Spyware via Email
Don't have the target's mobile number? Or prefer to use email? Don't worry, we have reviewed more than 50 different spyware and found more than one spy app that uses email to install!
mSpy – The Best Spy App That Uses Email to Install!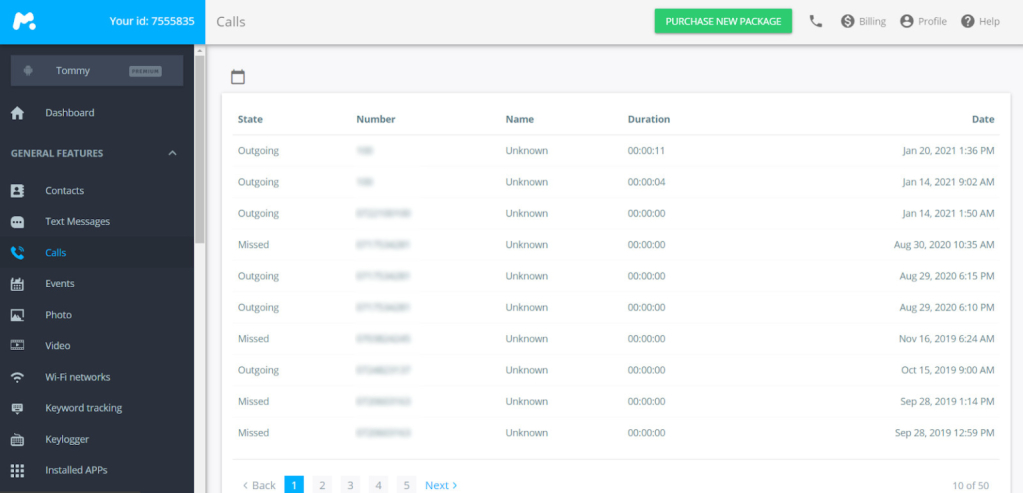 mSpy is the perfect spy app for catching a cheating partner or keeping a close eye on your kids. This app has millions of users from around and offers comprehensive tracking. It will instantly reveal the target's emails, text, and social media messages!
mSpy is fast, reliable and malware free! It can track in real-time and comes loaded with tons of extra features, including a keylogger! Even if the target searches in incognito mode or quickly deletes their messages, mSpy will still record it!
Features
Read texts
View real-time location
Access call logs
Read private WhatsApp, Facebook, and Instagram messages
Access photos and videos
Do you need to know what someone is doing on their phone right now? Then install mSpy right now for only $11.66 per month and find out if your child is lying or your partner is cheating!
To install the mobile device spying app via email, you follow the same steps that we outlined in our text message method:
Navigate to mSpy's website and click on the green "Try Now" button on the top navigation bar.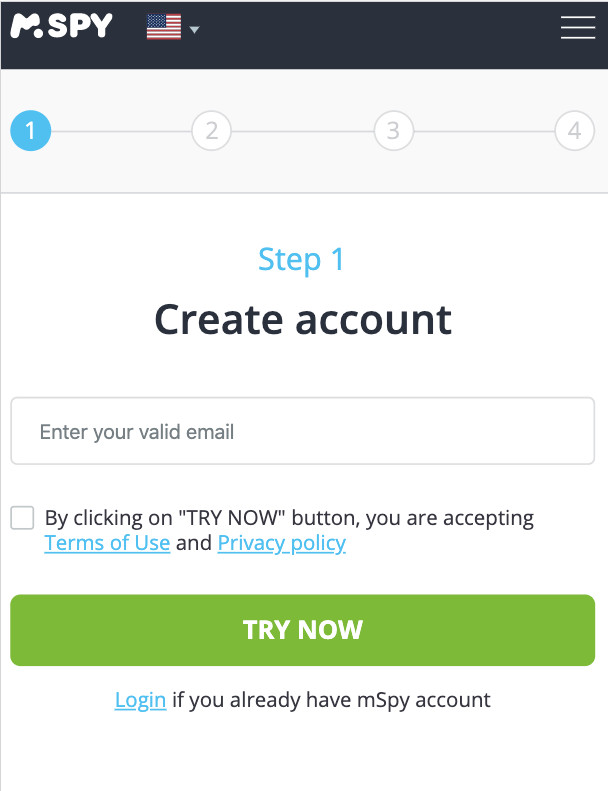 Enter your email and complete the wizard by picking a subscription plan of choice.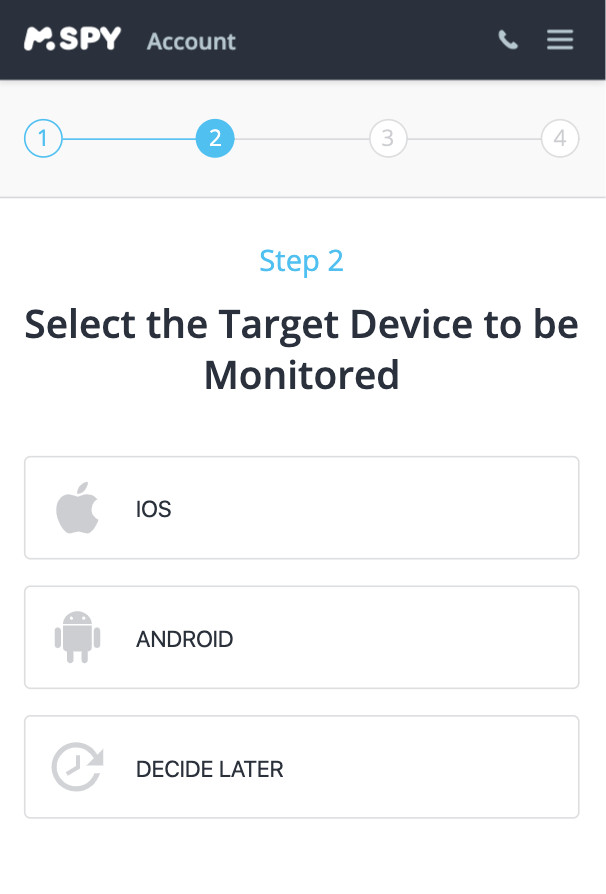 Get the login credentials from your email and use them to login to mSpy's control panel.
On the dashboard, select the target device OS and fill out other details.
Email the spyware link to your target or send it via text message.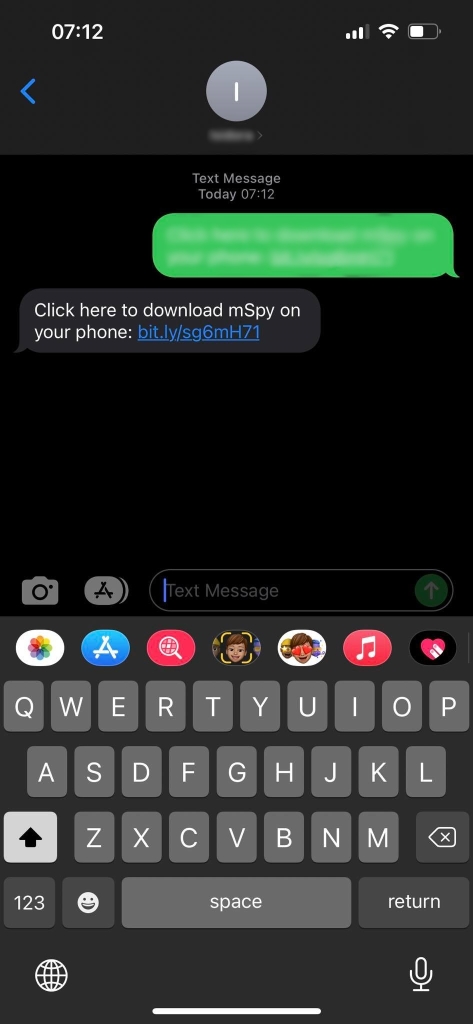 Once the download is complete, tap on the APK file and enable "Install from unknown sources" if prompted.
Tap on the "Install" button to begin the installation process.
Click on "Don't remind me again" in case a virus notification popup appears on the screen and hit "Ignore".
Tap on "Open" so that you can begin mSpy setup wizard.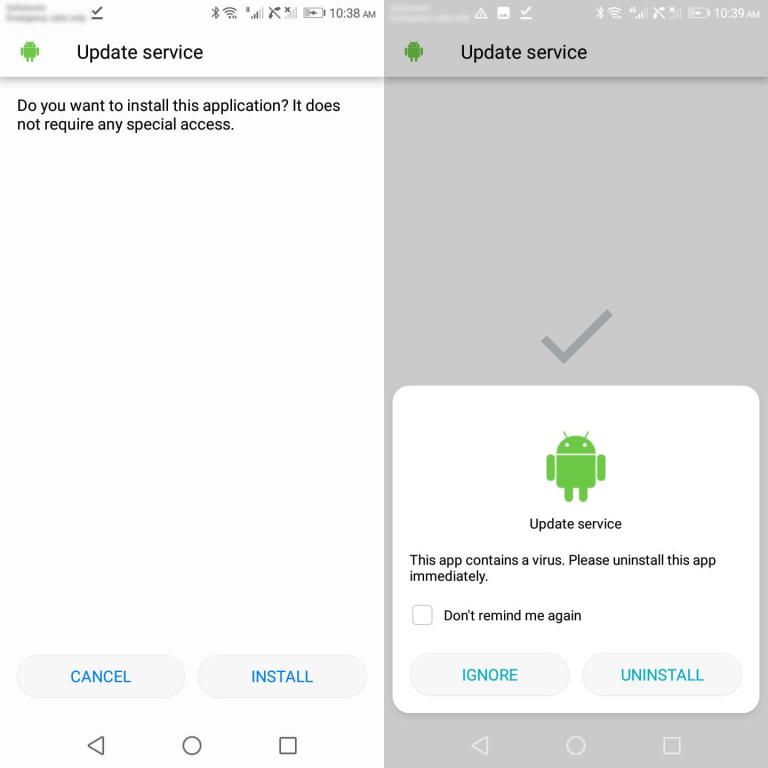 Tap on the button next to "Enable mSpy monitoring" to grant mSpy all the basic permissions it needs.
On the pop-up notification that follows, click "Allow" on all to grant mSpy the necessary permissions.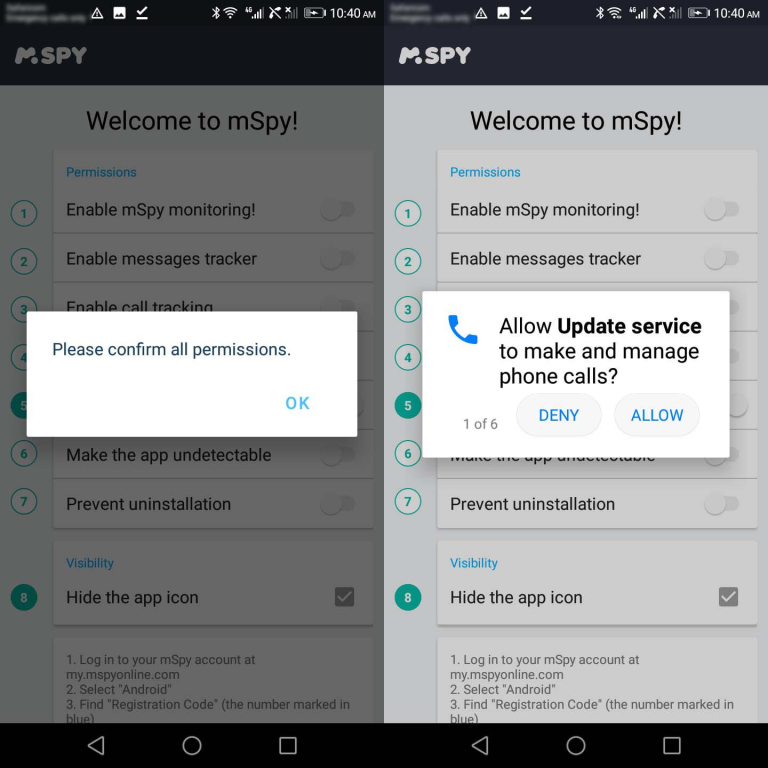 On the main menu, tap on the "Enable messages tracker" button then turn on the toggle on the screen that follows.
Click "Ok" on the next popup that follows to proceed to turn on the "Framework Update Service"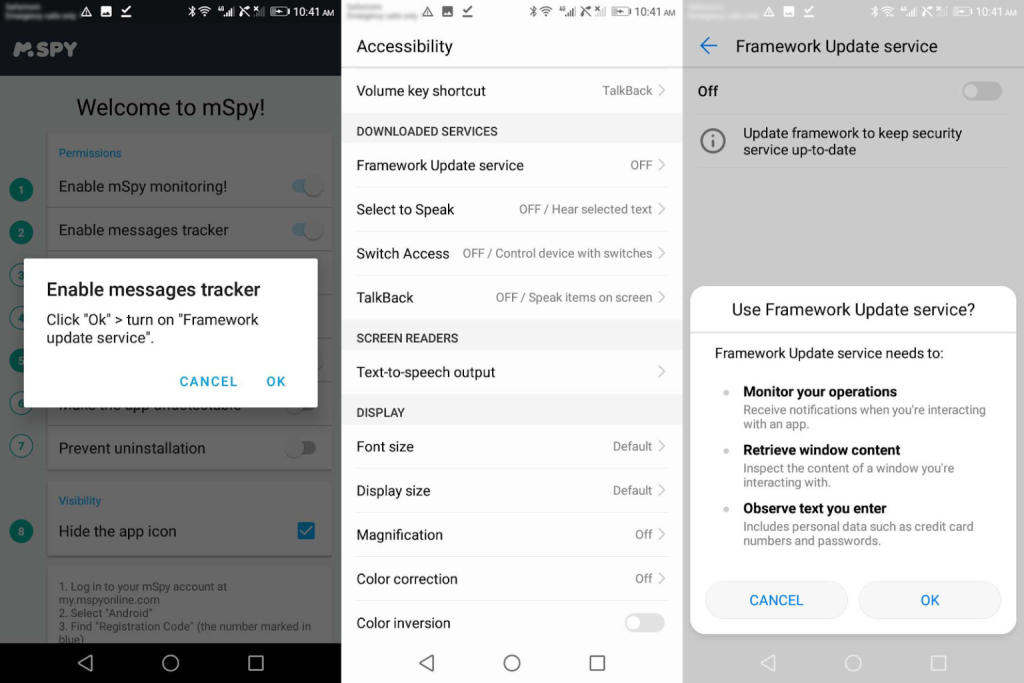 Tap on "Framework Update service" under Downloaded Services then turn on the toggle on the screen that follows. Click Ok on the popup to complete the section.
On the main wizard menu, tap on "Enable call tracking" and click Ok on the pop-up that follows.
Tap on "Update service" then toggle it on to permit usage access. Once complete, you'll be taken back to the main wizard menu again.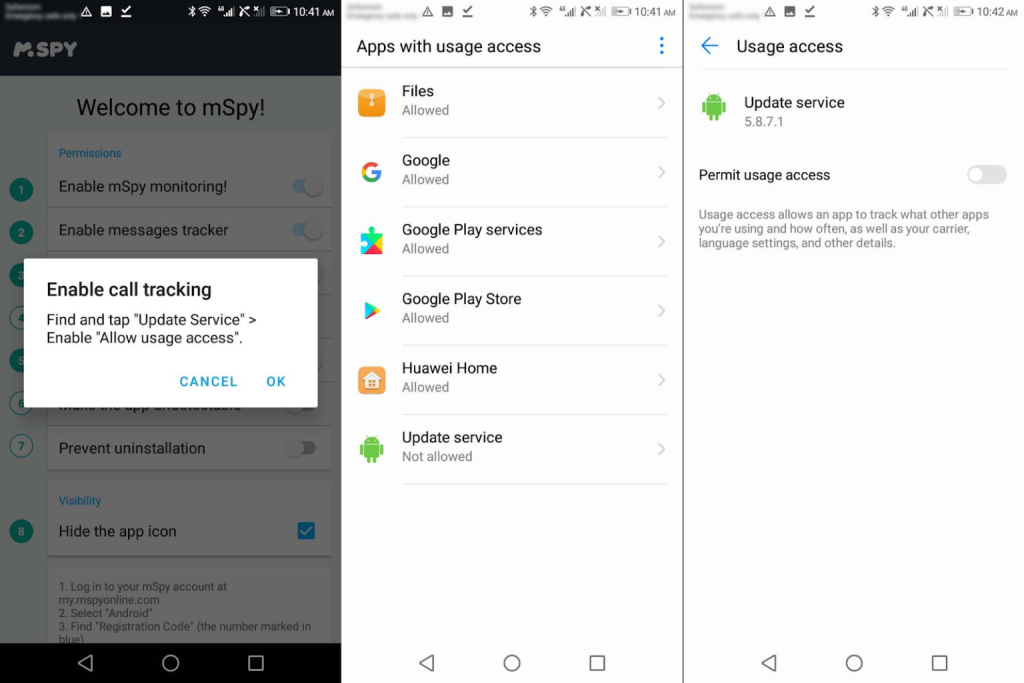 On the main wizard menu, tap on "Enable social media tracking" and tap Ok. Once the Update service pop-up appears, check the "Don't show again" box and tap "Start Now".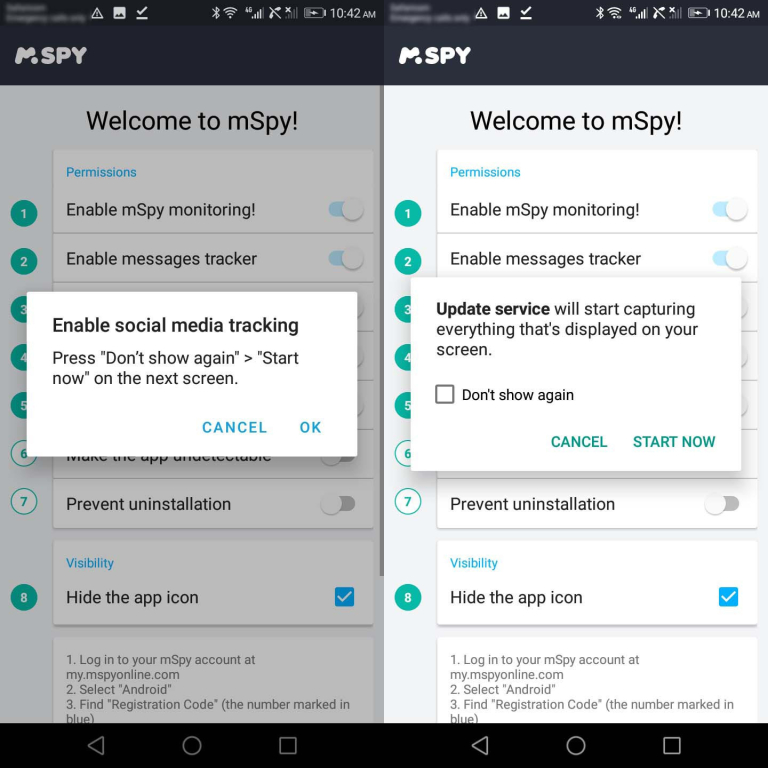 Tap on the "Allow background data usage to be taken to the Battery optimization page. Once here, locate "Update service", select it, then choose "Don't optimize".
Back on the main setup wizard, tap on "Make the app undetectable" and proceed to turn off the notification on "Update Service".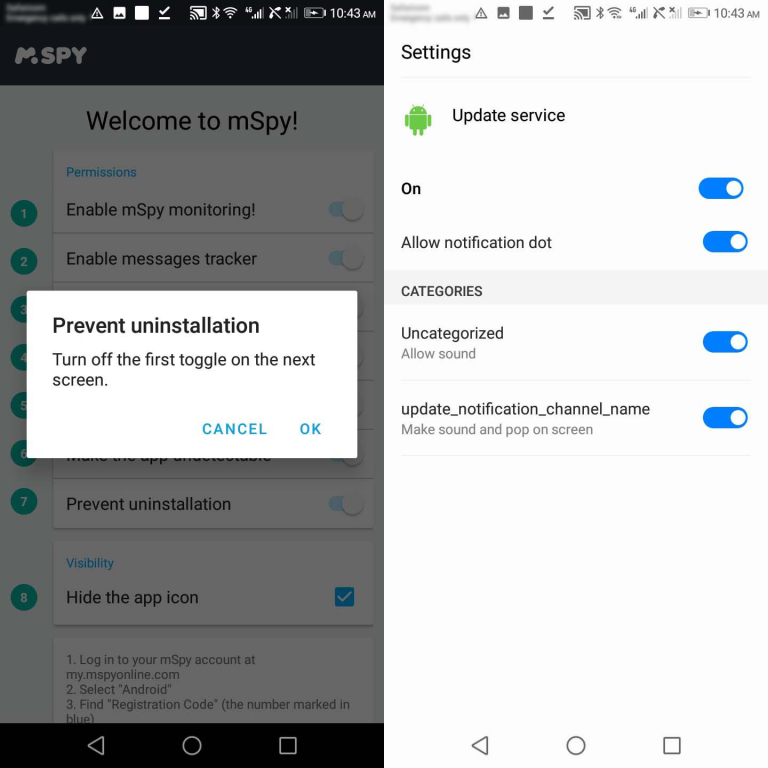 Key in the registration code from your dashboard on the final step of the installation process.
Click "Complete Installation" then tap on Ok in the notification window that pops up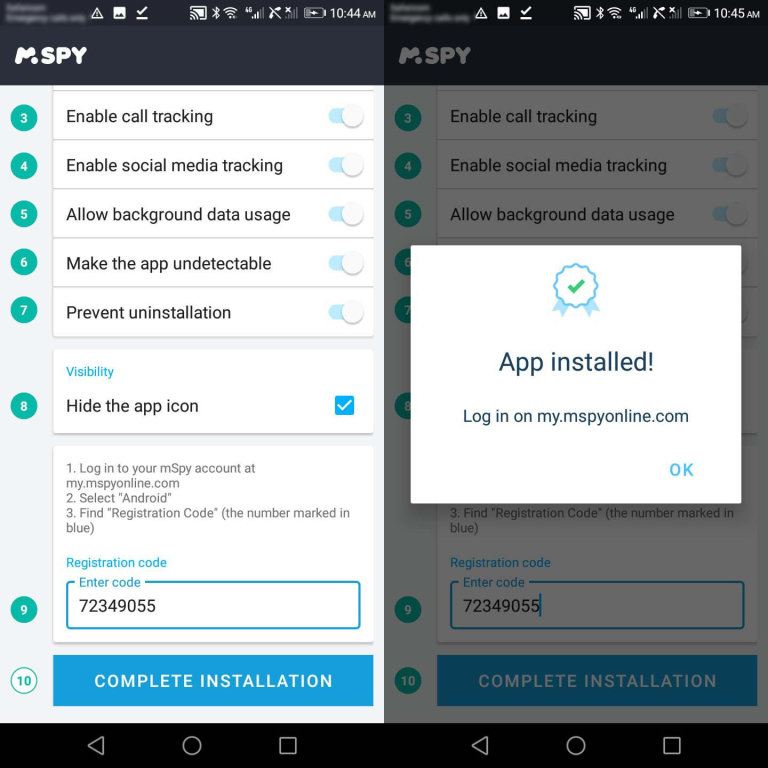 Then you just follow the installation steps that we outlined above. The installation process is incredibly simple, and after less than 5 minutes, the spy app will be installed. If you are installing spyware on an iPhone, you don't have to worry about emailing links. You can just sign in to your mSpy account and install it remotely using the target's Apple ID credentials.
The great thing about spyware is that once it's installed, you don't have to do a thing. It will covertly record the target's phone activity and send it to your device!
GEOfinder – Fast Comprehensive Tracking!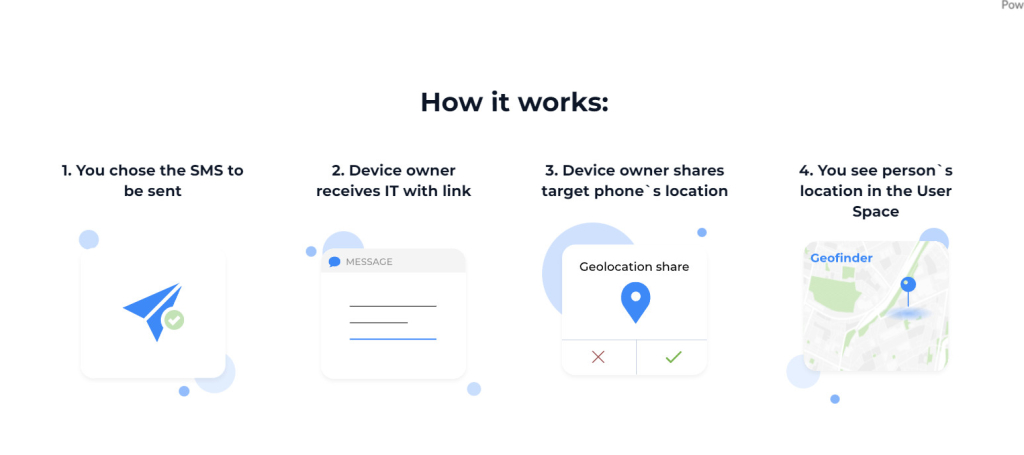 GEOfinder is a 5-star-rated software that is convenient and perfect for sending spyware via text message or email! And best of all, it only works with a couple of clicks and you don't have to worry about jailbreaking or rooting! The only thing you need to use GEOfinder is the target's phone number. You can use GEOfinder's spyware to keep track of your target's precise location. Here are step-by-step instructions:
Go to GEOfinder's homepage and enter the target's phone number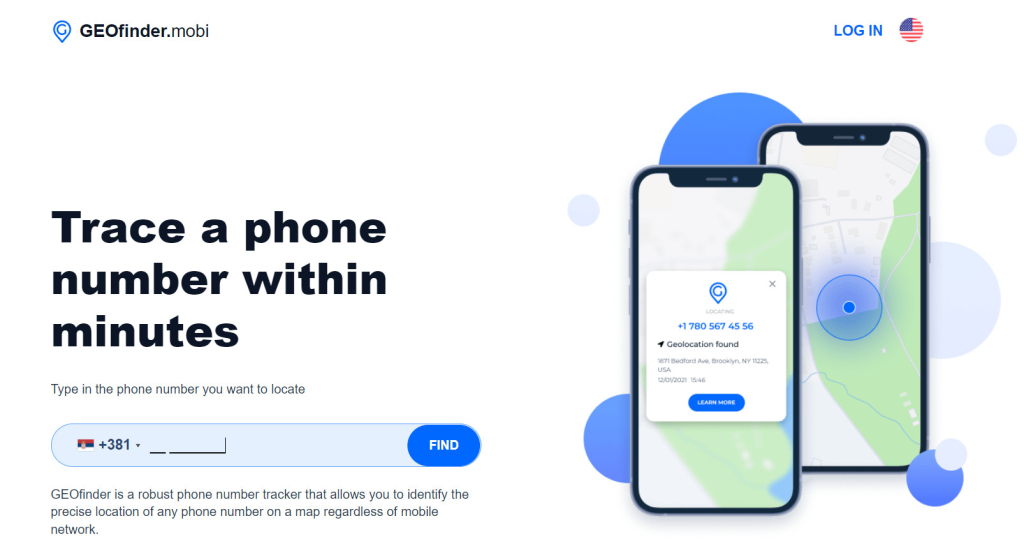 Subscribe for an account and pay an affordable fee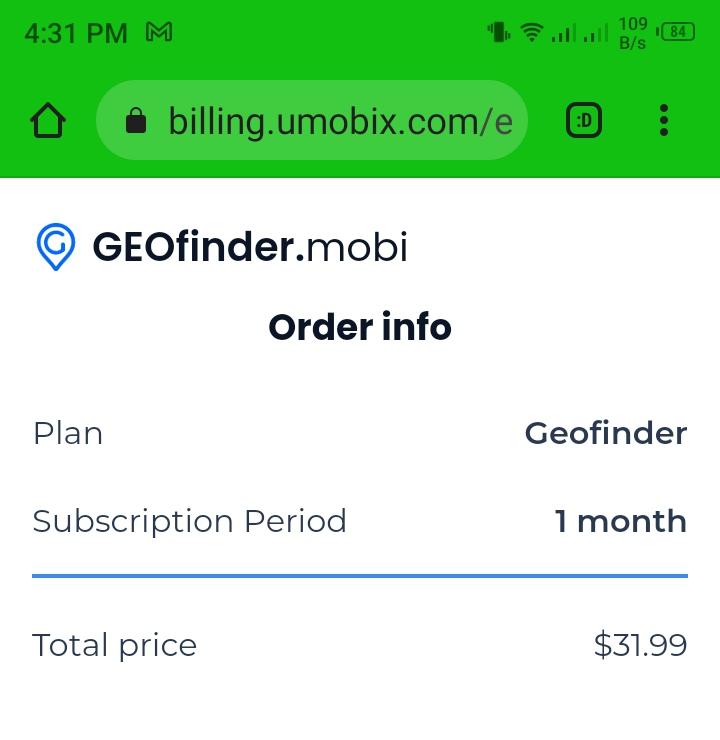 Choose the text for the text message or email which you'll use to send spyware. It should sound like a legitimate company/person/service
Customize the text and hit send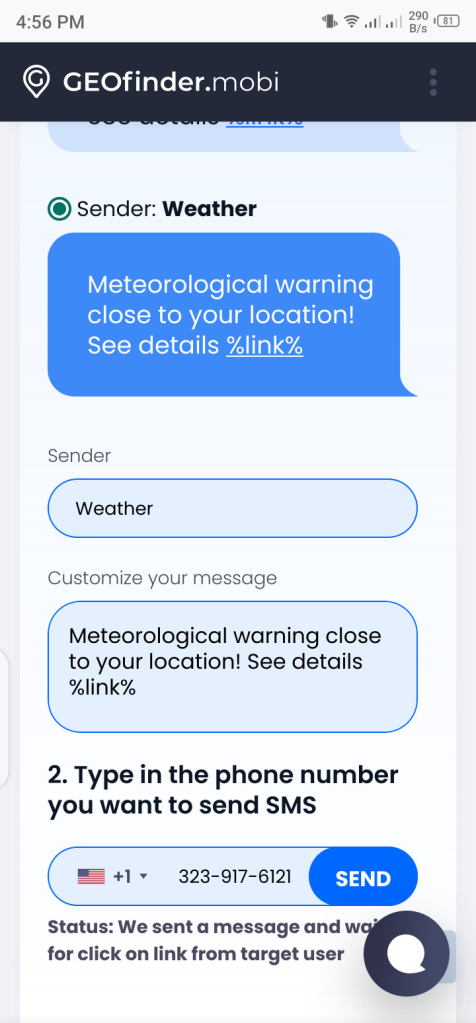 Once you've sent the message, the target device will receive it as a system-generated message.
That's it! Once your target opens the spyware link via text or email, their precise location will be shown.
Spybubble – Awesome Spy App That Sends Texts to Email!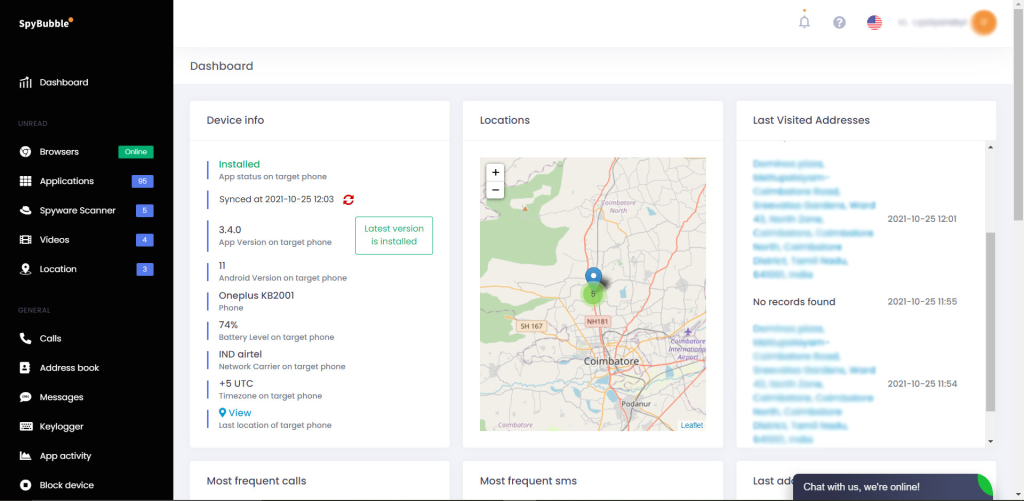 Spybubble passed our extensive review with flying colors! This spy app can do it all, track the target's location, reveal their browser history, show you their emails and even let you read their private Instagram, Facebook, and WhatsApp messages! Even better, it runs in stealth mode, so the target will never know they are being watched. Here is a brief rundown of how you can use Spybubble to send spyware link via text or email:
Sign up for an account
Follow the on-screen account setup instructions
Once you've purchased a subscription, you will receive a download link via email
Send that spyware download link to your target's email address or phone number
Either wait for them to install it or download it yourself if you have access to their phone
Log into Spybubble's dashboard to see all their information.
Check out our comprehensive Spybubble review to see detailed installation instructions.
What you can monitor with this spyware:
View WhatsApp, Facebook, Snapchat, and Instagram messages
Read texts
View call logs
Access emails
See browser history
Keylogger
GPS coordinates
Take screenshots
Does your partner or child act shady whenever you ask what they're doing on their phone? Install Spybubble for less than $12 per month and read their private messages now!
How to Send Someone Spyware?
The easiest way to send someone spyware is to create an account at one of our recommended spy apps. Once you make an account, they will provide you with a spyware link. You can then send this link via text message or email.
For the spyware to work, the target needs to click the link and install it. To convince the target to install the spyware, you can create a story about what the app is. Alternatively, you can quickly grab the target's phone, open the link yourself and install the spyware in less than 5 minutes!
How to Create a Spyware Link?
Trying to create your spyware link is a lengthy and difficult process. Luckily, GEOfinder does all the hard work for you and will create your very own link. As soon as you create an account, GEOfinder will generate a spyware link. Then all you need to do is send the link via text or email to the target.
Once the target clicks the link and installs the spyware, you will be able to see everything they do on their device. If you want to spy on an iPhone, you don't even need to worry about spyware links. You can install spyware 100% remotely by signing into mSpy and entering the target's Apple ID!
Conclusion
If you are serious about tracking your partner or child, create your mSpy account today! mSpy will email you a special download link that you can instantly text or email to the target. Then all you need to do is open the link on their phone and quickly install the app. Don't spend another minute wondering who your partner or child is texting or what sites they are visiting, find out now by using mSpy!