How to Hack Someone's Discord Account in 2023
With Discord becoming ever so popular among game lovers, more and more people are joining this platform with every passing day. It is not a secret that a lot of people want to know how to hack someones Discord account.
There could be several reasons why someone might consider hacking Discord. Parents might want to monitor what their kids are doing on the Discord servers and control their screen time. A concerned spouse might want to see what their partner is doing online and who they're talking to, or an employer who wants to ensure that his employees aren't gaming during work hours.
So, are you thinking to hack someone's Discord account? But how can someone hack Discord app? This article will show you the best methods to do so.
How to Hack Someones Discord Account?
There are several ways in which you can hack into someone's Discord account to monitor what they're doing and who they're communicating with. Some of these include:
Installing a spy app and taking control of the server;
Hacking Discord by sending a link;
Using phishing or social engineering to hack someone's Discord account.
Maybe you think why someone wants to hack a profile of the target person. If you want to do this, you have your own reasons. But the most common reasons to get access to such apps are:
you want to detect suspicious activity;
you use Discord as a gaming platform (because it is really popular among gamers) and are not sure about security;
you want to cheat on other gamers or would like to find out similar interests;
you want to monitor computer device or cell phone for some business needs;
you are a parent and worry about your kind security: adult content in Internet apps;
you want to know the exact location of your children, etc.
So, you really can do all of this. Just you need to find right tools.
How to Hack a Discord Server and Take Ownership?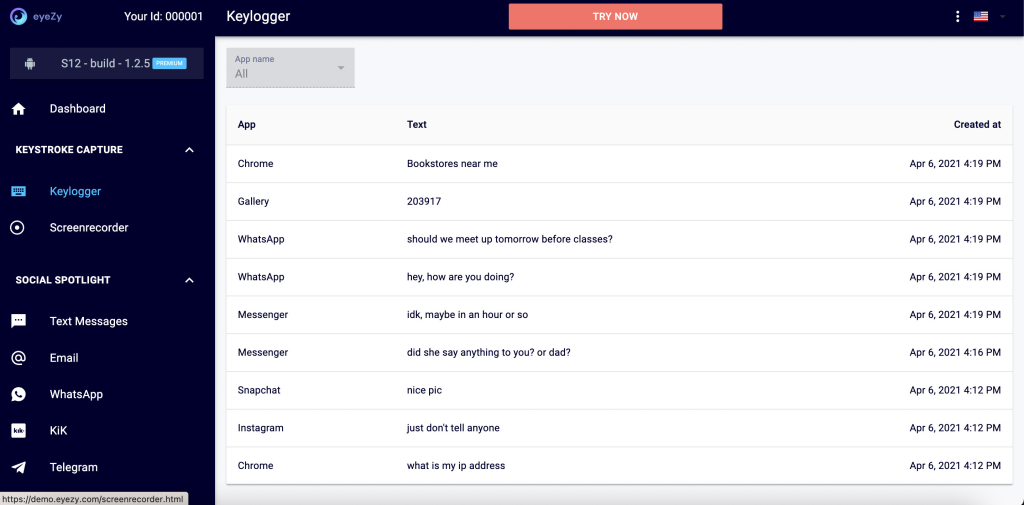 So, are you interested in how to hack Discord? Hacking Discord accounts and taking ownership is possible using a tool like eyeZy. The eyeZy app is an invisible spy app that you can use to hack into someone's device and take over their Discord server.
This stealer can let you monitor and control the target's actions on the app in multiple ways. It can also be used to hack someone's WhatsApp and other social media apps. Some of the ways in which Eyezy can be used to control activities include:
Monitoring chats using the keylogger: The keylogger tracks all the keystrokes the target enters on their device in real-time, and makes it available for you to do this online. This includes their chats, and also their username and passwords. Once you have their username and login data, you can use it for hacking Discord directly. If the target has two-factor authentication enabled, you'll also be able to retrieve the verification code sent to the phone from the Messages section on the eyeZy dashboard.
Monitoring video and voice chats: You can use the keylogger and the app's screen recorder to see who they're chatting with, when, and what sort of media they're exchanging with each other. This way, if someone wants to check if their partner is cheating on them, they'll be able to find out.
Installing eyeZy on the target device to hack Discord servers is simple, and the steps to do so are given below:
Step 1: Create an account on the eyeZy website with your email address.
Step 2: Install eyeZy on the target device using the email address you used to create the account.
Step 3: When setting up eyeZy on the target device, set it to remain invisible, so the user doesn't find out about the presence of this profile hacker on his device.
Step 4: Use eyeZy to take control of Discord. From the dashboard, you can use the keylogger to track all the keystrokes the target enters on Discord, gain access to all their chats on the app, and more.
How to Get Someone's Discord Info with a Link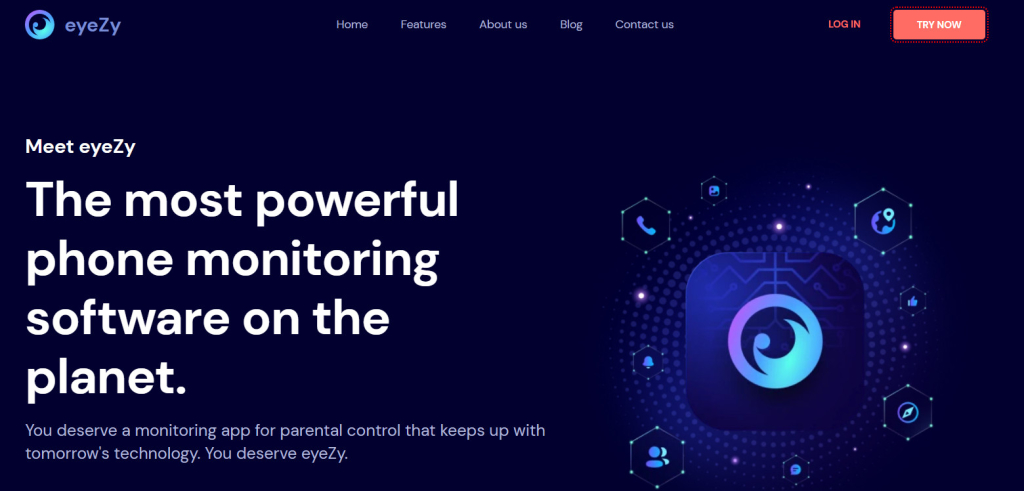 Another way of hacking someone's Discord account is by using a link. You can gain remote access to Discord accounts, voice messages, voice calls, target's chats using various methods. This too, is possible using an app like eyeZy. This account hacking app can be installed on an Android device or target phone using a link, and the steps to do so are given below:
Step 1: Create an account on the eyeZy website using your email address.
Step 2: Select Android as the target device and pay for your subscription of choice. Installing eyeZy on an iOS device doesn't require a link as it directly syncs with the target's iCloud profile.
Step 3: You will receive a download link on your email, which you can then open on the target phone and set up the app by following the prompts.
Once all these steps are followed and you've logged into the dashboard after setting up the app on the target device, you will easily be able to take ownership of the target's account as mentioned in the previous section. You will be able to get all target voice chats using the app's keylogger function, and you will also be able to monitor their credentials every time they enter it on their device. Except voice chats, you also can use parental controls tools, screen recorder feature, tools for detecting exact location, access to capture screenshots, etc.
Further, you will also be able to use the screen recorder to see all of the activities on apps, including friends, video and voice chats, and streaming, among other information. It is a really cool app for business needs, for making Instagram screens, etc.
How to Use Kidsguard Pro to Hack Someone's Discord?

KidsGuard Pro for Android is a powerful monitoring software that provides a wide range of tracking and spying capabilities. It offers features that enable you to monitor any social media platform of your choice effectively.
Parents find it helpful in keeping tabs on their children's activities. With this app, they can monitor text messages, video and voice call, and other social media activities.
Employers also benefit by using it to track their employees' activities, thereby ensuring the growth and success of the company.
Spouses can also use it to view their partner's Discord interface, text messages, and all multimedia shared on their devices. With its comprehensive monitoring features, KidsGuard Pro provides peace of mind in relationships.
What Are KidsGuard Pro Key Features?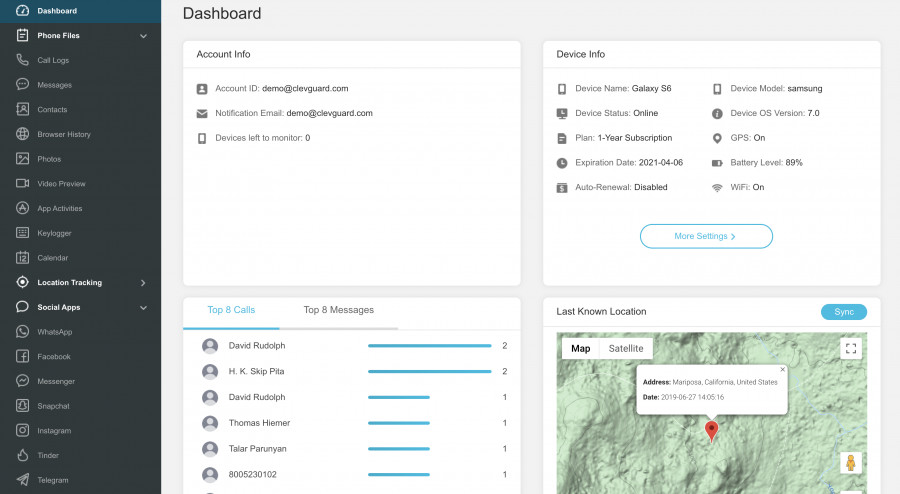 There are some important features of KidsGuard Pro:
Monitor activities on Discord;
Screen recorder feature;
Video Call;
Voice Call;
Record remotely and secretly;
Parental control built in feature.
The KidsGuard app is an effective monitoring tool that enables users to keep tabs on various social media platforms, including Discord. This versatile app offers several features that allow you to monitor someone's Discord activities conveniently.
For parents concerned about their children's online safety, KidsGuard can help monitor their text messages, video calls, voice calls, and chat history. Similarly, employers can use the app to keep track of their employees and improve their company's growth.
With KidsGuard, you can monitor all your friend's activities, including their friends, streaming, chatting history, video chat, and voice chat. The app's screen recording and screenshotting features allow you to capture all these activities, making it easier to monitor your friends' conversations and any multimedia shared.
KidsGuard also has a video call feature, making it an excellent tool for hacking into a Discord account. You can easily monitor your friend's video calls, including who they call and what they discuss. The voice note monitoring feature also allows you to track and listen to voice notes on your friend's account, providing an alternative means of communication.
With KidsGuard, you can remotely and secretly record anyone's conversation, including your partner's. The parental control feature of the app is an excellent way to keep a close eye on your kids' online activities. This feature allows you to monitor their conversations, the content they view, the videos they share and receive, and record their voice call conversations with friends and peers.
How to Hack Discord with KidsGuard Pro?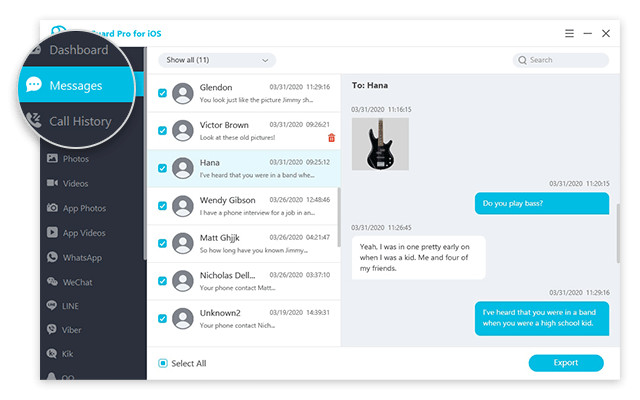 If you want to use this app to monitor Discord activities, follow these steps:
Step 1: Create a KidsGuard Pro account.
To begin using KidsGuard Pro, you need to sign up for an account with a valid email address. Once you have created your profile, you will need to choose a purchase plan in order to activate the product and begin using it.
Step 2: Download the KidsGuard Pro app onto the target Android phone.
After signing up for your KidsGuard Pro account, you will need to download and install the app onto the device that you want to monitor. This will help you to complete the setup process and ensure that you can start tracking the device's activity.
Step 3: Hack and monitor Discord.
Once you have installed the KidsGuard Pro app on the target cell phone, you can begin using it to monitor the user's activity. By logging into your KidsGuard Pro control panel, you will be able to view the user's messages, chat history, and other activity on the platform. This makes it easy to keep track of your child's online activity or monitor the online behavior of employees or other individuals.
How Do You Find Someone's Real Name on Discord?
The best way to find someone's real name on Discord is to simply send the person a DM. To send private Discord messages simply:
Tap the Discord icon in the top left corner
Click 'Friends' button and go to the 'All' tab
Find a user on this list and click on the their avatar
Type your message in the textbox and hit 'Enter'
You will be surpised what personal information a person will reveal when you simply ask them. Another trick is simply Googling the person's Discord username. Many people recyle usernames and a simple Google research may connect it with an email or name.
If you have the Discord user's website domain then you can perform a WHOIS lookup and get their personal information. To perform a WHOIS lookup simply:
Enter the target's domain into the search field and and hit "Search"
Scroll down to the Registrant Contact section
If the person hasn't blocked their WHOIS lookup details you will be able to find their first and last name and even their address!
Discord is a secure platform. Unless the user accidentally reveals identifying information about themselves or you hack their account you won't be able to get their real name.
How to Get Your Hacked Discord Account Back
If you suspect that your Discord account has been compromised by a Discord account hacking tool, the first thing you should do is try logging in and changing your login and user's Discord data to something stronger. This may be possible if the hack has been carried out by some kid. However, if the person behind this is a professional hacking expert, chances are you may not be able to log into your profile.
In such a situation, follow the steps mentioned below –
Step 1: Open the Discord request page
Step 2: Complete the online form to report the hack, and then choose Other Terms of Service Violation in Report Type as that seems most relevant to your case.
Step 3: Offer a complete description and then submit the form.
Step 4: Once this is done, wait for Discord to take whatever action they deem necessary to resolve the situation.
Discord customer support is very responsive. They reguarly help Discord users get their accounts back. If you are lucky you should have your profile fixed witin 24 hours. In the worst case scenario you will need to create a new profile.
Can You Get Hacked Through Discord?
If a cybercriminal happens to gain the user's permission, they can easily hack Discord't client files. However, this will only happen if you're not careful. The most common way people get hacked through Discord is by clicking on a strangers' link infected with malware. As soon as they click on the link their device downloads the malicious software.
Once installed the malware can gain access to your device, they access all your information including photos, videos, private messages, login data and online banking information. You should never click on unknown links and be extremely careful about clicking on any link, as hackers are masters at making links look legitimate.
Using strong credentials and enabling two-factor authentication are the best ways to keep your Discord account safe. If you want to be extra safe avoid signing into your Discord from public wi-fi. Hackers love to take advantage of poorly configurd networks!
Further, installing antivirus software is a great way to protect your devices. Lastly, you must also ensure that your web browser is up to date so that it has all the latest security protocols in place to protect you from a hack.
How to Get Someone's Email From Discord?
If you want to get someone's email from Discord, there are two ways to do so. While they can be effective to quite an extent, they also involve a lot more work when compared to using spy apps. We discuss these methods below.
Get Someone's Email From Discord Using Phishing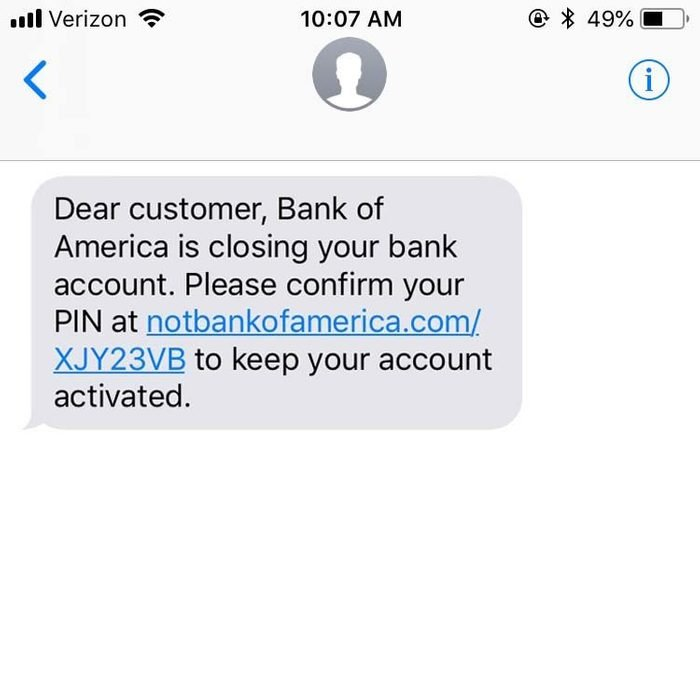 Phishing is an effective way to get someone to click on a malicious link and get access to their email. However, as mentioned above, it can be slightly tricky and involved some technical skills.
The process works by creating a fraudulent login page that you can send to the target to have them fill in. The idea is to make the page as genuine-looking as possible, which is where one's technical expertise will come into play.
For example, you could send them a message from Skype or Facebook, for example, informing them that they have to sign in to fix an issue with their account. Once they proceed to visit the login page that you've created, you'll be able to retrieve the Discord email address from the website.
Alternatively, you could also send them a message from their bank, as shown in the image below. Given below is a simple example of how you can use phishing to hack into someone's Discord:
Step 1: Select the website that you'd like to replicate for the attack. Take Discord, for example.
Step 2: Next, copy the HTML of the page that you'd like to copy. To do so, right-click on the page, tap View Page Source, and copy the HTML code that opens.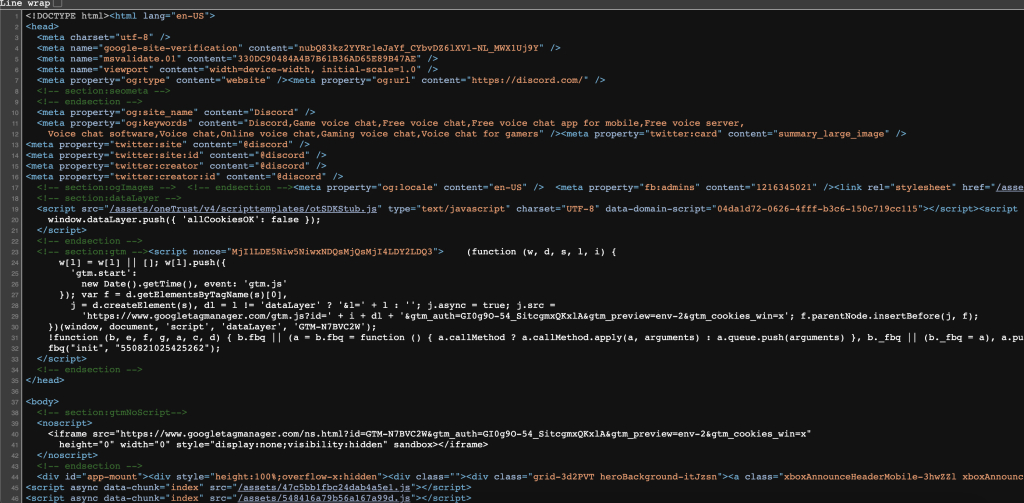 Step 3: Cope the code and save it to a new file on your Notepad named index.html.
Step 4: Look for a PHP code that can be used to record login credentials. Next, paste this into Notepad and save it as post.php.
Step 5: Choose a free hosting service, such as InfinityFree.
Step 6: Upload your PHP and HTML files to the FTP server on your new website.
Step 7: Select a name for your website that's similar to the name of the website you're replicating. For example, Discord.com with a cyrillic o rather than the Latin one.
Step 8: Lastly, draft an email or a text message while pretending to be from Discord's customer support team with a link to the fake website you've created. This could be an email telling them that they've been given a free subscription to Discord Premium and that they will have to log in to be able to access its benefits.
Once the target enters his Discord credentials, you'll receive them and can then use them to hack the Discord account.
However, one major downside with this method of hacking Discord is that they may not even tap on the link sent to them on the suspicion that they might become a victim of a scam. This is apart from the fact that creating a fake website with links is also rather technical and time-consuming.
Instead, using spyware like mSpy or eyeZy is a much simpler option, with higher chances of success. All you have to do is introduce the spyware on the target device, and you can monitor all their Discord activities remotely without them finding out about it.
Find Someone's Discord Email Using Social Engineering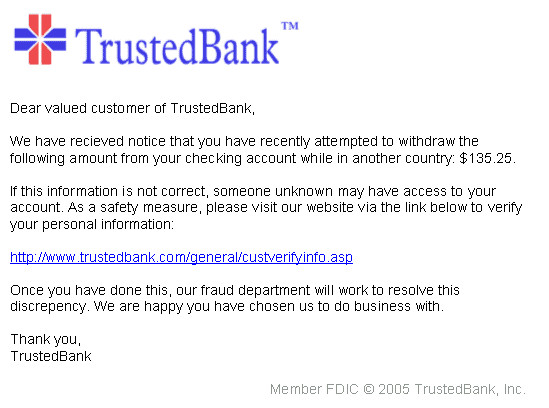 Social engineering is another effective, but still rather technical Discord password cracker. Just like phishing, it involves orchestrating a scenario in which the target is made to give out their email and password so you can use it to hack into their account. This is usually done by generating some kind of human interaction to extract valuable or sensitive information from them, i.e. their Discord password.
The idea is to find something the target relates to or is engaged with, and have them fill in a Google form or any other document that requires them to give out their email address. For example, if the target is a gamer, which they most likely will be, you can create a gaming-related questionnaire and send it over for them to fill up.
Alternatively, you could also contact the target as someone from Discord's customer support team who's reaching out for feedback on the app via an online form. This form can ask for the target's email address, which when entered can then be used to hack into their account using a brute force attack, for example.
Once again, the downside of this approach is that the target may not fill out the form altogether and that you'll also have to put in a bit of background research to make the contents of the form seem relevant to the victim and are of the same interest.
Final Thoughts
Not a professional hacker? Don't have much time on your hands? Then the easiest way to hack a Discord is to install eyeZy or KidsGuard Pro app on the target's phone. It only takes 5 minutes to set up and then you can read all of their Discord messages, video calls, photos browse every single one of their servers and instantly hack their credentials! Don't waste your time trialling complicated and ineffective techniques. Grab the target's phone and hack their Discord with eyeZy, the number 1 monitoring software today!
Is Hacking a Discord Illegal?
Hacking a Discord is illegal unless you have express consent from the owner. You can even end in jail depending on what you do when you hack someone's Discord account such as stealing money or a person's identity.
Why Do People Hack Discord Accounts?
Most Discord hacking tools are looking for your payment information. They hit the jackpot if you have your credit card detail attached to your profile. They will either sell your details on the dark web or go on a little shopping spree. To avoid this nasty situation remember to enable 2FA.
Is Discord Vulnerable to Hackers?
The Discord platform is secure. The site uses encryption, they regularly perform updates to keep their security tight and you can secure your profile via 2FA. However, Discord does not use end to end encryption and hackers do send suspicious links infected with malware.
How Someone Can Hack My Discord?
Although it is possible to hack a Discord account, it is important to note that doing so is illegal and unethical. Additionally, Discord has taken steps to protect users' profiles and may ban users who engage in hacking activities. It is important to respect the privacy and security of others and not engage in any malicious or illegal activities. While KidsGuard Pro may offer certain monitoring features, it should be used responsibly and only in cases where it is legally and ethically appropriate to do so.
How Do I Keep Discord Safe?
To keep Discord safe on Discord you should create a strong password. It should be at least 16 characters and feature a random mixture of letters, numbers and symbols. After creating an uncrackable passwords you should enable 2FA. Finally, never ever under any circumstance click on shady links!
Can My Discord Account Be Banned?
Yes, Discord has a set of guidelines and rules that users must abide by, and failure to do so can result in a user's profile being banned. Some reasons that can lead to a Discord account being banned include violating the community guidelines, harassment or bullying, spamming, sharing inappropriate content, and engaging in illegal activities. The severity of the offense can determine the duration of the ban, which can range from a few hours to permanent bans. Discord also has an appeal process that users can follow if they feel their ban was unjustified.