How to Hack Someone's Cell Phone Camera Remotely
Is there a way to hack someone's phone camera without touching it? The answer is yes, but doing so can often be a challenge. There could be several reasons why you may want to hack into someone's camera. So, how to hack someone's cell phone camera remotely?
You could be a parent wanting to find out where your kid is at any given point in time by clicking a picture with his phone. Alternatively, if you suspect that your partner is cheating on you, you might want to take a picture with their phone to find out where they go when they;re out of the house.
While you'll find several tools and spyware on Google that claim to be able to hack into someone's camera, you'll often have to download them from malicious websites, which can lead to your own device getting hacked. This guide will list the most reliable methods you can use to hack someone's camera.
How to Hack Someones Phone Camera without Touching It
The best way to hack into a camera on your child's phone or partner's device is by using spy apps. The spy apps we discuss in this guide are some of the most reliable in the market and give you remote access to the target's phone via an online dashboard. These are usually compatible with both Android devices and iPhones, and simply require reliable Wi Fi networks to install and use.
KidsGuard Pro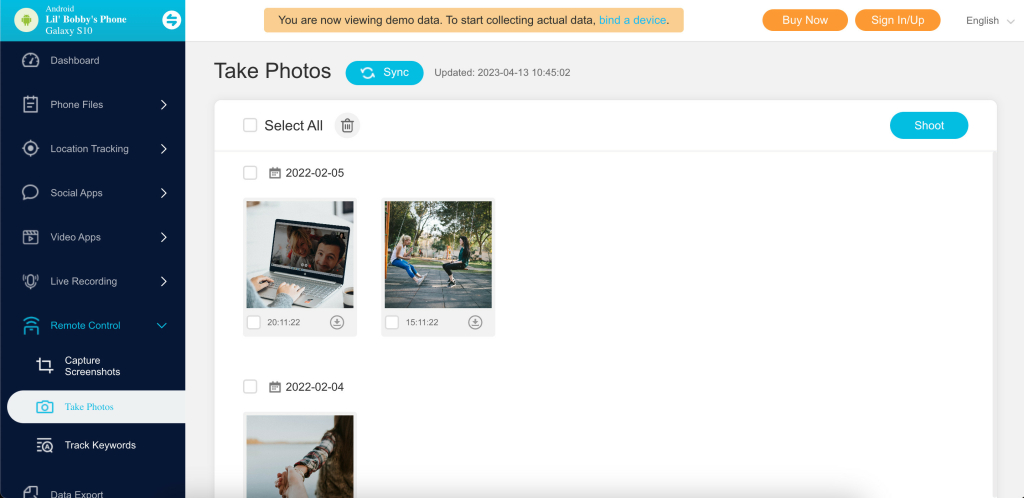 The first of the spyware apps on this list is KidsGuard Pro. This is one of the best spy apps available in the market today and offers a wide range of features. It's compatible with an Android phone, iOS, and Windows devices and can be used to get remote access to the smartphone's camera without the user knowing about it.
Apart from remotely capturing images, KidsGuard Pro can also be used to track keywords and capture screenshots remotely. Its other features include:
Monitoring the device's browsing history;
Monitoring phone calls and text messages;
Tracking keystrokes entered on the device, including passwords and text copied to the clipboard;
Remotely tapping the device's microphone;
Monitoring media files stored on the device;
Tracking all contacts stored on the device.
Pros
No jailbreaking or rooting required
Almost syncs in real time
Comes with plenty of tracking features
Easy to use
Easy steps to install
Cons
May have issues syncing with older Android versions
The dashboard can be improved in certain areas
FlexiSpy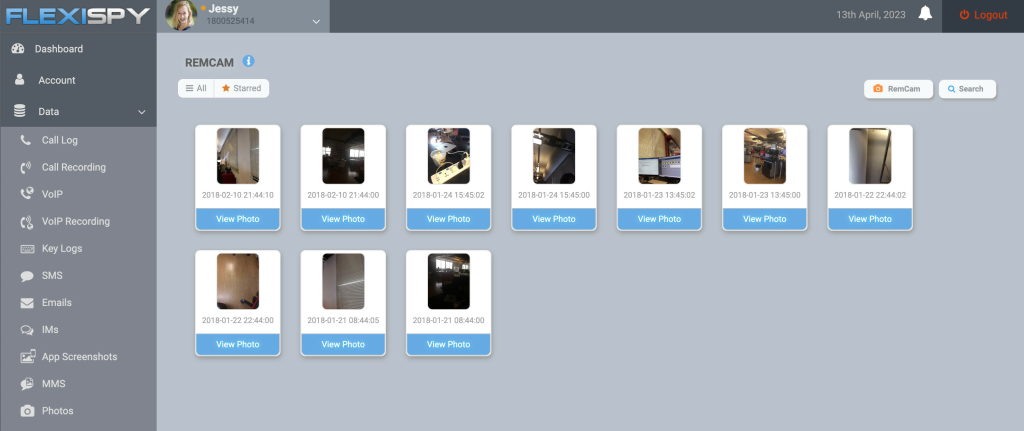 The second spyware on this list is FlexiSpy. This is one of the most advanced spyware apps available in the market today and offers a host of remote features that give you full control over the mobile device you're hacking. The app is compatible with an Android phone, iOS, Windows, and macOS devices.
FlexiSpy offers a RemCam feature that you can use to remotely capture images of the phone's surroundings. All these images are then saved on the dashboard for you to review at your convenience. Other than capturing images, FlexiSpy also offers other remote features that include live listening for calls, call recording, ambient recording, and remotely capturing videos.
The other key features of this app include:
Monitoring phone calls and text messages;
Tracking the target's GPS location;
Geofencing;
Monitoring media files;
Monitoring the browsing history on the device, including the link, time, and date;
Capturing screenshots of all apps on the device;
Capturing keystrokes, including passwords and text copied to the clipboard.
Pros
Comes packed with features
Offers all possible advanced remote features
The software is 100% undetectable
Beginner friendly
Fast data syncing
Cons
Advanced features require rooting and jailbreaking
The dashboard design is a little outdated
mSpy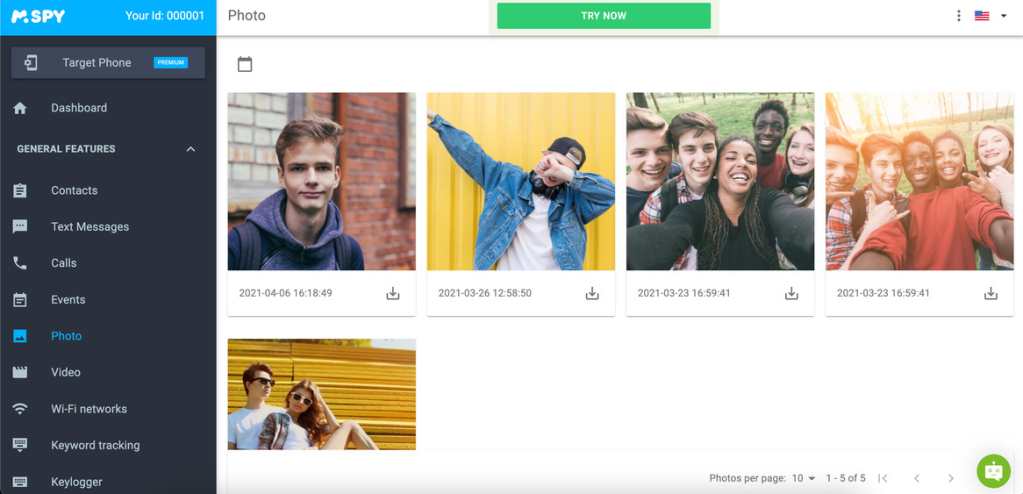 The third app on this list is mSpy. mSpy is one of the best spyware apps available in the market today and works equally well on both Android and iOS mobile devices. It also doesn't require you to root or jailbreak your device to use the app's basic features. Further, installing this app on an Android device will require you to physically access it when the user leaves the phone unattended, but iOS installation can be done remotely.
However, unlike the two apps mentioned above, mSpy doesn't allow you to remotely capture images from the target's phone. What it does offer you is the ability to monitor the pictures and videos captured by the device in its gallery. The other features of this app include:
Monitoring phone calls and text messages;
Tracking the target's GPS location and setting up geofencing;
Monitoring media files stored on the device;
Tracking the user's browser history;
Tracking keystrokes entered on the device and programming it to alert you when certain keywords are entered;
Monitoring social media apps such as Facebook, Instagram, Snapchat, Kik, and more;
Can remotely block apps installed on the device.
Pros
Offers plenty of tracking and monitoring options
You can spy while being 100% undetectable
Hacking an iOS phone can be done remotely
Impressive keylogging features
Easy to use and install
Offers a 7-day free trial
Cons
Only monitors one device per account
Filtering through the collected records isn't very easy
eyeZy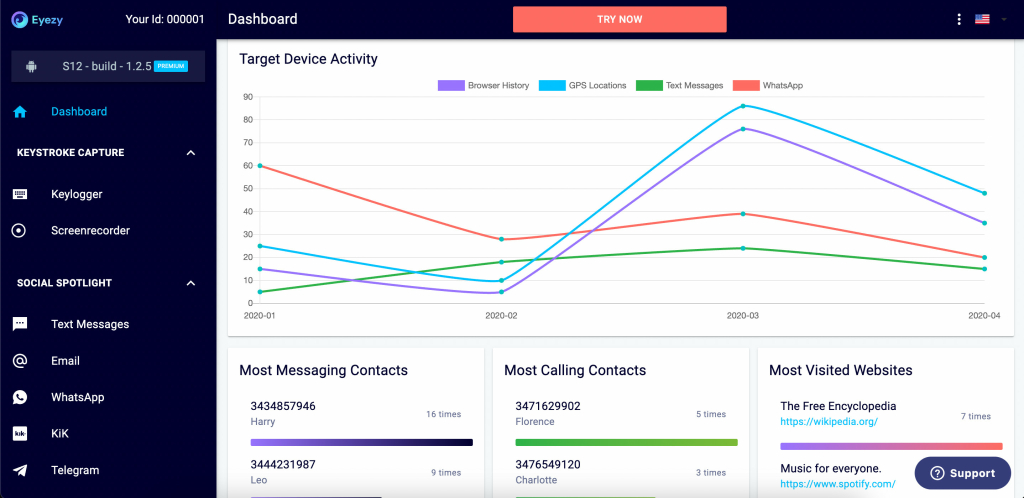 The last spy app on this list that you can use to access the images and videos captured on the target phone is eyeZy. Just like mSpy, eyeZy only allows you to view these files after they've been captured, but it does a fantastic job of giving you full access to the gallery. This spy app can be used on an Android phone and an iPhone.
Once you install the app, you get full control over all the apps on the device, and each feature is easy to use and syncs almost in real-time. Some of the key features that eyeZy offers when spying on phones include:
Monitoring their calls and texts;
Monitoring their contact list;
Tracking all the apps or software installed on the phone;
Gain access to the target's GPS location in real-time;
Monitoring their browser history;
Track all conversations and media shared on social media apps.
Pros
Monitors all major social media account
You only need to gain access to the phone once during the installation
100% undetectable when installed on someone's phone
Works on Android and iOS phones
Cons
Doesn't offer a free trial
No remote installation on Android
How to Hack Someone's Phone Camera with Another Phone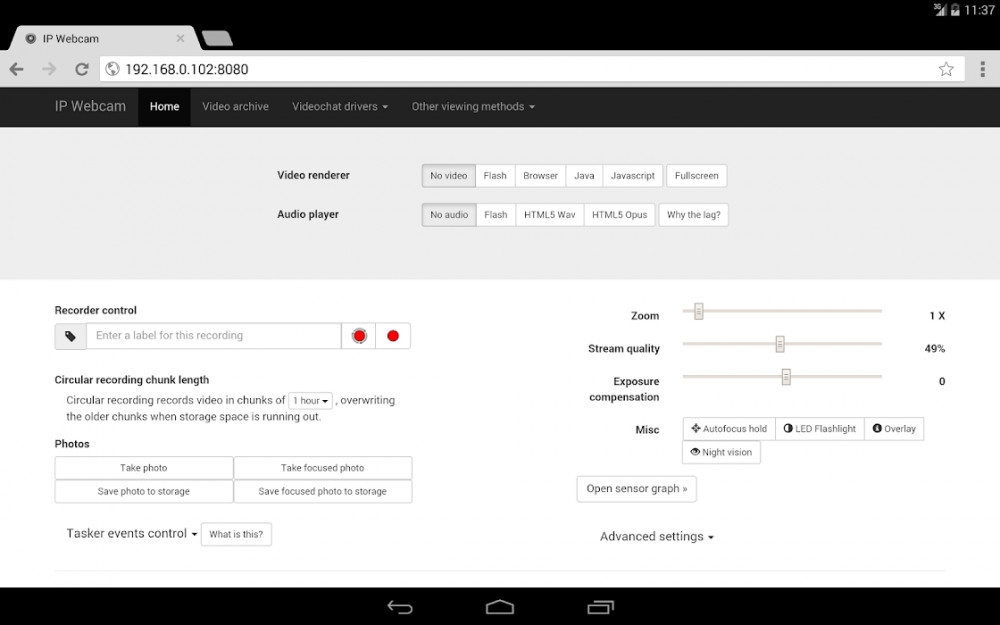 A less accessible version than our previous picks, IP Webcam Pro is marketed as a security tool and gives users the ability to use the phone camera as a network camera with several viewing options. Its amazing features make it one of the best apps for phone hacking. You should give it a try if you want to know how to hack into someone's phone front-facing camera and see it live.
With this tool, you will be able to view the output on several platforms like web browsers and media players like VLC. This tool works without internet access for as long as you are on the same WiFi network.
You can opt for Ivideon cloud broadcasting to widen your reach. The app also supports two-way audio. In addition to giving access to the phone camera, this one provides data, time, and battery information. It also works as a motion detector and supports night vision.
This Android app is available for $3.99. However, it isn't a stealth app and will be visible on the device, unlike the spy apps mentioned earlier. Also, it requires physical access to the target device. Hence it may not be the best pick if you want to know how to hack an Android phone camera.
Nonetheless, here's how it works:
Make sure the Android device you're hacking is connected to your WiFi;
Download and open the app on the target phone;
Purchase a subscription and Press 'Start Server' on the screen;
You will begin to see the feed. Scroll down until you come across an IP address;
Open a browser on any computer or mobile connected to the same network and enter this IP address.
How to Hack Someone's Phone Camera Remotely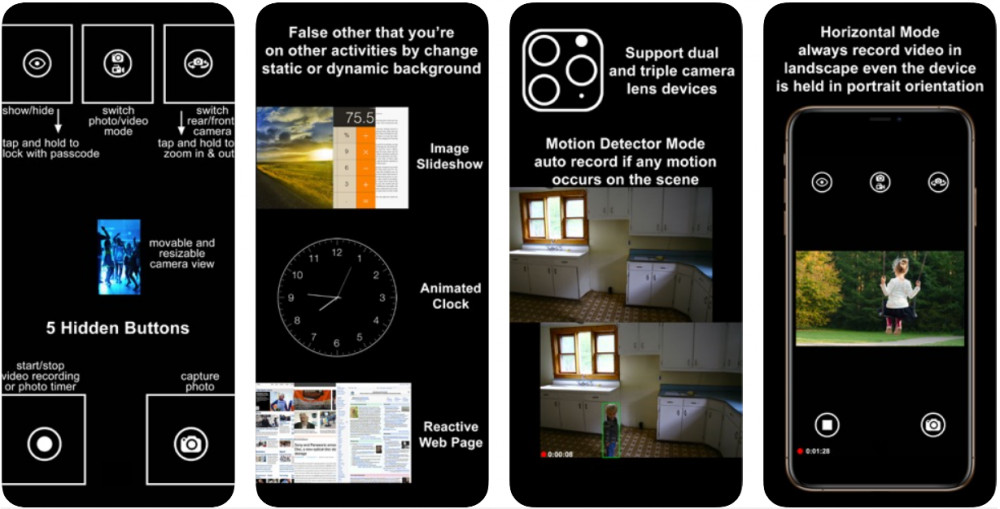 Wondering how to hack a camera on a cell phone easily? SP Camera is available for only $9.99, this is one of the best apps to learn how to hack iPhone camera and use it without making any noise. This feature-rich app can be used by a hacker to record both photos and videos without being detected.
Here are some of its main features:
Recording using the camera while the device shows a fake background;
Built-in timer and motion sensor to automatically record video;
Multiple modes, including photo, video, slow motion, timelapse, and dual cameras.
There are many benefits of using this app, including:
Recording content in a password-protected folder;
Allows you to zoom in and out – up to 10x;
Supports high-quality recording;
You can secure the recording with a passcode.
While it's a great app, it may crash often. Plus, installing it can be tricky as well because you will need physical access to the device to get the job done, just like the spyware mentioned earlier.
How to Hack Into Someone's Phone Pictures for Free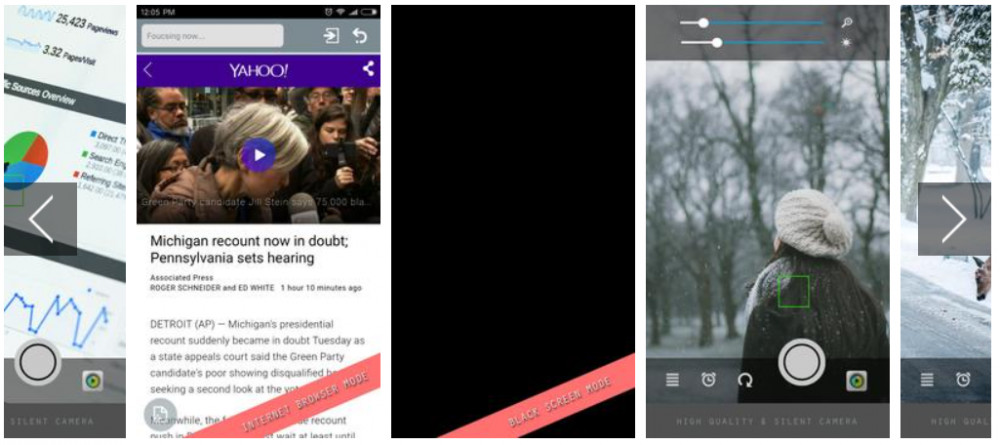 Perfect for Android users, this one is more of a hack a phone app that lets you click pictures without letting others know. Unlike other mobile phone hacking on this list, Silent Secret Camera HD is free.
It is easy to use. All you have to do is install it on the target device and set it up, i.e., choose a fake screen and designate buttons. Here are some of the main benefits of this app:
You will be able to click pictures without making any sound by using different buttons, including volume control buttons;
The screen will not display the camera as it lets you use your browser to get the job done.
While it doesn't let you hack someone's camera, it can be a good pick if you want to be able to keep images or videos for your record.
How to Know If Your Phone Camera Is Hacked?
There are several ways hackers can get into your phone and remotely hack its camera. This could be done by sending you a malicious link that inadvertently leads to spyware being installed on your device.
Sometimes, hackers can hack someone's phone with just their number, often making it essential that you be careful about giving your number to any unknown sources or websites that you access via suspicious links. Regardless, here are a few ways you can figure out if your phone camera has been hacked:
You notice new images or videos in your gallery;
Your phone starts heating up even when you're not using it;
Your phone reboots on its own;
You notice a new app or software installed on your device without your consent;
Your antivirus feature or app warns you that there is some kind of malware present on your phone;
Your data consumption shows a suspicious increase.
How to Protect Your Phone From Being Hacked
There are several ways in which you can protect your phone from being hacked by malware. Some of these include:
Install an antivirus software on your device to ensure its security at all time;
Install a password manager to manage your account passwords. A good example is Bitwarden;
Use verified security tools to protect your device. Be careful as Google will give you several options, not all of which are reliable.
Conclusion
There are several ways to hack into someone's phone camera remotely. While there are a bunch of third party apps available, the best and most reliable tools are spy apps like KidsGuard Pro and FlexiSpy. These apps allow you to remotely access the camera and take a picture or video. However, while apps like mSpy don't allow you to remotely capture images, you can still use them to monitor the images and other media stored on the device.
Always remember that hacking someone's phone is illegal, and doing so can land you in legal troubles. Always check your local laws before doing so. Further, using a spy app to monitor your children is legal, but do use them to spy on an adult without their consent isn't.