How to Get Text Messages From Another Phone Sent to Mine
For many parents, ensuring the safety of their children online has become increasingly important. But keeping an eye on their every move is never easy.
One way of doing it is by using monitoring apps to monitor their texts and online activities. And in this article, we discuss exactly that.
Why Would You Want to Get Text Messages From Another Phone?
This is usually the first question that comes to everyone's mind whenever monitoring apps are mentioned.
Though you may have different reasons for reading their texts without their phone, they always boil down to two:
Safety Reasons
To monitor their activities
To Keep Them Safe
With cyberbullies and internet predators lurking everywhere, it's important for parents to keep their children safe. And free remote SMS trackers give them an upper hand.
Since you can read someone else's texts with the apps, you can know when and who your child texted.
To Monitor Their Activities
Other than being able to read their text messages without them knowing, you can also monitor many of their activities.
From GPS locations to call logs, monitoring apps will provide plenty of information about your child's whereabouts. And the best part is that it all happens in real-time.
How to Get Someone's Text Messages Sent to Your Phone
The process for monitoring someone's text messages will depend on the target phone's OS. This is mainly because the apps operate differently on each OS.
If you want to spy on Android, you'd have to install a spy app like mSpy on the target device to get started. But iPhone users won't need to install anything as you'll see below.
Using mSpy On Android to Get Text Messages
While the main goal is to use a spy app on the target device, there are usually a few procedures to complete first. As such, we've organized the process into 5 main steps:
Step 1: Purchasing a Subscription
Step 2: Preparing the Target Device For mSpy Installation
Step 3: Downloading and Installing mSpy
Step 4: Setting Up mSpy on the Target Device
Step 5: Monitoring Text Messages From the Target Device
If you want to check out our guide on tracking SMS without being able to access the target phone, you can go to our article: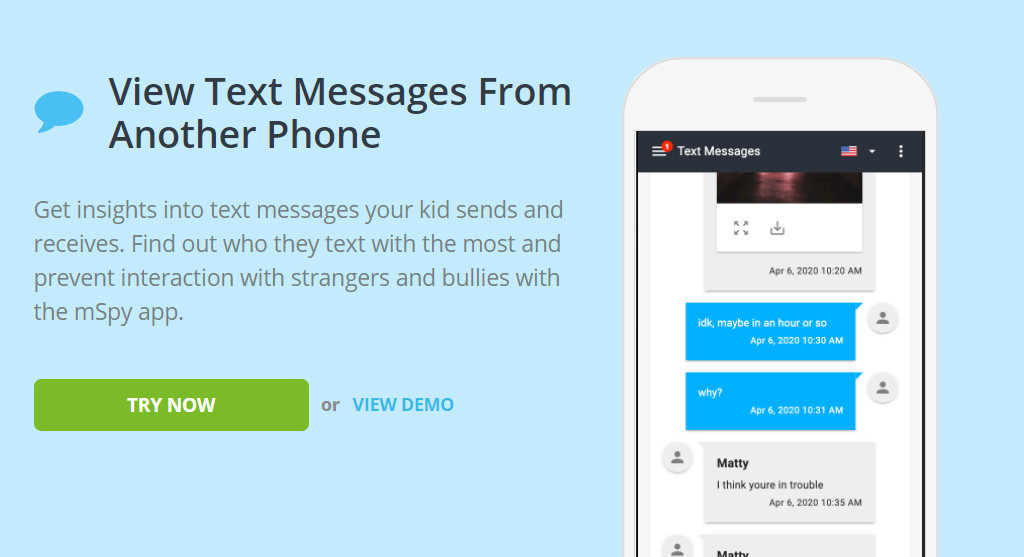 Step 1 of 5: Purchasing a Subscription
Before you can use mSpy to monitor someone's messages, you need to pick a subscription plan that meets your needs. Below are the steps to guide you to purchase a subscription plan.
Navigate to mSpy's website and create an account by using a valid email address.
Once registered, you'll then choose the OS of the target device you wish to monitor.
NB: You can skip this step for later.
Select one of the 3 main subscription plans that mSpy offers i.e. Basic Plan, Premium Plan, and Family Kit Plan.
Complete the purchase by making a payment using your banking credentials. mSpy will send you a confirmation email containing:
Order details
Link to control panel
Your mSpy username
Your mSpy password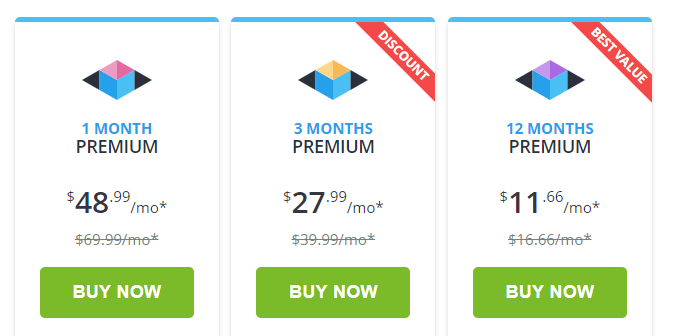 Step 2 of 5: Prepare the Target Device for Installation
mSpy, like many other spy apps will require some permissions on the target device. But to install mSpy, you would need to disable Google Play Protect on the device by following these steps:
On the target device, locate and open the Play Store App.
Tap on the hamburger menu on the top left side of the app to reveal the navigation drawer.
Select "Play Protect" then click on the little gear icon on the top right side of the Play Protect screen.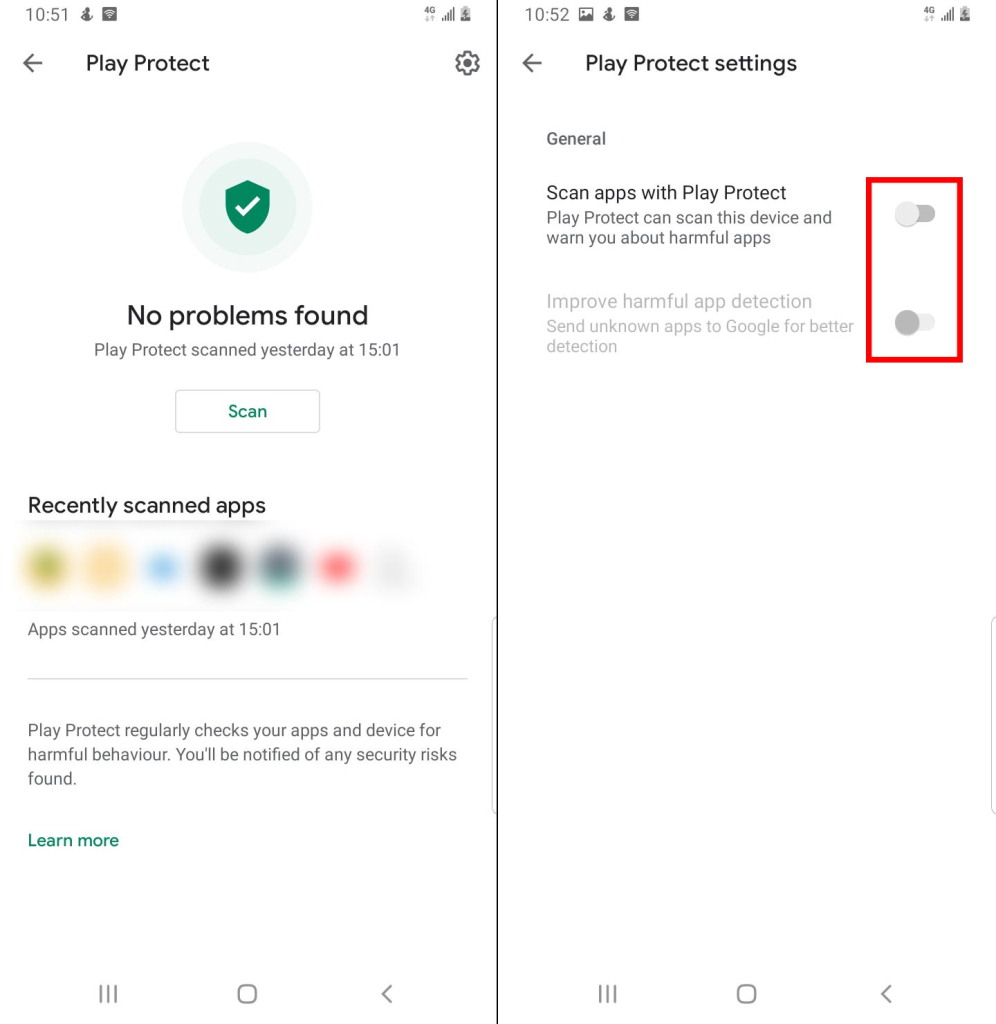 Disable all the options under Play Protect settings i.e.
Scan apps with Play Protect – Disabled
Improve harmful app detection – Disabled
Step 3 of 5: Download and Install mSpy
Now that you've configured the target device, you can now proceed to download and install mSpy. It's worth mentioning that this stage requires the details you got after purchasing a subscription plan in Step 1.
On the target device, open Google Chrome or a web browser of your choice.
Tap the address bar and paste in the link you received in your email after you purchased mSpy and press Go.
Complete the captcha security check then click Download to install mSpy's APK file on the target device.
Tap to open the APK file to begin installation. If a prompt appears during the installation, simply check "Allow from this source".
Grant mSpy all the permissions it requires by tapping "Next" until you finally see the "Install" button. Tap the install button to complete mSpy's installation.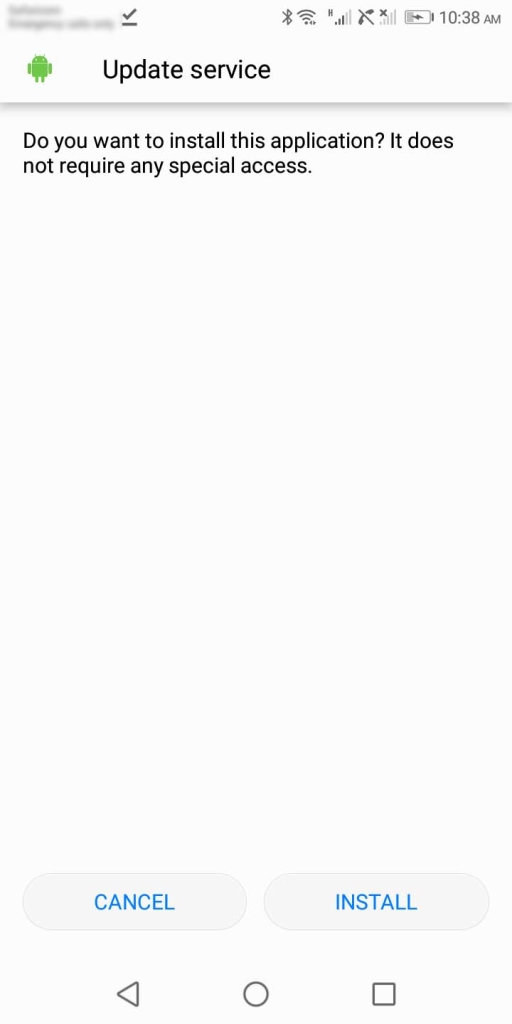 Step 4 of 5: Setup mSpy on the Target Device
After installation, you'd need to configure mSpy depending on your specific needs. To get started, open the app and then follow this procedure:
Tick the "Accept license agreement" checkbox and choose the extra settings you'd like mSpy to have. They include:
Keylogging
Collecting info
Hiding the app icon
If you had not granted mSpy the required permissions, a prompt may appear requesting for the permissions. Follow the wizard instructions to grant the permissions.
Key in the registration code you previously received in your email to activate your account on the target device.
Tap on the "Complete Installation" to finalize setup.
Step 5 of 5: Monitor Text Messages From Another Phone
To monitor the text messages from the target's device, you first need to access mSpy's control panel.
You can find the link to the control panel in the email you received after choosing a subscription plan. Follow these last steps to view messages on the target device:
Login to your mSpy account using the credentials you obtained in Step 1.
Once logged in, click on "Text Messages" on the left sidebar.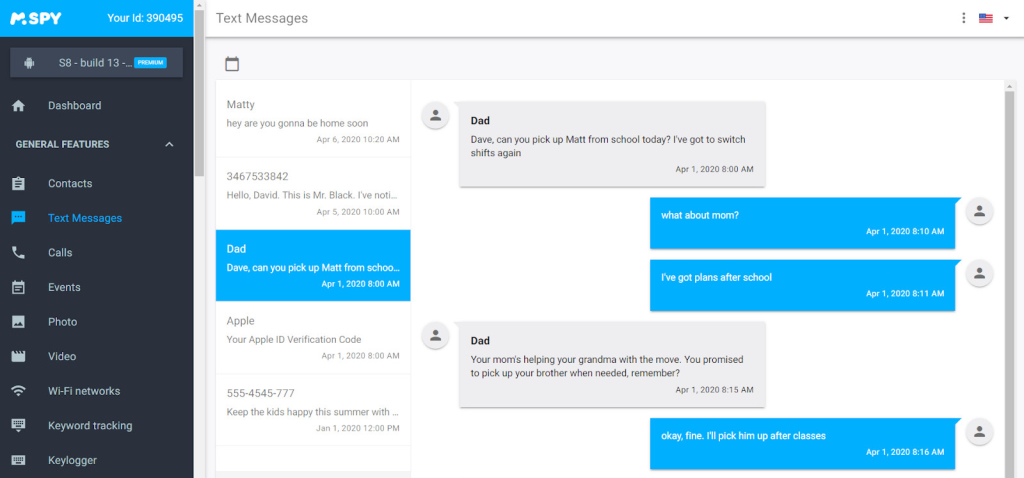 You'll then see a list of all texts mSpy has collected from the target device. Click on any one of them to view all details of the text message.
Using mSpy to Get Texts on iPhone
mSpy works a little bit differently on iOS devices. Unlike with Android, you don't need to install any app on the target iPhone.
All you'll really need is the phone's iCloud credentials. And this means that you can remotely access the target's device. In addition, it makes the process super simple.
Step 1: Purchase a Subscription Plan
Step 2: Setup mSpy Using iCloud Credentials
Step 3: Monitor Texts From the Target Device
Step 1: Pick a Subscription Plan
You need a subscription plan to use mSpy's special features on the target iPhone. To get started, here's what you should do:
Go to mSpy's website and create a free account.
When mSpy asks about the OS of the target device you wish to monitor, choose iOS.
Pick one of the 3 subscription plans that mSpy offers i.e. Basic Plan, Premium Plan, and Family Kit Plan.
Complete the purchase by making a payment. mSpy will then send you relevant details for the next process.
Step 2: Setup mSpy Using iCloud Credentials
After picking a subscription plan, the next step is to enter the target device's iCloud credentials on mSpy's setup wizard. But there are a few things to do before that.
Prepare the target phone by first doing the following:
Ensure Two-factor authentication is disabled
Ensure iCloud backup feature is enabled
Key in the Apple ID and password of the target device then click Verify to check whether the credentials are valid.
If the iCloud credentials are valid, mSpy will now have access to the target device's SMS. You can then finish the installation process.
Step 3: Start Monitoring Texts
The final and simplest step is to now monitor the text messages that the target has sent or received. And you can do that by first accessing the dashboard.
When logged in, click on "Text Messages" on the left sidebar menu to access a list of all conversations from the target device.
Click on any of the conversations on the left pane to see sent and received messages from the target device.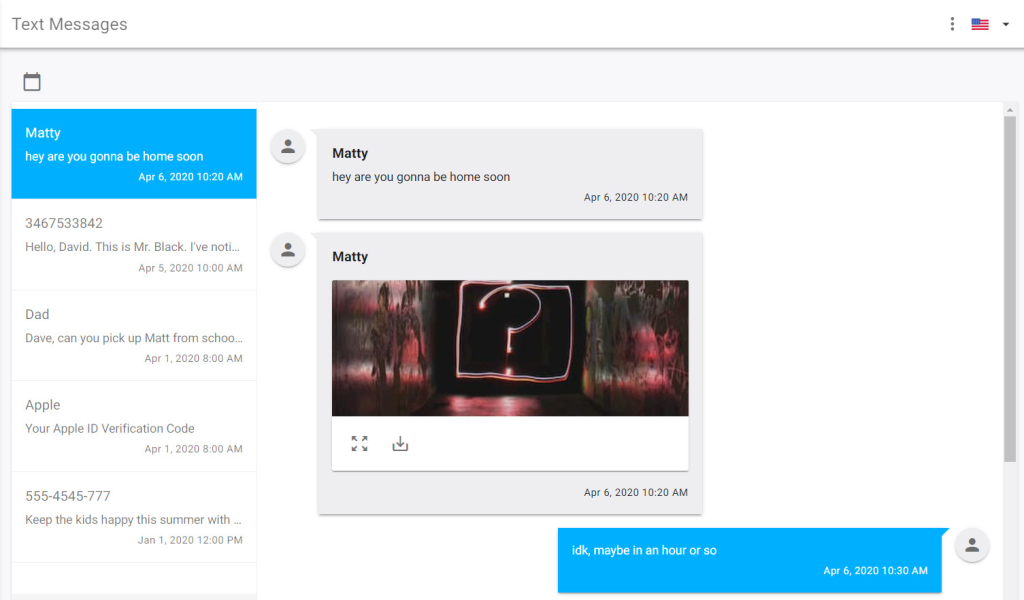 Why Choose mSpy For Receiving Someone's Text Messages?
Plenty of spy apps have almost the same features that mSpy has. And getting text messages from another phone sent to yours is among the basic features. You can also retrieve old messages with this app.
Nevertheless, mSpy's additional features are the biggest deal-breakers as you shall see below.
mSpy's Additional Features
Getting text messages from another phone sent to yours isn't mSpy's only perk. It also comes packed with a handful of features that can better help you monitor your child better.
Call Logs
With mSpy, you can view both incoming and outgoing calls on the target device. But it doesn't stop at that since it also lets you see call durations and timestamps too.
GPS Tracking
In case you also need to know the target's location history, then mSpy's GPS tracking is for you. This allows you to verify where the target was texting from.
Web History
Monitoring someone's web history is also possible with mSpy. However, you can also see the searches the user made while browsing in incognito mode as well.
Social Media Activity
You can also spy on your target if he/she is a regular on social media apps like Viber and WhatsApp. It's also worth mentioning that mSpy offers different ways of intercepting texts sent on social media.
Media Files
mSpy equally lets you view photos and videos that the target shares or receives on their device. With this feature, you may not have to rely on intercepting text messages alone since media files show literally everything.
Pros and Cons
As with all other spy apps, mSpy does have its fair share of pros and cons. However, its pros do outshine the cons as you can see.
Pros
Root/jailbreak not required
Plenty of advanced features
Easy to install
Easy to use dashboard
Stealth mode
Cons
A few features may need root/jailbreak but workarounds can easily solve this
iCloud credentials are needed if you intend to use the app on iOS
Is It Legal to Use mSpy?
As it is an SMS monitoring app, mSpy is legal to use. It has also been approved by some reputable organizations as well. However, its use is also subject to local laws.
Therefore, you should consult with local legislation to ensure you aren't going against the law.
Does mSpy Let You View Deleted Messages?
mSpy can let you see deleted messages both on Android and iOS. However, to monitor incoming and outgoing messages, mSpy needs to have been installed prior.
But it doesn't just stop at text messages. mSpy also lets you view deleted messages that were sent from social media apps.
Is mSpy Detectable?
After installation, mSpy will run in the background and remain invisible to the target. In addition, the app won't be visible in the app drawer too, thanks to stealth mode.
All that makes mSpy virtually undetectable. As such, your child won't be aware that you can get their text messages.
How Many Devices Can You Monitor with mSpy?
mSpy's pricing plans dictate how many devices you can monitor simultaneously. The basic and premium subscription plans only let you monitor a single device.
But with the family kit plan, you can monitor up to three different devices at the same time.
How Often Will mSpy Update the Messages?
You'll get to choose how often mSpy will be sending updates to the server. And this can be anywhere from a few hours to several hours (12-24 hours).
Nevertheless, if you have a rooted or jailbroken phone, you'll have more flexibility. Be careful about choosing a short interval though since it can drain the battery faster.
Must You Root or Jailbreak My Phone to Use mSpy?
mSpy will work even if you haven't rooted or jailbroken your cell phone. As such, you'll be able to enjoy most of the essential features such as message monitoring.
However if your phone is rooted/jailbroken, you'll be able to monitor social media activity with ease.
Final Verdict
All in all, it's fairly easy to get text messages from another phone sent to yours with a parental control app. And mSpy tops the list as one of the best.
With plenty of features at your disposal, it gives you more than one way of monitoring someone else's text messages.