How to Control Android Phone Remotely (3 Methods)
If you are an owner of multiple Android phones, a professional, or just a concerned parent watching over their kids, remote phone controlling is your friend.
Our experts have tried out various remote controlling options, so you don't have to wonder how to remotely control an Android device. We have found the best spy apps for Android operating system, as well as some great ones.
How to Install TeamViewer?
Now, let's move on to TeamViewer – another excellent application focused on remote access for Windows, Mac, Linux, and Android devices. TeamViewer offers screen sharing and managing other devices , sound and HD video transmission in real-time , file transfer, high security , and so much more.
To download the application on an Android device, you need to open Google Play and search for "TeamViewer for Remote Control."
Once you've downloaded it to your device, download

TeamViewer QuickSupport

on the target device.

The last step is to enter the ID the app provided and connect.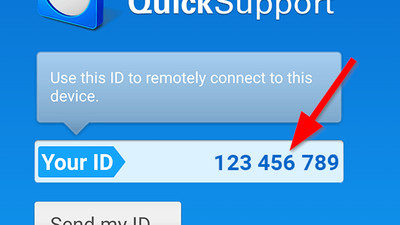 In the list of the computers available for connection, click on the one you want to connect to.

Now you can remotely control an Android phone over Wi-Fi.
If you want to control Android phones from a PC, you will need to follow a few quick steps.
On your desktop computer or laptop, download

TeamViewer Host

Enter the necessary information (everything will be connected and set up automatically, along with your contact list).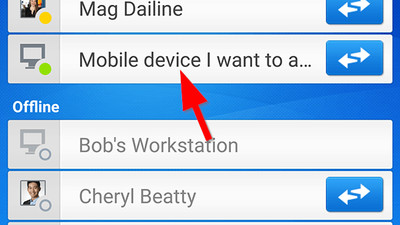 PRO TIP: To control one Android device with another via the Internet is more complicated than using mSpy, for example. If you already have TeamViewer set up, you can use it to manage another mobile device, either an Android phone or a tablet. You need to reverse the steps – control your computer from your phone and then use that connection for your tablet or another phone.
So, it should be like this: phone → desktop → tablet / another phone (it works as you are using your computer connection as a passway between two phones).
Is AirDroid a Good Choice?
Another popular remote controlling device is AirDroid.
The app offers file transfer and managing without using a cable, as well as text message and notification mirroring — see what you're missing out on if you're at your computer without your phone.
Additionally, you can use the remote camera in real-time and manage files on the device using a web browser.
Users praise this app's ability to transfer huge files from a remote device and primarily use it for that option because its premium version offers an unlimited number of file transfers.
It is available for Android, iOS, Windows, and Mac OS X operating systems.
NOTE: It is challenging to send texts to a phone's clipboard, and you can only do it in the web app but not in the Windows app. And there is no Chrome extension, so it's not the perfect solution for your Chromebook. Mirrored notifications were rather slow when we used them, and we couldn't choose which notification we wanted to be mirrored. Maybe you wouldn't want to see a piece of information from WhatsApp, for example. Unfortunately, AirDroid also drains a lot of your battery.
RemoDroid Remote Control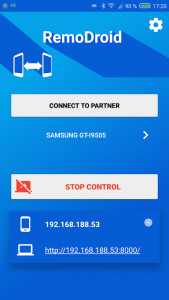 RemoDroid is an excellent option for remotely monitoring Android devices. The primary use of this application is to control Android TV sticks remotely, but it works with Android phones and tablets as well.
Some of RemoDroid's features include:
Screen sharing

multiple user support (meaning that numerous people can see the screen at the same time)

Streaming of presentations, videos, pictures
It is not difficult to use the app – you can do it by tapping on the Allow Remote Control button that permits screen sharing and allows you to control the device in question remotely. However, this action and the previously mentioned one require root permission .
If you don't want to root your device, you can tap on the Connect button to see the screen of the streaming device and remotely control it.
NOTE: RemoDroid does not work with all devices because it's currently in the beta state. Also, we noticed that RemoDroid warmed up the battery quickly, and some unusual sounds appeared during our use of the app.
How Can I Remotely Access My Android Phone?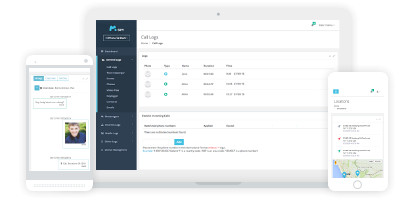 There are several ways to remotely manage an Android device.
After much research and consideration, we concluded that mSpy offers the best service with incredible features, educated customer service, and easy installation for a reasonable price.
mSpy is a high-tech tracker app for Android devices that offers support when it comes to controlling one Android device from another remotely.
This application is perfect for:
Busy but worried parents who want to use this

parental control for Android

to keep an eye on their kids when they are out with their friends or surfing online.

Employers to keep their employees on track.
What makes mSpy the best is the easy installation process and simple navigation – you don't have to be tech-savvy to use it.
mSpy's features offer a range of possibilities for your Android device.
✔ You can oversee call logs, read text messages, and messaging chats – even deleted ones.
✔ Some social media applications like Facebook Messenger, Snapchat, WhatsApp, Viber, and Skype will require rooting the monitored device. (After rooting and installing the mSpy app on the target device, you won't need access to it anymore).
✔ You can track the location of the device you're monitoring by selecting safe zones for your kids. Find out more about how to track your kid's phone without them ever finding out.
✔ You can keep an eye on media history sent and received via any app, as well as check the search history where you can select sites you deem inappropriate.
If these features are not enough to convince you to invest in a tracking device and you would still like to stick to the free ones, there is something you should know.
PRO TIP: Free apps will not provide all previously mentioned features. With free apps, you will most likely get the internet restriction option and be able to monitor online searches. However, these two features are not enough to protect your kids from online dangers. mSpy comes at a reasonable price and offers many more functional features.