How to Clone a Cell Phone to See Text Messages for Free
Do you suspect your partner is secretly texting someone? Or are you worried about what your child is discussing via SMS? Then it is time to clone their cell phone and read all of their texts!
In this article, we are going to show how to clone someone's phone without them knowing for free. We have tested over 30 different methods and come up with 3 amazing and effective tactics. Follow our simple methods below and learn exactly what your partner or child is doing right now!
Can You Clone a Phone to See Text Messages?
Can you clone someone's text messages? Yes, and it's easier than you think! The best way to clone someone's phone and read their texts is by using a high-quality spy app, but we'll explore additional methods as well.
And don't worry, no tech skills are required. Thanks to our simple step-by-step instructions, we will have you reading your partner or child's cell phone text messages in no time!
Method 1: Use Data Transferring Software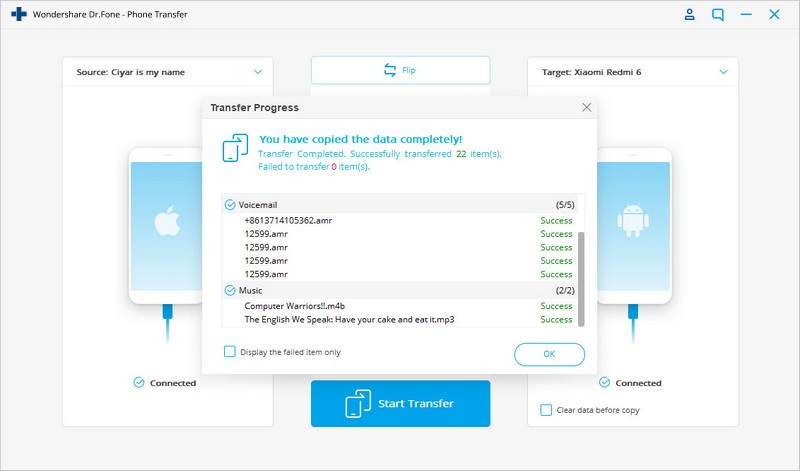 You can now effortlessly send all data from one phone to another with the help of data transfer software. The best app for cell phone cloning via data transfer is Dr. Fone. All you need to do is download Dr. Fone and connect it to both devices. Then you can clone everything, including text messages, photos, videos, and social media chats. And what's even better – you can test this method for free!
Dr. Fone is the best way to transfer data between two devices. Literally, at the click of a button, you can clone your partner's or child's texts. To clone a device using this app, follow these steps:
1. Firstly, connect both your and the target device to the system and launch the app. Click on "Phone Transfer" from the home page.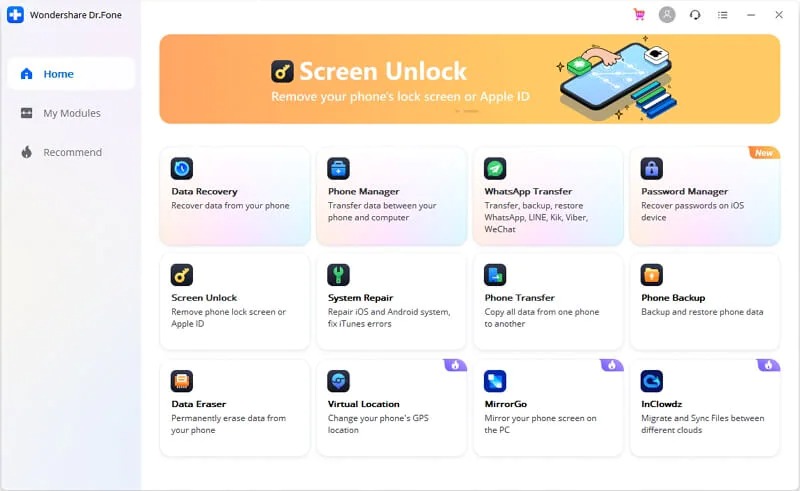 2. The application will automatically detect both devices. They will be named "Source" and "Target".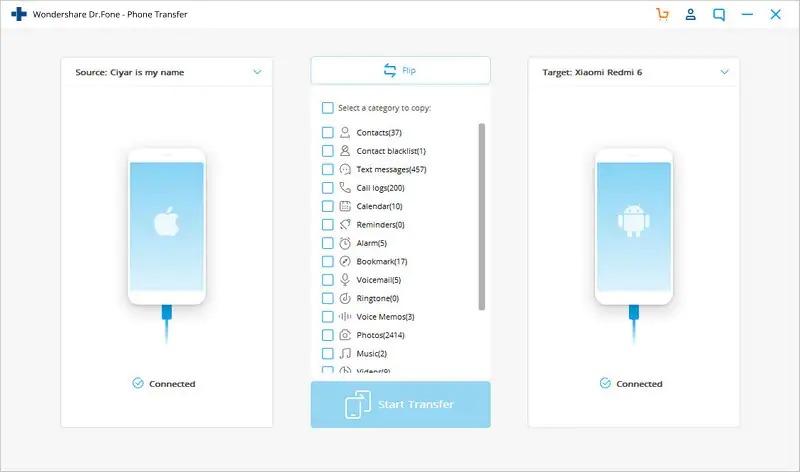 3. Choose the data that you want to clone, in this case messages.
4. Click on the "Start Transfer" button and wait for the cloning process to complete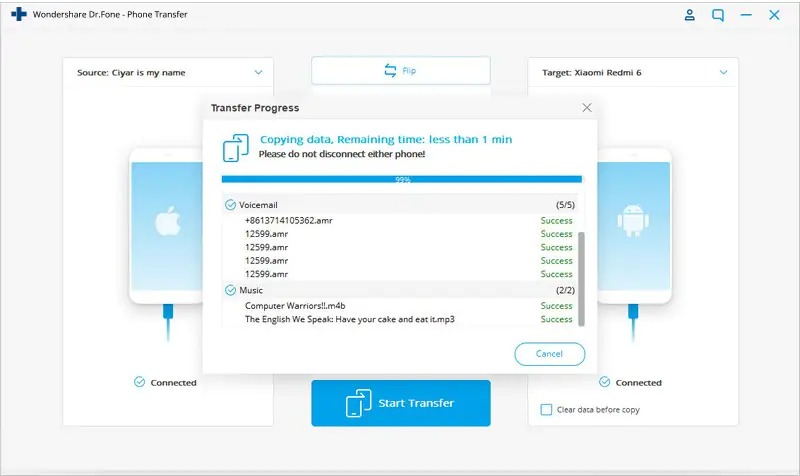 5. Once the app is done with cloning, you will receive a notification. Now it's safe to disconnect both phones.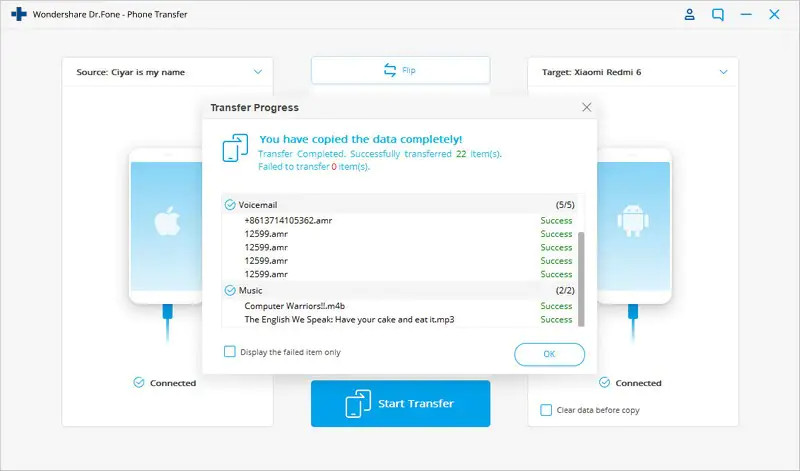 The only downside is that you must install the app on both devices, and you must connect both devices. This data transfer app also does not allow continual monitoring, as the target's future text messages will not be sent to your device.
Method 2: Use a Spy Apps for Easy Cloning
Can you clone someone's phone without them knowing? With SpyBubble Pro, you can! SpyBubble Pro is a spy app that, once installed on a device, will secretly record everything, including cell phone text messages. The app then sends all of this precious data to your SpyBubble account, which you can access whenever and wherever!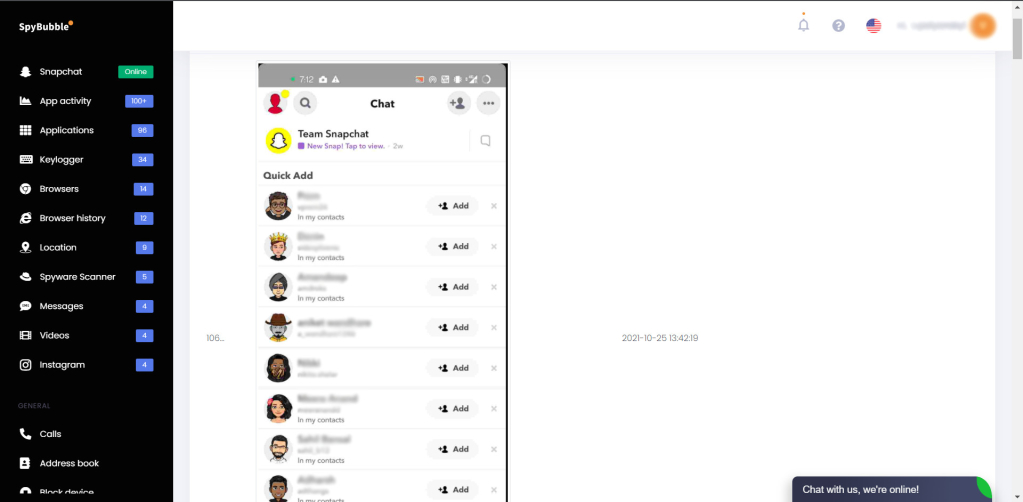 SpyBubble is absolutely loaded with features! It lets you see everything someone is doing on their phone, including:
Texts
Emails
Phone call logs (incoming and outgoing calls)
Browser history
Social media messages (WhatsApp, Facebook, TikTok, Instagram, Telegram)
GPS location tracking
Media files
This 5-star-rated spy app is incredibly easy to use. It takes less than 5 minutes to install and be set up 100% remotely on iPhones. Once installed, you can sit back and relax as SpyBubble does all the work for you! While it's not free, you can get a 15% discount that's currently live on the website.
SpyBubble is the easiest way to read someone's cell phone text messages and completely clone their phone. Try it out now for only $14.99 per month and instantly read Facebook and Instagram messages, view browser history, and even track their live location!
Method 3: Use a Bluetooth Cloner Device
There are now specialized Bluetooth hacking tools and cell phone cloning devices that will copy the contents of someone's phone directly to your device. We recommend using Super Bluetooth Hack.
To get this method to work, you need to connect to the target phone via Bluetooth and then let the cloner app get to work! The cloner app can copy all sorts of gems from texts to photos to browser history.
To use Bluetooth to clone a phone, follow these steps:
Download Super Bluetooth Hack from Google Play.
Follow the setup instructions.
Turn on Bluetooth and connect it to the target phone.
Make sure the devices are close to each other
After connecting, the cloner app will access the target's text messages!
This is a great free and simple method to clone a device. However, this trick does not work on iPhones, and your phone must be close to the target phone to establish a Bluetooth connection. SpyBubble is the best way to clone an iPhone cell phone remotely – you can be in another country, and it will still work.
Method 4: How to Clone a Phone with IMEI?
International Mobile Equipment Identity (IMEI) is a unique number that is used to identify mobile phones. If you have access to a device's sim card and know the IMEI, you can clone the device and intercept text messages.
Here's how you can clone a cell phone on Android devices and on iPhone to read text messages using IMEI:
Turn off the target's device and remove the battery SIM card.
Copy the IMSI number (located on the back of the SIM).
Insert a SIM Card Reader (purchase one online alternatively, you can use an IMEI clone app) into the target's SIM card slot.
Connect the SIM card reader to your new SIM and to your computer to ensure the KI number copies everything
After it has finished, insert the new SIM into your device.
This technique is highly illegal and is also not very effective. Telco companies have become effective at spotting clone devices and blocking them from the network. Using a high-quality spy app is a much better way to clone a phone for free!
Can My Phone Number Be Cloned to Receive Messages on Another Phone?
It is possible to clone a cell phone to see text messages on another phone, thanks to spy and phone duplicator apps. Once the app is installed, your messages will be secretly sent to the app's control panel, where the cloner can read all of your sent and received texts.
The most common methods hackers use to access your text messages are spy apps, using Bluetooth cloners, and data transferring software. You need to be careful connecting to bluetooth devices and should regularly check your phone for nefarious apps. Keep reading to see what the common warning signs are that your phone has been cloned.
How Can Someone Clone Your Cell Phone to See Text Messages and Other Data Remotely?
Someone can clone your cell phone to see text messages and other data remotely by using a spy app. Spy apps can be installed remotely on iOS devices if the cloner knows your Apple ID credentials.
You can prevent being cloned remotely by changing your Apple ID, turning on 2FA, or disabling iCloud backup. If 2FA is turned on, even if the cloner enters your Apple ID successfully to install the spy app, they will need to physical access to your phone and hit "Ok" to pass 2FA.
How Do You Know if Someone Cloned Your Cell Phone?
If you suspect your cell phone has been cloned, then look out for these warning signs:
Unexpected charges on your phone bill
Your accounts keep getting hacked
Not receiving texts or receiving a large number of strange messages
Your phone displaying two locations at the same time and a location you don't recognize
You should also run an antivirus scan on your device to check if any spy apps have been installed on your cell phone. These spy apps are capable of cell phone cloning everything on your device and sending it to a 3rd party without you knowing.
Don't forget that it is possible to clone not only a cell phone, but also to clone a SIM card.
How to Clone a Phone Without Ever Touching It?
The easier way to clone a phone without touching is via SpyBubble. Unfortunately, this method only works for iOS devices. Android phones can't be cloned remotely.
To install SpyBubble remotely, you just need to enter the target's Apple ID credentials in your SpyBubble dashboard during the setup phase. Then the spy app will automatically record all of the target's texts, emails, social media messages, and phone calls and send them directly to your SpyBubble dashboard.
This app runs in stealth mode, so your partner or child will have no idea that you can see everything they do on their phone. Even deleting messages or browsing the internet in incognito mode won't escape SpyBubble's eyes!
Conclusion
SpyBubble is the best app to clone text messages! We tested over 30 different apps, and this blew us away based on ease of use, reliability, features, and user interface.
It takes less than 5 minutes to install, and once set up, will automatically record and send everything the target is doing to your SpyBubble account. Not only can you read every single text, but you can also view pictures, videos, social media messages, and browser history. Try out SpyBubble for just $14.99 per month and secretly read your partner's or child's messages without them suspecting a thing!