GEOFinder Review: Track Someone's Location Using Their Phone Number
Do you want to track anyone discreetly? Maybe you're worried that your kids could be lying about their location or interacting with the wrong people. In that case, GEOFinder might help you find the truth.
This location tracker is also a mobile phone tracker that promises to help you know anybody's location as long as you have their phone number.
While some people use this app to locate their loved ones, some individuals are unsure whether this service works. This GEOFinder review discloses everything you may want to know about this mobile phone tracker.
Currently, you have many ways to locate someone. For instance, you can use WhatsApp and Facebook messenger to track someone. However, these methods require physical access to a phone or requesting the target person to activate the share location feature on their devices. Unfortunately, this ruins the point of spying on someone secretly.
Most methods available on the internet require physical access to the target device for them to work. However, you can use phone spy software to locate the target person without asking them to share their location or physically accessing their device.
This GEOFinder review explains how this app works when you want to trace someone with a phone number. Is this app worth trying? Find out in this review.
GEOFinder Phone Tracking Solution
You've probably heard that you can track a target person's cell phone activities without their realization. But while uMobix allows you to track someone's location and phone activities, it requires installation on the person's device.
However, this review is not about uMobix. The GEOFinder app from uMobix enables you to track a target person's device location using their phone number. Here's everything you should know about GEOFinder.
GEOFinder Compatibility
The GEOFinder app is compatible with all mobile phones, including iPhone and Android devices. It sends a text message to the target person's device, prompting them to click on a link therein. Essentially, you can use this phone tracker tool on any smartphone, tablet, or computer.
Creating an Account on GEOFinder
To access the app services, users should go to GEOFinder.mobi. The website has an easy-to-navigate interface. Enter the target's cell phone number and click "Find".
The app will take you to another page with limited information about the target device's location. Also, GEOFinder will prompt you to create an account to proceed.
Proceed to pay for the service, and you will have a GEOFinder account for tracking someone's location using their phone number. After creating an account, you can log into it from the uMobix official website as well. Alternatively, you can log into your account via the GEOFinder website.
How to Track a Person's Location with Phone Number and GEOFinder
To track someone's location without them knowing, whether your child or lover, GEOFinder requires you to send a text message to their phone from your GEOFinder account. The app allows you to choose the message to send to the target.
Once you pick the text message, the app sends it in a way that looks like a system-generated text. Therefore, the target won't suspect anything wrong about it but will grant the location permission.
Also, you can change the prefilled Text Message and Sender fields. However, it's better to leave them as they are. And if you decide to edit the message, you shouldn't interfere with the %link% section at the end.
Once you've done that, enter the target person's phone number and click "Send SMS".
Ensure that you have entered the correct phone number because the system generates the location tracking text once every three hours for security purposes. Once you've sent the message, the target device will receive it as a system-generated message.
It may read something like this, "Update is required to improve the accuracy of your GPS services. Click here to update". In addition to the text, the target person will get the link to click to start the updates.
If the target person doesn't click the link by mistake or intentionally, GEOFinder won't locate them. Therefore, ensure that the target person clicks on your link. GEOFinder discloses the location when they click the provided link, which is the most challenging part of using this location tracking app.
Once the recipient clicks on your link, GEOFinder will send them another text confirming that the system has calibrated their location accuracy. The app will display the target's location remotely on a map. You may get the target device's location wrong at first.
Therefore, please refresh the page to get their accurate location. The map has a big pointer showing where your child or lover is in real-time.
Below the map, you will see their location history too. Click the Map View icon to know the location of the latitude and longitude points.
The page includes the phone number that you searched to find your target person's place and the state of whether the app sent the message. Also, you will get details like latitude, longitude, delivery date, detection date, and map view.
GEOFinder also lets you know the target person's basic information according to their phone number. For instance, you can use this to spy on a cell phone or any mobile to check the target person's state, country, phone number carrier, and valid or invalid status.
GEOFinder Price
Most mobile phone trackers have different payment plans. However, GEOFinder provides one price plan for all operating systems and devices. And that plan costs $31.99 per month, which is a little higher because it only gives you access to the location tracking feature.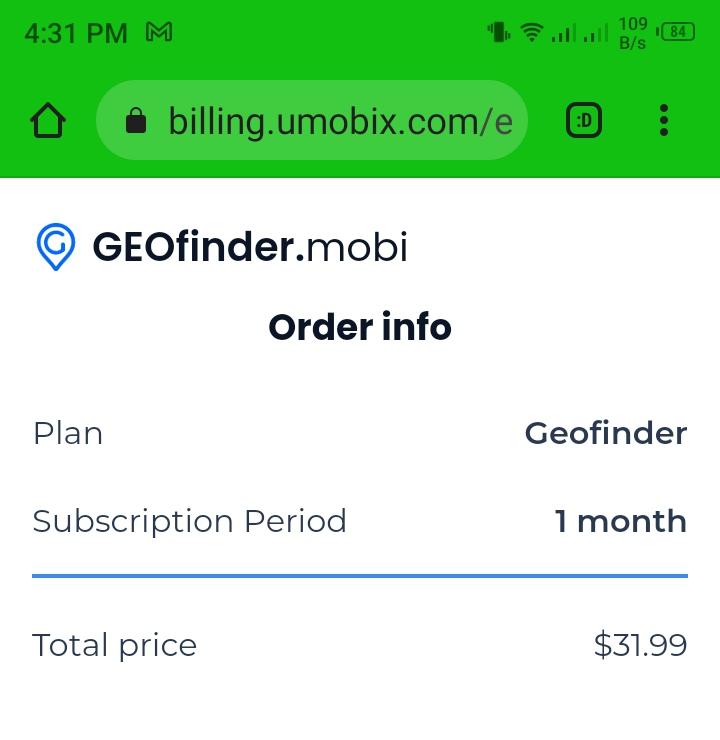 GEOFinder Appropriate Use
You don't need to physically access the target device to use this tracking app. Also, you track a person without them knowing by sending them a link. Therefore, this location monitoring app might sway you to trace people you don't know.
But the developer didn't create this app for that purpose. Therefore, ensure that you track people that you know. Also, it's better to track a person that knows you're tracing them.
GEOFinder Pros and Cons
Pros
It works with all smartphone brands and operating systems
It allows for accurate location tracking
It doesn't require the user to access the target device physically to work
It reveals the target person's location history
GEOFinder is easy to use
You can use it for location syncing
Cons
Single price plan that allows one feature only
It's a little bit expensive
You can send one message only within three hours
FAQ
Is GEOFinder location tracking app safe?
Yes. This location tracker is safe to use with your phone. Many user reviews on App Store reveal that the app is secure to track your child's or spouse's location.
Does GEOFinder work?
Yes. This mobile spy works most of the time correctly. If you try the app and it fails to work, exercise patience or try tracking your target person later.
Can I track the location with a phone number only?
Yes. uMobix provides the GEOFinder app that allows you to track someone with a phone number. Please register for a GEOFinder account and use the app to trace anyone's location seamlessly as long as you know their phone number.
Can I use GEOFinder to track a person's location for free with their phone number?
No. You should buy the GEOFinder plan to track your target's phone number.   
Can I use GEOFinder to trace the target person's location history?
Yes. This app enables you to track the target person's current location and where they have been in the past.
Is GEOFinder legit or a scam?
GEOFinder appears safe and legit. It's not a scam because it has many positive reviews and happy users.u003cbru003eu003cbru003eMany rating sites give GEOFinder a high positive score based on the automated analysis of different data sources. Also, the site has been around for years with fewer complaints, like GEOFinder not working.u003cbru003eu003cbru003eHowever, you should vet the app or website before using it. Also, don't forget that even the systems of the best companies in the world occasionally receive complaints. Some customers might be unhappy with the app after trying it several times within three hours and conclude it doesn't work.
Verdict
GEOfinder has a good rating and many positive reviews from users. This app enables you to track someone's location without them knowing. You don't require a third-party application on the target person's device to trace them. You're good to go as long as you have their phone number.