Fenced Review- How Good is it?
It is undeniable that we live in an age dominated by technology. We are surrounded by digital technology everywhere. Smartphones and touchscreens are around us everywhere. Your smartphone allows you to access everything you might need on the internet with just a swipe. Electronic devices, such as smartphones, tablets, and game consoles, become a part of children's everyday lives very early. They demand their own separate mobile phones from an early age.
Mobile phones are more and more essential in today's digital age, but they also come with side effects. The internet is available to kids directly, so it's likely they will attract all the problems that come with it. Kids can fall for online traps and be victims of cybercrimes.
It is not surprising that parents in this digital age are concerned about how their children use technology. In spite of your best efforts, it's impossible to protect them from internet scams and all explicit content on the internet on your own. Thankfully, parental controls can help. There are a lot of things you need to learn if you have not used these tools yet.
Parental controls developers took a solid place in the market and in people's minds as the most effective way to protect children online because top opinion leaders like UNICEF and the European Commission advocated for " a better Internet for our Children" in the past few years.
Parents use parental control applications to monitor children's online and offline activities for prevention and protection purposes. Fenced.AI parental control software is one of the market's best-known products. It was created as a way-out tool to help parents supervise their children's online activities and, thus, protect them from online dangers that are rife on the internet. In this article, we will take an in-depth look at Fenced.AI, its features, compatibility, and much more.
What is Fenced.AI?
Fenced.ai is a phone tracker for all devices. It's one of the most comprehensive monitoring app on the market designed specifically for parents who want to stay on top of their children effortlessly and efficiently. Although Fenced.AI is a relatively new tool in the parental control industry, the combination of powerful features with first-grade customer support has helped it gain many loyal and satisfied customers.
A quick look at the app's review on major review platforms makes it clear that their customers have had a predominantly pleasant experience using Fenced.AI.
Through its intuitive dashboard, you can keep an eye on how your children use their devices, making it easy to supervise their behavior. Setting it up is easy, and it provides detailed reports in notifications, monitors Google accounts, and performs exceptionally well.
Compatibility
Fenced.AI is available for Android and iOS. You must have an Internet connection to install and use Fenced.AI. When the device is connected to the Internet, Fenced.AI automatically checks for any new updates and downloads them. It lets you view the alerts and configure some of the settings for your child.
Android
Android 6 or later required for Fenced.AI Android app.
iOS
Current and previous two versions of Apple iOS.
How does Fenced.AI work?
The first step is to visit www.fenced.ai and click the "Sign Up" button at the top right corner of the page.
The registration page will appear once you have completed this step. Just fill in your details and provide a valid email address to create an account. If you have a referral code for the discount, you can enter it here.
Upon entering your information and clicking the "CREATE AN ACCOUNT" button, you will receive the confirmation code via email, which you must enter in the provided field.
Fill out the confirmation code and click verify email in the new dialog box. Your browser will redirect you to the pricing section. Make a decision based on your needs.
After your plan is assigned, you can download fenced.ai from your mobile device by scanning the QR code or entering the provided link into the browser of your mobile device.
Is it any good?
When you enable Fenced.AI, it does exactly what it says it will: devices are tracked by their location, what apps they use, and how long they are used for. As a discussion starter, this app has a lot of potential to help talk about screen time with children. There are some nice graphics in the app, and they make it easy to visualize how and how often kids use their devices.
While parents are able to keep track of the time their kids are using their screens, it also tracks their locations and the times at which they use their devices at different locations. In order to prevent poor choices from getting underground, this one works best with open communication, positive modeling, and a bit of trust.
The need for parental controls
You might be unaware of how much isn't suitable for children when they are online if you aren't familiar with the internet-connected world. There are countless forms of adult-oriented media available only a few clicks away online, including explicit music and violent video games.
Google, as one of the gatekeepers to much of this, has done a much better job at filtering out the worst in recent years. However, it's not difficult to imagine that a child might accidentally access something you'd prefer they not see.
Pricing
The pricing model for Fenced.AI provides it with a strategic competitive advantage against its rivals as it provides the same feature for a comparatively lower price. The pricing model also takes into account the different needs of different parents, and the flexible plans on offer are a testament to that.
Fenced.AI offers three subscription plans: Basic, Standard, and Premium, all of which are billed monthly and accessible across various smartphones and mobile devices. For parents who aren't interested in monitoring their kids' activities on the internet, the basic plan offers decent features for a ridiculously cheap rate at $1.17 per month.
The standard and Premium subscription plans offer a wide range of features in addition to all the features provided in the basic plan. At $5.83/month, the standard plan provides the features for monitoring contacts, Wi-Fi networks, and App activity. Social media monitoring, alerts, and export capabilities are a part of the Premium plan and need a monthly subscription fee of $8.33.
Pros & Cons of Fenced.AI
Pros:
Intervene in risky situations
Fenced.AI gives parents the opportunity to keep track of all their child's online communication, so they can intervene if someone risky is being talked to, such as a predator or scammer. As a bonus, you can also use this method to monitor your child's emotional state and to spot any cyberbullying immediately.
Monitor screen time and time spent online
There's no doubt children today are spending more time online – with the COVID-19 lockdown only making things worse – so it's logical that Fenced.AI can also send alerts when your child spends too much time online.
Prevent unauthorized spending
Every parent has heard about how a child accidentally used their parents' bank accounts when playing games or using apps. Consequently, a great number of parents use Fenced.AI to prevent their children from making any purchases online without permission from them.
Cons:
Parental Controls are not Parenting
Controls give you the tools you need to keep your child safe and monitor them, but they aren't much more than that. They serve an important function, but they are not a substitute for parenting. Due to their ease of use, there are quite a few parents who fall into this trap. You will miss out on valuable bonding moments with your child if you do so.
Does not stop predators and scammers from making contact
Parents can use Fenced.AI that monitors kids' conversations to identify online predators, but these solutions are only effective if they are acted upon. In other words, you can't stop it unless you spot it. Parents often have limited time, so many things go unnoticed, particularly when predators pretend to be children.
Web Interface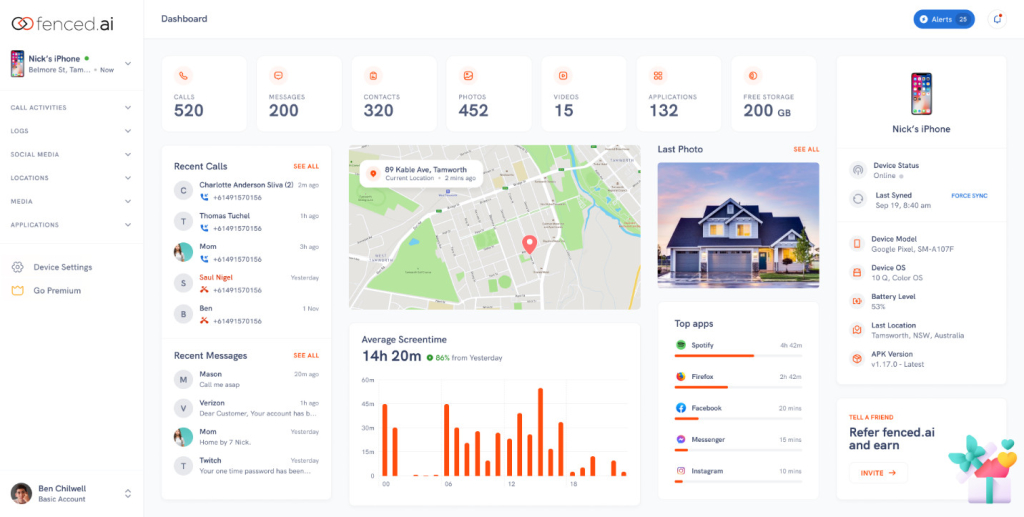 The web interface of Fenced.AI is both functional and attractive, keeping ample white space between features and settings. The alerts can be accessed in the upper-right corner. A list of notifications is displayed under the Alerts tab, such as when your child tried to access a blocked website. You can also change the rules based on these alerts; for example, if your child tries to visit a blocked website and you would like to allow it, you can select the appropriate item from its options menu.
The dashboard automatically logs you out after a few minutes of inactivity, and there is no way to override this. It is generally a good thing to have automatic logouts, but you should be able to adjust them. We recommend enabling multi-factor authentication for your account, which provides added security.
With the click of a button, you can view a summary of the device's activity across six categories: Recent Calls, Recent Messages, Location, Average Screen Time, Last Photo, and Top Apps. If you wish to make changes to the rules, there is a View Details link within each monitoring category that allows you to enable or disable that monitoring category.
Key Features
Activity Record
Whether it's paranoia or just wanting to know everything your kids do with their phones, I'm sure most of you feel the same way. Your curiosity will be piqued as you observe their online activities, from places that they visit to the keywords they type. You will never be left wondering with Fenced.AI. You will have peace of mind knowing where your kids are since it keeps track of their activities.
Instant Messaging Records
Fenced.AI offers IM monitoring as a unique feature to offer its customers compared to its competitors. You can monitor Facebook Messenger, Skype, and Viber, as well as other applications your child uses, such as Viber. Not only can you see their contacts, but you can also read their messages. You can also use it to read WhatsApp messages without the target knowing.
Calls and Texts Control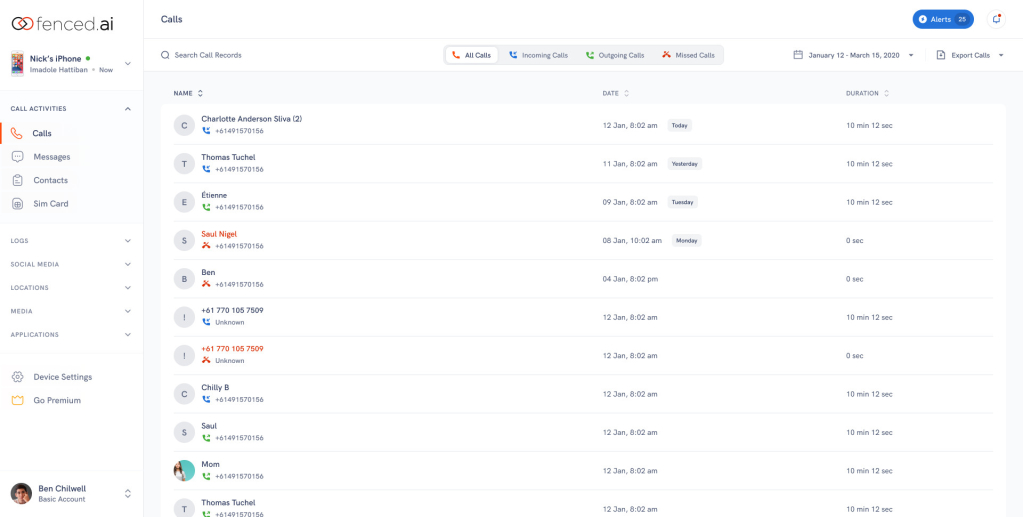 You can track incoming and outgoing text messages and calls with the message tracker offered Fenced.AI. A variety of detailed reports can be downloaded for valuable insights. You can also block certain people so you can decide with whom your child communicates. It is also possible to set time limits for calls. When they come in contact with dangerous people, you can also get their information using reverse lookup tools.
Keylogger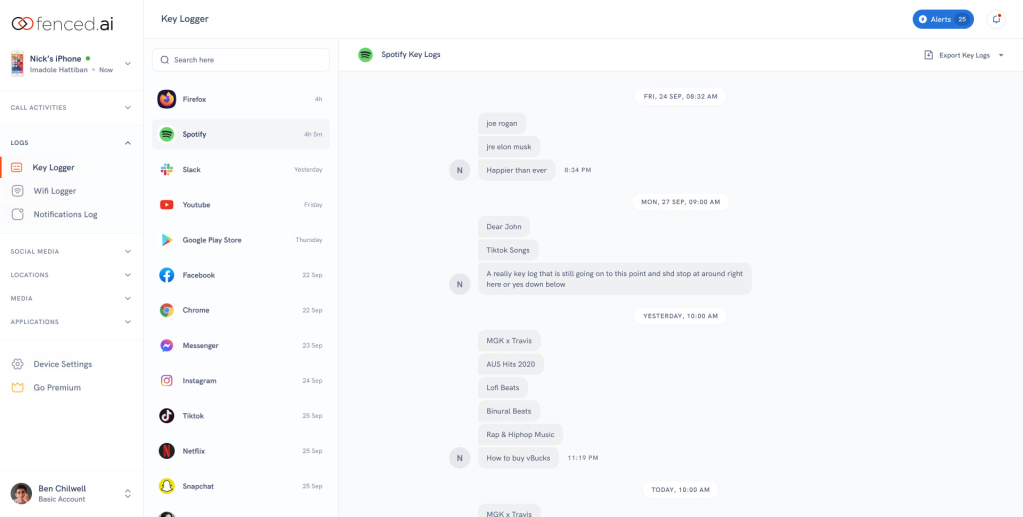 An electronic keystroke recorder is a tool that records all the keystrokes pressed on a target device. Using digital surveillance, it records everything a user downloads, emails, talks about, clicks, and touches.
Choosing a monitoring system requires deciding which type you'd like. Your kid's digital life is something you want to monitor as a parent. A free application can be downloaded that will allow you to collect one or more types of keystrokes.
Fencing.ai's Android keylogger is the best recommendation. In addition to many amazing features, its stealth mode ensures that the person being monitored does not know they are being monitored.
Browser History Monitoring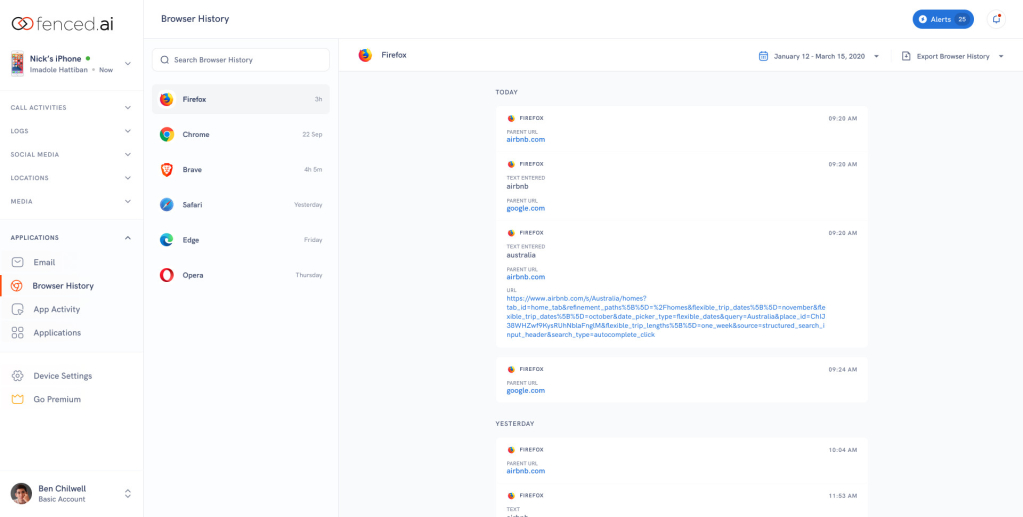 Due to the ease with which people can access virtually anything, quite a few kids are exposed to inappropriate content on websites that are not developmentally appropriate for them.
People's browser history tells you a lot about their personalities, likes, and dislikes. Parents know that children have easy access to adult content on the internet. It's likely that they will be susceptible to scams, bullying, sexual predators, and identity theft when exposed to inappropriate content. By monitoring your children's browsing history, you can prevent them from going to places they shouldn't.
You can monitor your kids' browsing history in real-time using the fenced.ai browser history feature. Among the browsers that support this feature are Chrome, Firefox, Opera, Internet Explorer, and many others. From all of these web browsers, you can access detailed information such as page name, title, URL, and total time spent on the site. Additionally, you can compile a detailed report of all visited websites.
App Usage Monitoring
The Internet is filled with numerous potentially harmful apps. Kids can be particularly susceptible to these dangerous apps due to their inherent curiosity. Monitoring screen activity and screen time are a few ways to protect your kids. It is not necessary to compromise your child's privacy, as you can simply block inappropriate apps if installed, ensuring their safety.
Screen time has developed as a big talking point over the past few years, but it's not only the amount of time that kids are using their devices that matters but also where they are spending it. The app usage monitoring feature, therefore, provides parents with an effective way to monitor the total amount of time spent on each individual app.
Social Media Monitoring
Facebook Monitoring
Teenagers are among the most avid Facebook users. Unfortunately, it is full of cyberbullies and online predators these days. For this reason, today's parents need to monitor their kids' Facebook & Messenger activity.
These days, almost every kid uses Facebook. Facebook is a social media site that many of their friends are on, and they don't want to appear "uncool" if they aren't there too. But Facebook can also be dangerous for children. It is full of bullies, scammers, perverts, and sexual predators. The truth is, children are easy prey. Keeping an eye on their Facebook usage will help keep them safe.
Instagram Monitoring
The number of Instagram users has grown tremendously over the years. The majority of Instagram users are teens and young millennials.
You may find that your kids encounter privacy issues when they make new friends on Instagram. They could fall victim to the terrible intentions of online predators, including sexual abuse, blackmailing, or engaging in sexting and sharing adult content with their friends. Today's parents, therefore, need to monitor their kids' Instagram accounts. You can keep an eye on your kids with Fenced.AI's Instagram monitoring tool and access all monitored data directly from the control panel.
Snapchat monitoring
Snapchat is used daily by many people to share information. Although most of the stuff is lighthearted and fun, some of it might be sensitive or have negative consequences. Snapchat has been a frequent target of online predators and cyberbullies.
Keeping an eye on your kids' Snapchat activities can help minimize the risks and keep them safe online. Knowing who is contacting your child or employee via Snapchat is important. Along with monitoring Snapchat, fenced.ai also provides information on contact names, profile pictures, phone numbers, and media files exchanged, among other things.
Location Monitoring & Geofence Alerts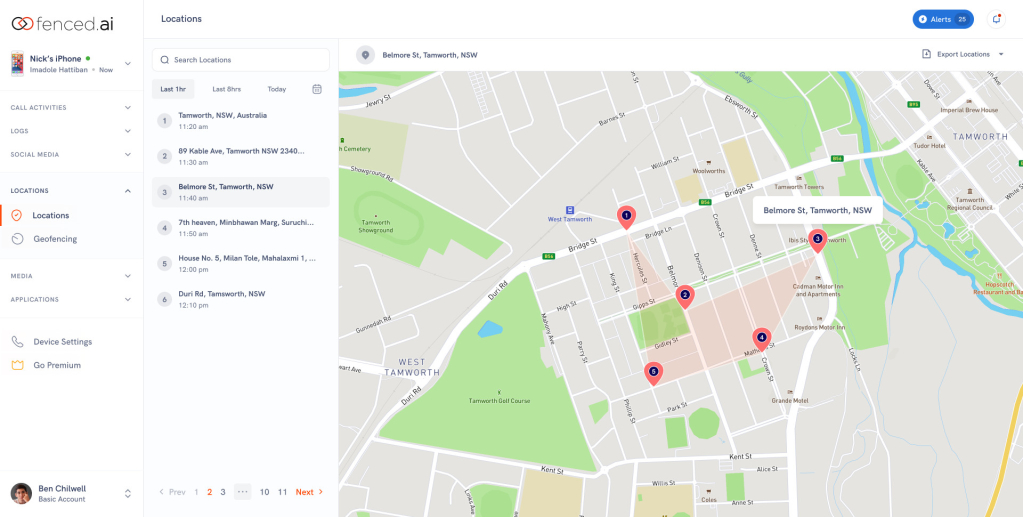 A series of dots appear on a map representing a child's location every few minutes throughout the day. Scrolling through the selected day can be accomplished using a slider, and changing the date can be accomplished using directional arrows above the map. Rather than just recording the coordinates, it recognizes when you stop moving and records the address of that location instead. This makes Fencer a great app to monitor GPS locations.
The Geofence Alert feature of fenced.ai lets you receive notifications whenever a device enters or leaves a marked zone. It notifies you when a device moves outside or inside a predetermined area through the use of Geofence Alert technology. The process is complicated; previously, it was reserved for big projects.
As geofencing and geofence alerts have grown in popularity, they have also made their way into the personal, business security field as a way to monitor kids, employees, or other concerned parties.
In addition to the Geofence section, it also creates a record of how often the target device enters or exits the geofence. A timestamp will accompany every entry and exit, so you will know exactly when they occurred.
Setup and Installation
Setup of Fenced.AI starts when you install the app on your child's device, and then approve each of the permissions it needs: Location, Accessibility, Device Administrator, and more. The permissions are nothing out of the ordinary, and giving them means that your child will have a hard time uninstalling Fenced.AI
Following this, Fenced.AI asks you to set time limits for your devices. It is also possible to install the app in "Parent mode" and set individual rules for the different days of the week.
With the screen time scheduling feature, you can define when to use the device on weekdays and weekends. As with the initial setup, there is no option to select different daily limits for individual days of the week; however, this option will be available in the Parent mode later.
As soon as you accept a few default settings, Fenced.AI asks you for some account creation details, including: an email address, password, the age of the child, and the name of the device that is currently available.
Does my Android need to be rooted to use Fenced.AI?
Fenced.AI runs in the background of your child's device as a background intercept and surveillance tool. Afterward, it records everything that happens on the phone and eventually uploads the recordings.
Due to the fact that most of its features work even without root, the target device doesn't have to be rooted to use it actually. It uses very little system resources and can be hidden after installation, thereby virtually obfuscating its existence.
After you install the fenced.ai app onto your kids' devices, you can log in to your fenced.ai account from any browser and remotely monitor it from your account.
Can I install Fenced.AI remotely?
The only way to install fenced.ai directly on a device you wish to monitor is to have one-time physical access to that device. It takes only a few minutes to install though. After setting up our service, you can access all the data remotely via your web account.
Are there any limits on devices I can monitor?
There is a fixed limit on every subscription plan. Depending on what plan you choose, you will be able to monitor a specific number of devices. Depending on your plan, you may need to upgrade if you want to monitor more devices.
What are the requirements to monitor an iOS device?
The first time you set up monitoring with fenced.ai to spy on an iPhone, you will need the iCloud credentials (Apple ID and password) of that phone. Fenced.AI begins monitoring all uploaded backup files once the setup is complete.
Do I receive technical support?
Yes, absolutely. Upon purchase, you will receive online support, updates, and step-by-step instructions. If you experience any difficulties, Fenced.ai support staff will reach out to you with instructions for correcting the problem.
What settings should I enable on iOS?
Restrictions is a term for the parental controls that are built into Apple devices. Using these Restrictions can help protect Fenced.AI and ensure that kids don't make changes that could harm it.
Enable Restrictions
The first thing you need to do is enable Restrictions.
Navigate to Settings >> General >> Restrictions
Click on Enable Restrictions
Password-protect your settings so your kids can't alter them.
Deleting Apps
Children cannot delete Fenced.AI from their device when this restriction is enabled. This means that other apps on the device also cannot be deleted.
Go to Settings >> General >> Restrictions
To prevent apps from being deleted, scroll down to Deleting Apps and tap the switch.
Location Services
A device's approximate location can be determined with these services. App usage tracking is enabled by Fenced.AI through these services.
Ensure Fenced.AI is set to Always under Settings >> General >> Restrictions >> Location Services.
Go to the top of the page while on the Location Services page and select Don't Allow Changes.
How to customize internet filtering?
In order to protect your child from inappropriate content, Fenced.AI uses a massive and constantly expanding database of web resources that monitor every website that your child accesses. It has more than a hundred categories encompassing millions of websites.
For simplicity, they have created a set of "always on" forbidden categories, such as pornography, drugs, chat rooms, and anonymizers. It is possible that there are additional categories or sites that you would like to allow or block.
Final Verdict – Is It Worth Buying?
Fencing.AI may not have the most catchy name, but what it lacks in that department, it more than compensates for with stellar parental control options across all platforms. Featuring an industry-leading control dashboard, an extensive feature list, and excellent performance, the software excels at all aspects.
While it's not perfect, Fenced.AI is still easily one of the best apps available today. You can configure when and for how long individual apps are used, and it offers a comprehensive web filtering system. The main purpose of this app is to keep your children from excessively using their devices (and particular apps) and to keep them from viewing inappropriate content in a web browser.
The Fenced.AI app allows parents to easily keep an eye on their children's activity on their mobile devices. The best features of Fenced.AI are its powerful time restrictions geofencing tools and the app-blocking capability on mobile devices. Additionally, its mobile apps are well-designed, and its web interface is much improved.
In summary, Fenced.AI may not be as widely known as some of its leading competitors, but it is an excellent option if you are looking for the best parental control app. With powerful features such as web filtering, message monitoring, and GPS tracking, it is compatible with Android and iOS phones. Not only will the app give parents peace of mind, but it's also a good way to promote responsible online behavior.