8 Top-Rated Website Blockers for Safety, Studying, Productivity
How can we protect children from accessing inappropriate content online? The internet is an outstanding resource of information. That results in frequent distractions, as well as procrastination. Moreover, there is another dark side of the internet – kids trying to access adult content.
Luckily, both can be resolved with a single solution – a blocker. Website blockers can help to increase employee productivity. It also can get rid of distractions when working. A family member can blacklist damaging websites and content.
In this article, we will discuss some popular productivity tools and website blockers, and see which one is the best fit for your personal needs. Let's learn how to block a website for a certain amount of time to remain productive.
Chrome Extensions and Firefox Websites Blocker Software
Have you ever found yourself spending too much time browsing the internet when you should be working or studying? Or maybe you're concerned about your children accessing inappropriate websites on their devices?
If so, there are solutions available to help you stay focused and protect your family online. Chrome extensions and Firefox website blocker software are two effective tools that can help you manage your internet usage and keep you and your loved ones safe from harmful content.
LeechBlock: Websites Blocking Software ️
LeechBlock is a versatile website-blocking software that enables users to block any website with ease. It exists for over a decade, and it has hundreds of satisfied customers. Users can choose to block a group of websites or create custom time blocks.
Moreover, this browser extension allows you to block up to 30 sets of websites. However, the creators don't recommend using this distraction blocker for parental control purposes.
Pros & Cons
A lot of customization options
Creating custom time limit blocks
It's free
It can't filter content automatically
It's easy to remove during your moments of weakness
Pricing: Free.
Compatibility: Mozilla Firefox.
Stay Focused: Chrome Site Blocker ‍♀️
Stay Focused is a website blocker for Chrome that is entirely free of charge. That means that the installation process is quite easy and takes less than a minute to complete.
What separates this blocker extension from others is the fact that it allows users to choose the maximum amount of time they would like to spend on a specific website.
Pros & Cons
Versatile features
It's free
You can't set multiple time blocks
It is only compatible with Google Chrome
Pricing: Free.
Compatibility: Google Chrome.
Block Site: Site Blocker Extension ‍
This is another browser extension with over one million users that you can use to block websites temporarily. This Chrome web store website blocker comes with a fresh set of features, namely work mode, adult content blocking, blocking by category, time management, password protection, customized pages, and site redirect.
While all the features, as mentioned earlier, are free, the site redirect feature is only meant for premium users.
Pros & Cons
An impressive set of features
It's free
Some advanced features require a premium subscription
It's exclusive to Chrome users
Pricing: Free.
Compatibility: Google Chrome.
Pause: Productivity Website Blocker ✅
Pause is another extension that can be used as a website blocker for studying or for parental controls. When you visit distracting websites, Pause will display a screen that asks whether you're sure you'd like to access that particular website.
The whole point of Pause is to create discipline by forcing you to make intentional decisions about how you're spending your time.
Pros & Cons
Comes with a preset list of the top 50 distracting websites
Limit time on websites
It's free
It's suitable only for Chrome users
Pricing: Free.
Compatibility: Google Chrome.
WasteNoTime: Block Websites Temporarily
Lastly, we have a WasteNoTime extension that is suitable for both Chrome and Safari web browser users. This tool wasn't just designed for blocking websites, though. Users can also use a timer to track the time spent on their computers.
Moreover, you can also apply time block sessions, create site lists and blacklists, set time limits for each website, and so on.
Pros & Cons
Has an instant lockdown feature that disables the Internet connection
Advanced features
Not suitable for Firefox users
The extension doesn't run in Incognito mode
Pricing: Free.
Compatibility: Google Chrome, Safari.
Android and iOS Apps
Bark: Internet Blocker App ‍ ‍
The Bark is a dedicated parental control app that can also be used to block porn and inappropriate websites. Users will have control over all of their devices through a control panel, which can be accessed either via phone or a desktop computer. It can either be used to control Android phones remotely.
Bark works with schools across America, ensuring that every student develops healthy online habits. Besides website blocking features, it can be used for location tracking, social network tracking (for example – YouTube, Twitter, Facebook, Snapchat), accessing web activity stats, etc.
Pros & Cons
An impressive set of additional features
It can be used in the workplace to increase employees' productivity
It requires a subscription
Pricing:
Basic 1 month – $29.99
Full 1 month – $59.99
Full 12 months – $14.99
Compatibility: iOS, Android.
Apps That Work With Every Operating System
Are you tired of finding software that only works with certain operating systems? Do you wish there was an app that you could use on any device, regardless of the platform? Look no further!
Below, we will be discussing software apps that are compatible with every operating system, so you can use them on your computer, tablet, or phone without worrying about compatibility issues.
Whether you're using Windows, macOS, iOS, Android, or Linux, these apps will work seamlessly on your device. So, let's dive in and discover the world of cross-platform software!
Freedom: App Blocker for Studying
Freedom is another great app for everyone that wants to increase their attention levels, support healthy habits, and improve their schedules. Users can sync time blocks across different platforms of choice, such as Windows, Mac, Outlook, Chrome, Safari, etc.
It comes with an impressive set of features that enables users to take control over how they spend their time.
Pros & Cons
Freedom can be used to block desktop apps
Locked mode, Block All mode, and Block All Except mode
It requires a subscription
Can't add certain websites when the rest of the internet is blocked
Can't track statistics
Pricing: Freedom offers three default price plans, namely:
Freedom Monthly – $6.99 / month
Freedom Yearly – $2.42 / month
Compatibility: macOS, Windows.
Cold Turkey: App That Blocks Other Apps
Cold Turkey is a dedicated website-blocking app that offers some cool, convenient features. This app enables users to create whitelists, and blacklists, block Google searches and block specific pages, as well as apps and games. It comes in both free and paid versions. The free version enables users to block an unlimited number of web pages using timers.
Moreover, you will also receive feedback to track your browsing habits. When it comes to the Pro version, includes additional features, such as scheduling, app blocking, passwords, and daily time limits.
Pros & Cons
Useful features
Has a free version
Blocking apps and games
Advanced features require a subscription
Pricing:
Basic Version – Free
Pro Version – $36.99 – one-time payment
Compatibility: macOS, Windows.
Can You Block Websites on Your Phone?
Yes, you can block websites on your mobile device – both on Android browsers, as well as Safari for iPhone users. Usually, you can do this by using website blockers from the App Store or Google Play Store.
Simply type in "website blocker" in the search box, and download the app that has excellent reviews.
How Can I Block Websites for Free?
Yes, and the process is quite easy and straightforward. If you're a Chrome or Mozilla user, you can always opt for website-blocking extensions. Here's how to do it:
Open the Chrome Store and type in Pause.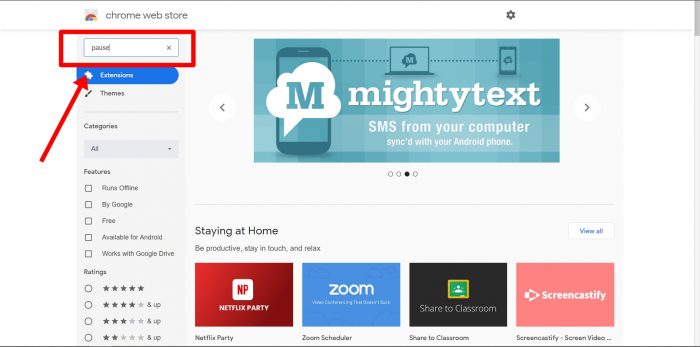 Locate the Pause extension.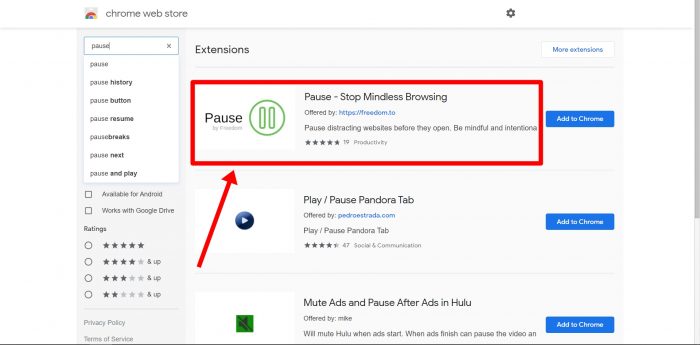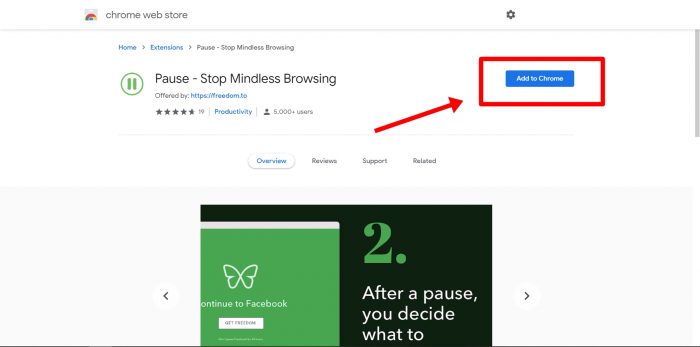 Press Add Extension and wait for it to install.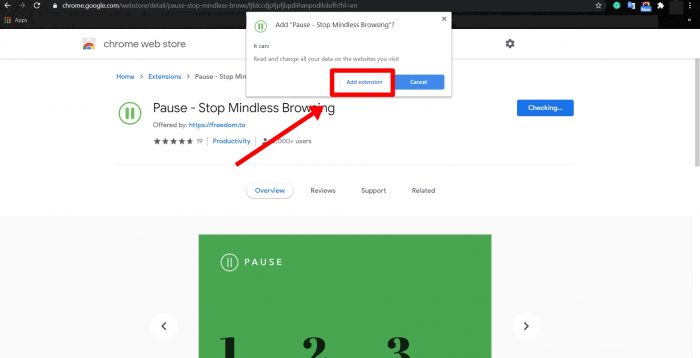 Click the Pause extension in the top right corner of the browser and press Open Settings.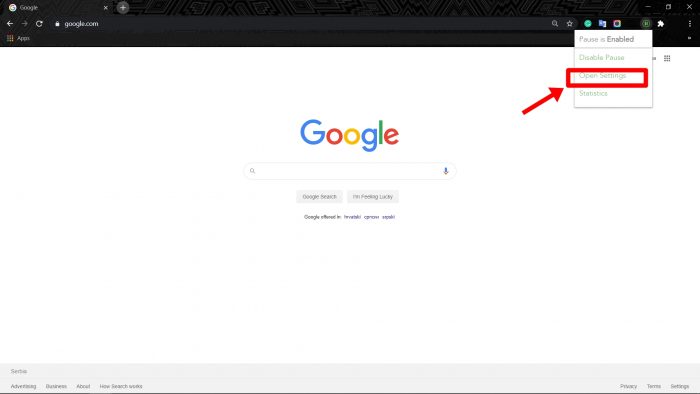 There, you can control which website to block or pause.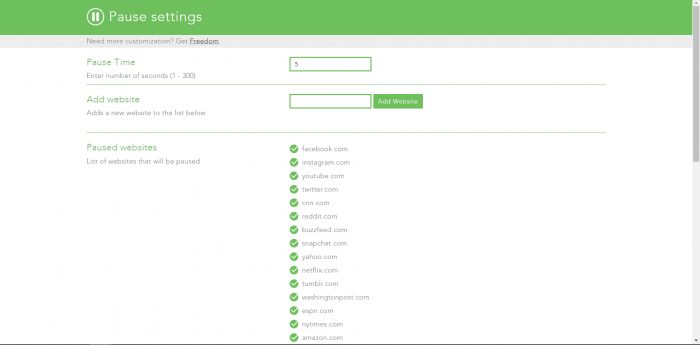 How Do I Block a Website Permanently?
You can block a website permanently with the help of Bark.
The Bark is a parental control app that comes with an impressive set of features. You can use it to block websites on your kid's computer, blacklist websites, or just ensure that they are safe when browsing the web. The setup and installation process is quite easy and straightforward.
Here's how to use Bark to block distracting websites and apps permanently:
Go to the Bark website, sign up for a subscription plan using your email address, and enter your credit card details.
Download the app and install it on the target device. Make sure to write down the target's iCloud username and password in case they're using an iPhone.
Go to the user control panel on Bark's website.
There, you can choose to block websites, check your kid's social media, or track their location.
Conclusion
In conclusion, a website blocker is a useful tool for individuals who want to increase their productivity or limit their exposure to inappropriate content. There are various website blockers available in the market, each with its own unique features and benefits.
Whether you are a parent trying to protect your child from harmful content or a student trying to avoid distractions while studying, a website blocker can be an effective solution.
By using a website blocker, you can take control of your online activities and create a safer and more productive digital environment.