7 Best Employee Computer Monitoring Software
In this article, we review the seven best employee monitoring software based on an experiment we've just concluded.
In the experiment, we compared the most popular monitoring tools for PCs specializing in employees and the best monitoring software for PCs for general use by employers, parents, and spouses.
The goal was to find out which is better for business professionals. Read on to see what we found out.
Top 3 Employee Monitoring Solutions
Top Employee Monitoring Software
Hoverwatch – No free plan, 3-day free trial, 1 user minimum, requires installation, compatible with Mac, Windows, iOS, and Android.
Qustodio – No free plan, 30-day free trial, 5 users minimum, cloud-based, compatible with Mac, Window, iOS, and Android.
Monivisor – No free plan, free demo, 1 user minimum, requires installation, compatible with Windows, iOS, and Android.
ActivTrak: Best for Gauging Productivity at Work Through Analytics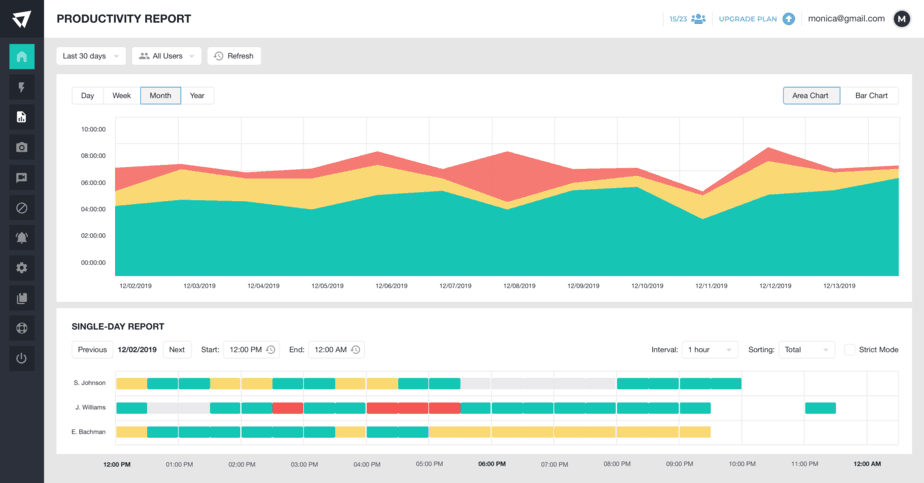 ActivTrak software is considered one of the best employee monitoring software that gives you deep insights into employee productivity.
The program is capable of time tracking, keeping all the details about your employees in a cloud-based database where you have remote access and control. The best thing about it that your employees won't even know that they're being tracked, nor be able to detect the spyware, unless you explicitly tell them.
Features
Remote Workforce Management: With time tracking, you can check how your remote employees spend their work time by analyzing their activity. By monitoring a computer remotely, you can realign roles to ensure that none is overworked.
Productivity Analytics: The software generates a detailed productivity report that you can filter by day and hour. The data helps managers drive engagement among employees and sync the office and remote employees' efforts.
Employee Monitoring: By understanding how employees work, you can identify challenges that hinder success and find solutions. This best employee monitoring software lets you redistribute duties for helping to achieve a balanced workforce.
Threat Detection: ActiveTrack enables you to identify vulnerabilities posed by malware and keyloggers. Based on employee activity, you can detect anomalies and potential breach of privacy and unwarranted data theft.
Pros
Secure data storage through a cloud-based database
The software for computer monitoring is very affordable
A visual dashboard makes it easy to interpret productivity reports and other analytics
Automated alerts and CSV export of reports
Cons
You can't keyword search screenshots
It doesn't have a keylogger
Pricing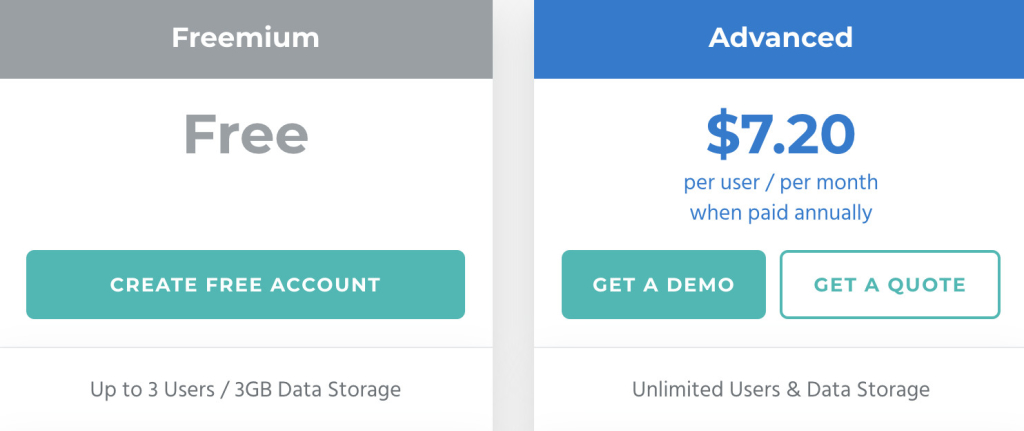 To track up to 3 users, choose the freemium account, which does not charge a dime. But if you want to extend monitoring to more than three devices, go for the $7.20 per user monthly package.
Freebies
They have a Freemium version
A 2-minute demo
And a 30-day money-back guarantee.
InterGuard: Best for Monitoring Employee Computer Activity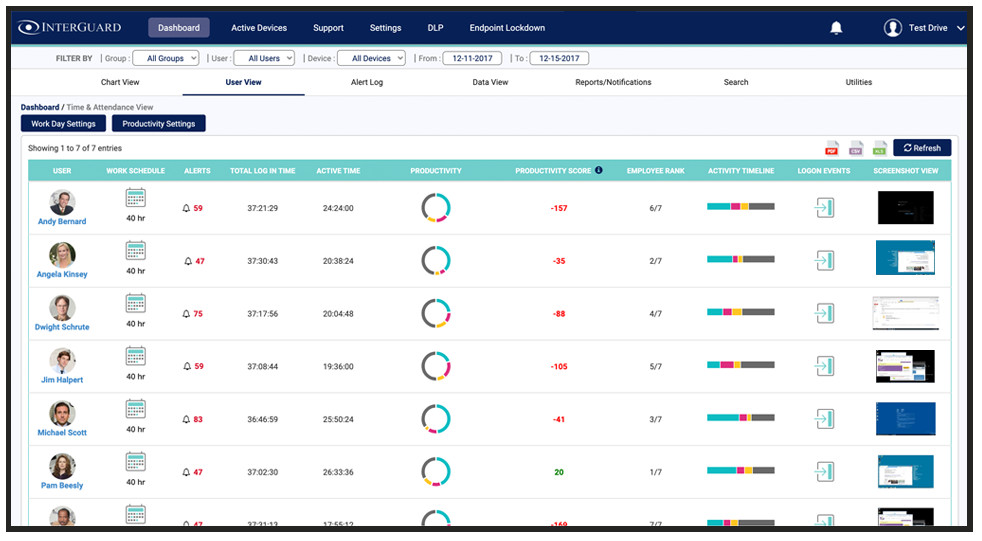 InterGuard is a cross-platform monitoring computer tool used to gauge employee productivity by viewing what is happening in their work computer.
You can use the software to track emails, messages, programs, chats, and many more computer activities.
Features
Monitoring Computers: InterGuard software records all the activities happening from a target device. You can view the user activity from a separate panel accessible from smartphones and personal computers.
Screenshot Capture with Keyword Search: This software feature safeguards employees from harassment by colleagues. It has a powerful search engine for keywords captured on screenshots, and you can use it to identify fraud.
Advanced Reporting: With this tool, you can gauge productivity, detect anomalies at the workplace, and gather evidence for investigation through a dashboard that makes it easy to pull reports. A chart view representation of reports makes it easy to interpret chunks of data.
USB and Print Tracking: The monitoring software enables you to read USBs and data sent to printers. It also does file activity tracking, records web searches, unproductive activities, and does employees tracking using GPS.
Pros
Advanced access control to programs and websites
Undetectable monitoring of online employee activities
By design, it detects anomalies and suspicious behavior in real-time
It is the best analytical tool necessary for quality employee management, including time tracking.
Cons
Complex installation process
They do not have the best customer support
Pricing

From $9 per user monthly, you can do monitoring for more than 11 devices with a promise of enhanced features and cloud hosting.
Freebies
They have a free version to give you a taste of the platform with its free trial lasting for 7 days.
Kickidler: Best Cloud-Based Employee Monitoring & Behavior Analytics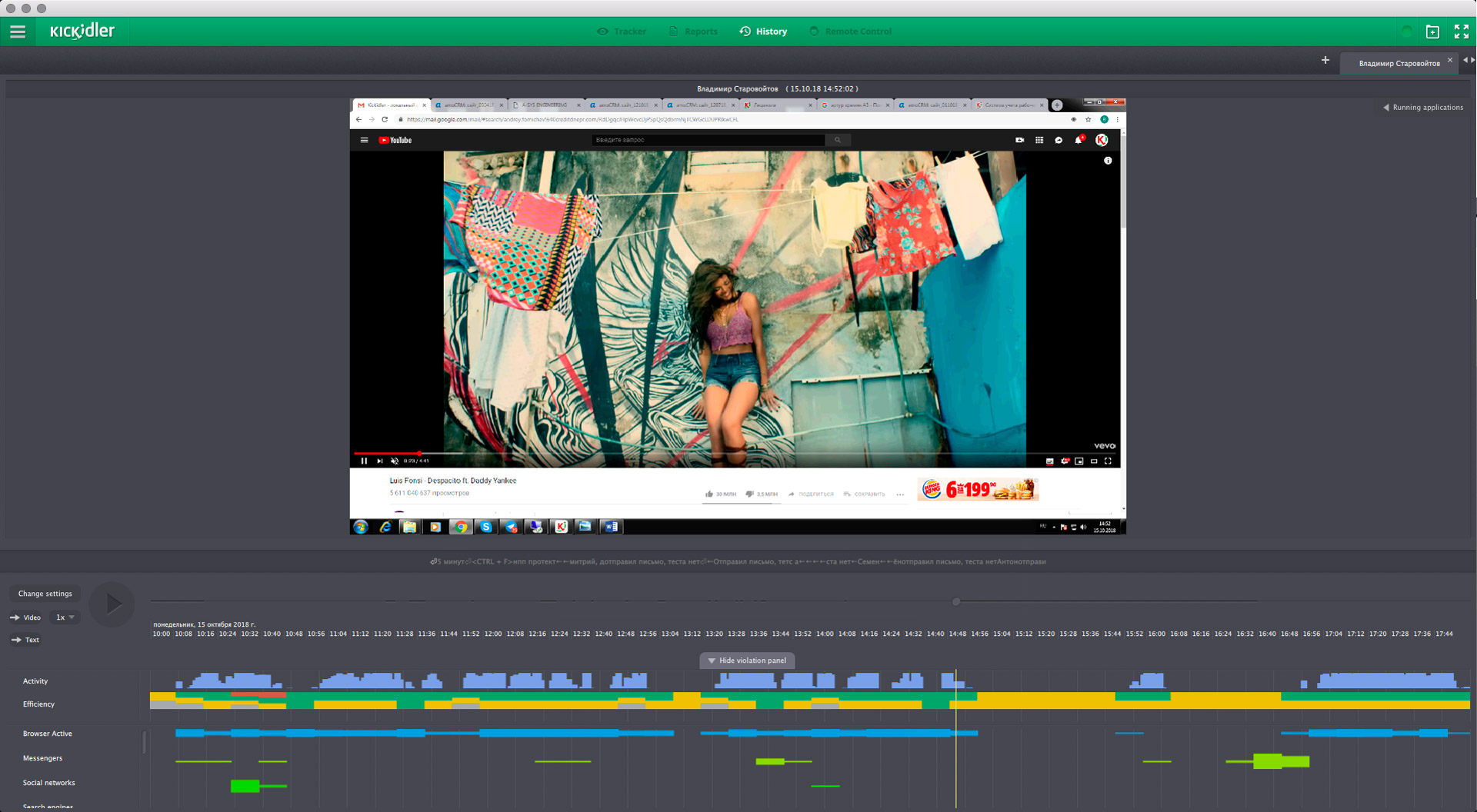 Here is another employee monitoring software that does real-time surveillance on a target device by deploying modern tools that promise to improve employee productivity and detect negligence and blatant violations.
Kickidler is among the best monitoring software for PCs that helps small businesses to understand how their staff manage time and have control over their desktop activity.
Features
Computer Screen Recording: The laptop monitoring tool does screen captures for activities happening on a laptop. It features a video compression algorithm that reduces the sizes of multimedia content to conform to its cloud storage.
Keylogger: The online employee monitoring keylogger records keystrokes of all employee activity happening within a desktop. To make it easy to identify suspicious content, they have made the keylogger searchable.
Productivity Analysis: Kickidler time tracking monitors how an employee uses their work time. As an employer, you can check the time spent on social media platforms, on games, and get an accurate assessment of the productive time.
Auto Notifications: The employee tracking software alerts you promptly when your employees visit banned sites. You get real-time email notifications that assist you in commencing disciplinary measures against an employee.
Time Tracking: With Kickidler, you get an overview of employee timesheets represented in graphical formats. You can know if an employee is working late, absent from work or late to start work.
Remote PC access: The feature is beneficial in transferring company files without needing to request an employee's access. It gives administration privileges to the employer to remotely alter or view the content on employee computers.
Pros
It has an intuitively designed dashboard for time tracking
You get alerts on suspicious behavior in real-time
Video compression optimizes space provided for cloud storage
You can search keylogger logs using keywords
Cons
Doesn't have control over printing
It doesn't have a mobile version
Pricing
Choose the most profitable business package going for $3.06 per month for three years, and if that is a long time, you can settle on $4.58 per month for a year.
Freebies
20% discount for renewing annually or after three years
Fremium version offers free functionality for seven days
FlexiSPY: Best Windows Monitoring Solution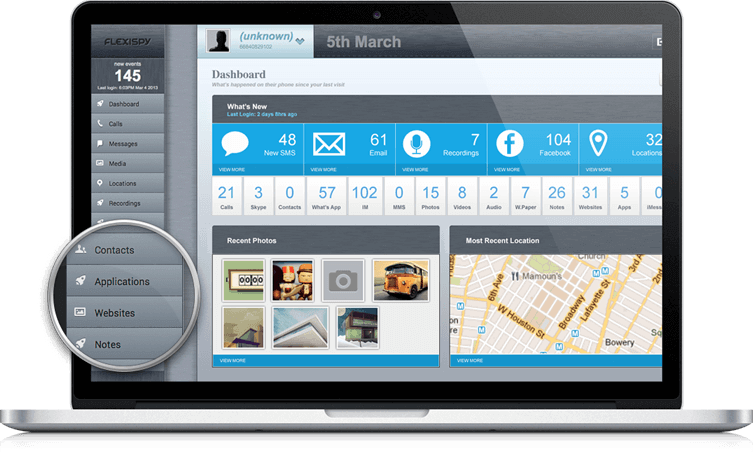 As a powerful employee monitoring software, FlexiSPY presents more than 40 unique features that help parents and employers have total control over a target device.
Initially, you enjoy the free employee monitoring software version, which can track any work computer to know each staff member's productivity levels.
Features
App Screenshots: FlexiSpy Software takes screenshots of what is happening on the tracked computer. It records data on the cloud so that you can review it later.
Reading Webmail and Chats: By recording insights on your staff's conversations and interactions, you get to know if they are leaking confidential information or not.
Reading USB Device Connections: Knowing the contents of USB peripherals reveals employees' integrity regarding the safety of company data.
Checking Employee Activity on Browser: Understanding your staff's browsing behavior lets you know if they are focused on work sites or are into social media and other idle time-wasting sites (time tracking).
Pros
They offer 24/7 customer support
You can trade in old software for the latest versions
It has more features than any other provider
Doubles up as a Mac and PC monitoring software
Cons
Needs physical access of the device to install
They don't have website blocking
Pricing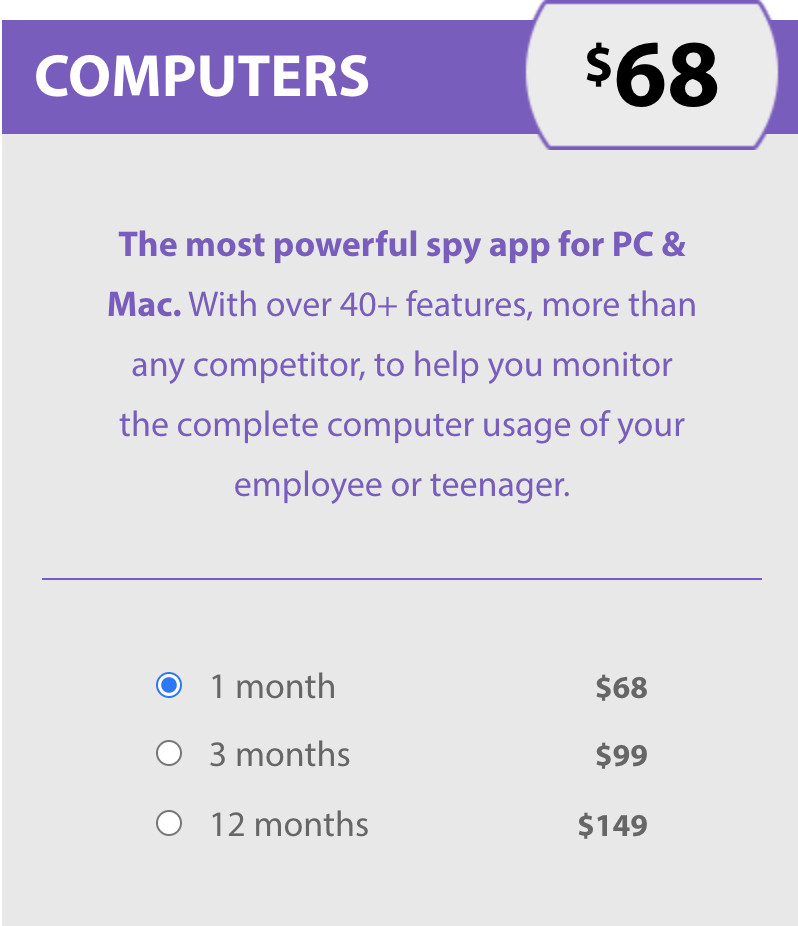 Starting from $68 per month with the business package, you can monitor your employees using more than 40 unique features.
Freebies
They offer free updates
There is a free demo account for new users
Hoverwatch: Best Monitoring Tool for Mac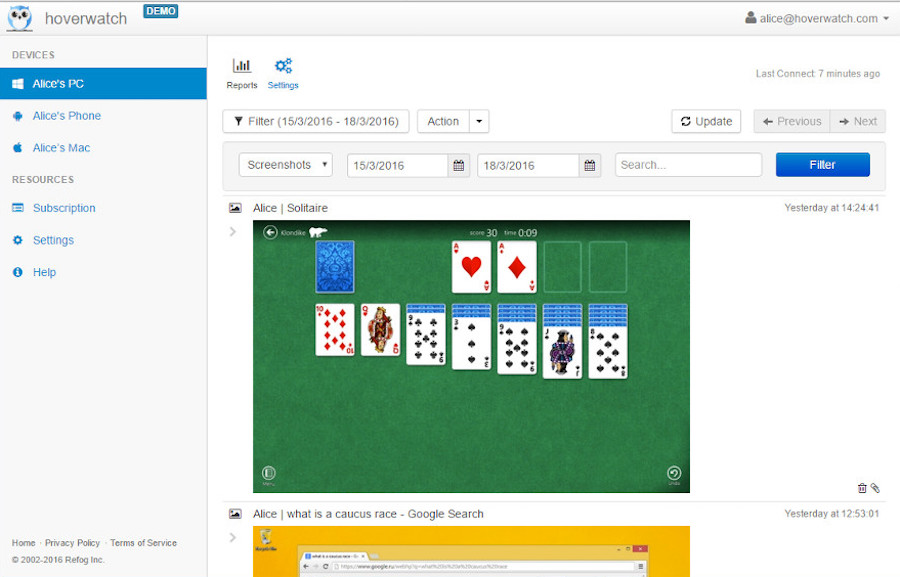 Hoverwatch is a keylogger app that functions on Mac and Windows computers. It records typed strokes originating from chat messengers, web browsers, and email and takes screenshots at set intervals.
Features
Password Recording: The app lists all the captured passwords on the control panel, but it is a feature you can disable anytime you don't require it.
Message Reading: Lets you view all instant messages incoming and outgoing from messenger platforms like Skype, iChat, iMessage, and Adium.
Keyboard Keylogging: Keeps any typed word, number or character typed through a virtual or physical keyboard.
Invisible Activity Monitor: Checks all the user activity happening on a Mac computer anonymously.
Pros
They have an exceptional customer support team
Works on the latest Mac versions like Mac OS X
The target user won't notice the app because it hides on the background
You can use it to check web browser history for most browsers
Cons
You can't track major messaging apps like WhatsApp
Short free trial period
Pricing
Enjoy a wide coverage for your company devices by subscribing to the $6.00 per month offer.
Freebies
Three days of a free trial
Seven-day money-back guarantee
Qustodio: Best for PC User Activity Monitoring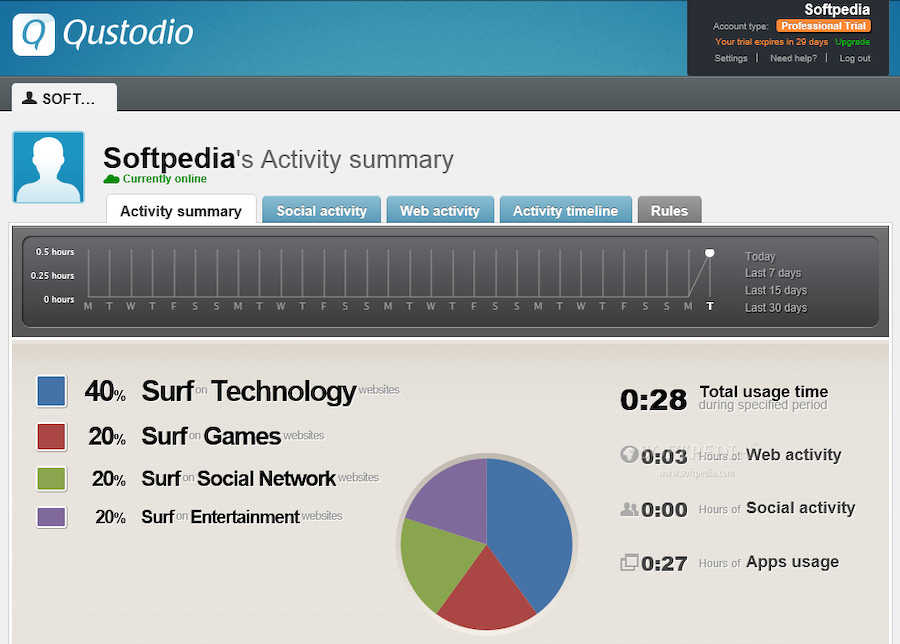 Qustodio for business lets you monitor, manage, and filter the content accessed by your employee to spur productivity in the workplace.
The software functions across platforms and allows remote management and real-time reporting.
Features
Single Dashboard: Whether you are running a small business or a big one, Qustodio provides a central dashboard to monitor all devices and people from a central place.
Smart Reporting: With the granular data sets, you get evidential data to back up punishment or reward for staff.
Content Blocking: The app has a content blocker to stop employees from accessing potentially damaging websites. You can also flag off inappropriate content to ensure no staff becomes distracted at work.
Dynamic Filtering: Qustodio lets employers put reasonable filters on staff computers to enable staff to continue accessing relevant content.
Security Features: For the safety of staff, the app enforces the necessary protocols to ensure everyone is safe while accessing online services.
Pros
Suitable for use by small business owners and other uprising business professionals because it is easy to use.
Has highly customizable settings and you can track several devices from one dashboard
It is very secure
Works on any operating systems and devices
Cons
Doesn't track social media platforms apart from Facebook
Requires physical access of a target device to set up
Pricing
From $9.95 a month, you can do employee monitoring for 5 devices. But the more devices you cover, the price goes lower.
Freebies
MoniVisor – The First Choice for Employee Monitoring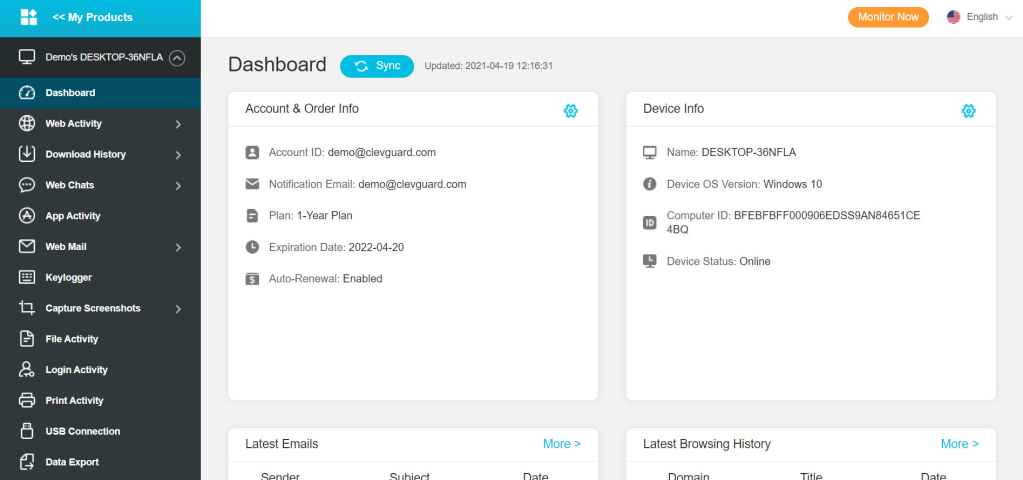 MoniVisor is a brilliant app to monitor your employees' activities on their Windows devices. It's part of the CleveGuard family, and its Android and iOS equivalent is called KidsGuard Pro.
Features:
Read Emails: MoniVisor gives you access to all employee sent and received emails, and let's you get into their email account without them knowing. You can also track these emails in real-time to monitor any potential leakage of confidential information.
Internet Activity: You can track the employee's browsing history across all the major browsers – Chrome, Opera, Firefox, Edge, and Internet Explorer. MoniVisor gives you information like the timestamps and also the download history.
Keylogger: MoniVisor's keylogger can track everything that's typed on the keyboard, view all deleted keystrokes and track those types on incognito browser windows.
Social Media Activity: It lets you access all messages from WhatsApp, Facebook Messenger, Skype, Instagram and Twitter. You can also access all media shared, as well as incoming and outgoing calls made via these apps.
Track App activity: You can track how long the employee used each app for, along with the last time it was used on the target computer.
File and Print Activity: MoniVisor also lets you track all file-related activities like copying and printing, along with the time at which these operations were carried out. Additionally, you can also view the name of all printed documents, the page and even its file path. This can help you find out if the employee ha printed any confidential information.
Pros
Suitable for businesses of all sizes
Offers accurate results quickly
Keylogger shows timestamps for each keystroke
Allows capturing screenshots of the employee's computer
Cons
The search bar is case sensitive, making it harder to find what you're looking for
Antivirus software might interrupt the app's installation
Pricing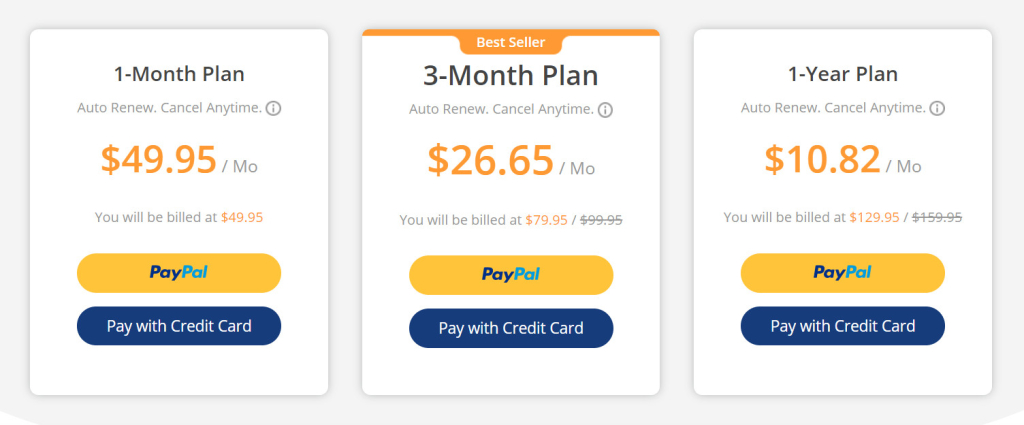 How to Monitor an Employee's Computer?
Monitoring any computer is a process that may be long or short, depending on the software in use.
Fortunately, when using the software options in this review, there aren't many steps to start tracking a device.
Next, we see an example of a process to monitor a computer using Hoverwatch.
How to Use Apps Like Hoverwatch
Follow the signup link to begin registration. Here, you use your email and password to create login credentials for the monitoring software. They will notify you about the three-day trial, which you can upgrade to a full subscription once you get acquainted with the platform.
Next, you need to download the source app from the target device, which can be a smartphone or computer. Please take note that once you finish the installation, the app will go on a stealth mode, and the phone user won't be able to detect it.
In a matter of minutes, the information will upload on the Hoverwatch virtual account, where you begin to watch over the employees' devices.
What is Computer Monitoring Software?
A computer monitoring software is an application that allows you to manage activities and processes within a Mac or a Windows PC through a computer network.
These monitoring solutions help employers, parents, and individuals to keep track of information flow within their businesses or among users of target devices. It helps combat threats like cyberbullying and other forms of harm.
Typically, the computer monitoring software will record keystrokes, check the browsing history, and take screenshots.
What is Employee Monitoring Software?
An employee monitoring software gives you an overview of what your staff is doing on their computers. Software is best for monitoring employee productivity by checking that staff are using their time well. It also contains options like internet filters or website blocking, to ensure that they aren't steering away from their work responsibilities.
The tool captures the strokes hit through the keyboard, reveals websites visited by your employees, and shows the applications used by employees during working hours.
The benefit of having employee monitoring software is that you can measure the productivity of your workers remotely in one place without touching their computers.
Why Use Employee Monitoring Software?
Employee monitoring software helps to track the work done by an employee by understanding how they use their time during the workday. While organizations use other tools like time tracker software and project management tools, employee monitoring tools are essential to ensure the highest security standards.
Another thing these apps do is check network bandwidths to ensure there are no incidences of a data breach.
The data picked by this software is useful for making important decisions like promotions, rewards, and disciplining workers. It can also help employers to define the strategy to motivate personnel.
Here are more benefits:
Security Insights: Employee monitoring software enables the company to identify potential threats to the company regarding security breaches and unauthorized sharing of confidential information. This software also comes in handy as you can track when an employee downloads a potential risky file from an unverified sources and you suddenly have to deal with a situation where you need to remove virus from the MacBook Pro.
Creates Transparency: Knowing that they are under surveillance, staff will focus more on work, thus increasing productivity.
Enabling project support: By tracking the tasks done by employees, the manager can offer assistance in prioritizing to ensure staff meet deadlines.
With the integration of the employee monitoring software to the CRM of the company, the company can streamline the processes which fast tracks the achievement of project goals.
Communicating Productivity Insights: Through the dashboard tracking tools, you can quickly put staff on the spot over poor performance.
Most of these software also have timesheets, which is a perfect measure of productivity in an organization.
Is Employee Tracking Legal?
There aren't any laws preventing private companies from monitoring their staff, but that does not mean legal battles cannot ensue.
The best way to protect your company from legal issues is by getting the team to consent to surveillance. You may also want to check the privacy laws existing for each state.
California, for example, requires companies to disclose whether they are spying on employees or not.
Also, please note that foreign employees follow the privacy laws existing in their home countries.
Europe has stringent email monitoring rules compared to the US, but the best thing to do before deploying tracking on your employees is to seek the guidance of an attorney. We've written an extensive article discussing the legality of tracking software, so check it out.
Verdict
The second group of software features the best employee monitoring software like Hoverwatch and FlexiSPY, offering advanced tracking of employees through the latest cloud-based surveillance technology.
For a reasonable price that doesn't differ much from that of productivity software, you get at least 3 times more functions at your disposal that can serve you in both business and personal life in one go.
All-in-one solutions our expert team can vouch for!