6 Ways to Spy on Tinder Accounts – No Root & No Jailbreak
Too long to read? Here's a summary of our top 3 monitoring apps for Tinder:
SpyBubble – our top tracking software for Android and iPhone. Invisible, fast, and reliable for all your spying needs. You can screen record the target phone, spy on social media, read SMS, view calls, and browsing history. No jailbreaking or rooting.
uMobix – second-best eavesdropping app. Affordable pricing. Free demo. Spy on social media. Track SIM location. Read text messages. Invisible. No jailbreaking or rooting.
mSpy – a reliable spy app with a decent amount of features. Screen recorder. GPS location spying. Monitor 30+ social media channels. Track calls. Read SMS. Outstanding user interface. Invisible.

Tinder is arguably the world's most popular dating app today. However, if your girlfriend or boyfriend is in this dating app, you might have a problem on your hands. Here are some things you can do to spy on their messages and other cell phone activities.
Use a Spy App: Tinder spy apps like Spybubble are professional and reliable Android and iOS Tinder monitoring solutions that are 100% secure and legit.
Use the Cheaterbuster Website: refers to websites like Swipebuster which rebranded to Cheaterbuster because they are scams and do not work.
Find Out if Your Girlfriend Is on Tinder For Free: these are free tools that are out to scam naïve users; they request personal details and will not work.
How to Find My Boyfriend on Tinder By Creating a Fake Profile: this involves creating a fake Tinder profile that you know will attract your boyfriend/girlfriend.
How Do You Spy on Someone's Tinder Without Them Knowing?
While we might be simply looking out for those we love, they may not understand it if they knew you were spying on their Tinder, especially children. You might also have wind that your partner is on this popular dating site and wanted to catch them.
You can spy on popular messaging apps like Tinder without your child/spouse or boyfriend/girlfriend knowing. Here are several methods which you can use:
Use a Tinder Spy App
Use Swipebuster
Find Out if Your Girlfriend Is on Tinder For Free
How to Find My Boyfriend on Tinder By Creating a Fake Profile
How to Read Someone's Tinder Messages with Spybubble?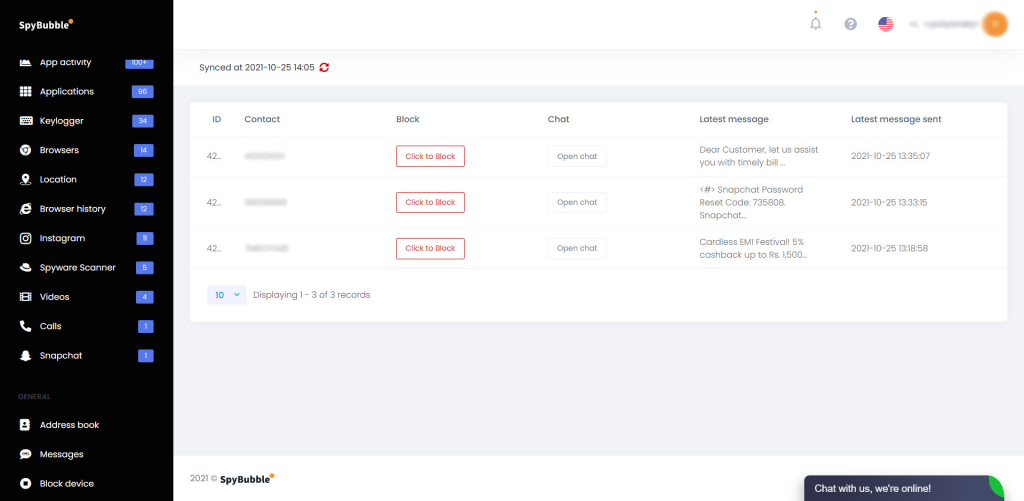 Cell phone monitoring apps guarantee solid results for anyone looking to monitor Tinder remotely. Once installed on the target phone, you will have access to a lot of tinder activities.
We recommend Spybubble if you are looking for a professional Tinder account monitoring tool. This Android app is currently trusted by millions of users with an impressive satisfaction rate of 96%.
Most of the users praise how fast and easy it is to set up. This is also thanks to its brilliant user-friendly interface without technical complexities. Spububble is compatible with Android 4.0 and above as well as all versions of iOS.
Not only that, but it allows you to also spy on someone's Viber messages, WhatsApp, Snapchat, and many other messengers. When it comes to social media, you can use it to secretly spy on Facebook accounts, Instagram, and all other major networks.
Use uMobix to Read Someone's Tinder Messages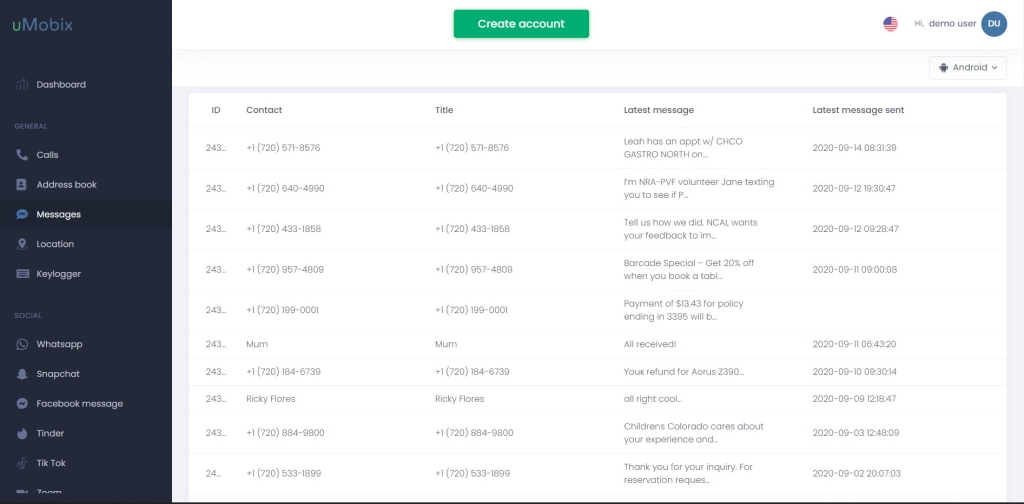 Tinder is one of the most popular dating apps on the market, allowing users to swipe right or left to show interest in other users. However, it can be difficult to know if someone you're interested in is also using the app. This is where uMobix comes in. uMobix is a tinder spy app that allows you to see if your loved one is secretly using this dating app.
In addition, uMobix provides detailed information about the user like their location, and even private messages! This allows you to make an informed decision about whether or not you should break up with a person. With its simple interface and powerful features, uMobix is the best way to spy on Tinder and find out who's interested in you.
Read Tinder Messages Without Them Knowing Using mSpy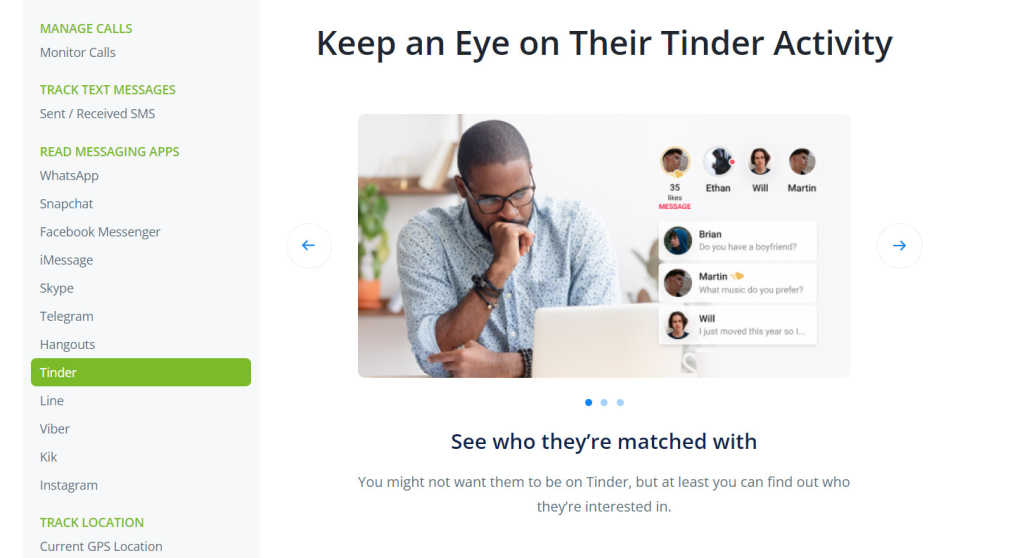 mSpy is a powerful app that can help you spy on someone's Tinder activity. With mSpy, you can see all of the messages that are sent and received through the Tinder app. You can also see the other person's profile information, such as their age, location, and interests, or even who they swiped on.
Additionally, mSpy can track the person's current location and provide you with a real-time map of their movements. If you suspect that your partner is cheating on you, mSpy can help you catch them in the act. With mSpy, you can finally put your mind at ease and know for sure what they're up to.
Use Swipebuster/Cheaterbuster
Using online websites that promise to monitor social media or any other web account like Swipebuster is a route many have tried to follow. However, they end up getting scammed.
This website recently rebranded from Swipebuster to Cheatbuster because of getting a bad name from users.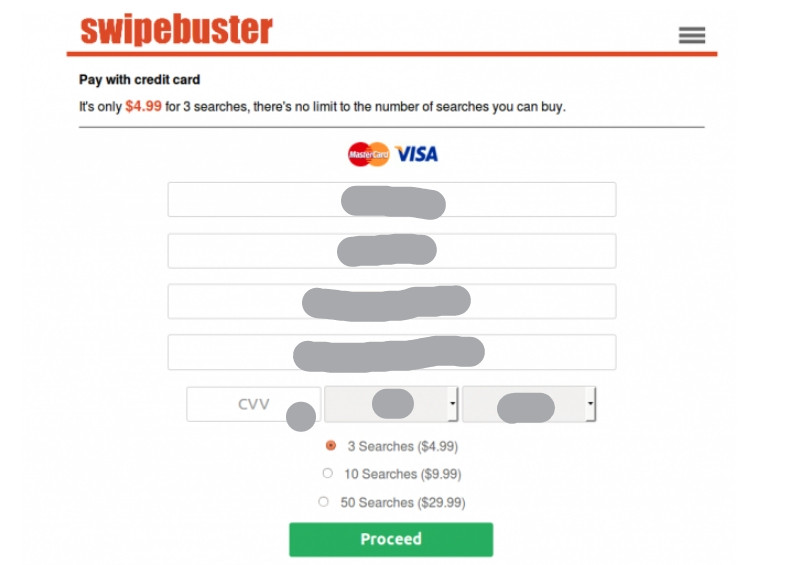 These websites do not work, and those that do come at a cost. They will lure you with low-priced starting packages. However, you will be forced to pay more money when you begin to do more searches. And, they don't come with advanced features such as monitoring someone's Snapchat and other social media accounts.
So don't waste time, and pay a monitoring software subscription. Spy apps like Spybubble will remotely and conveniently spy and track a user device.
No matter how many times scam websites like Swipebuster change their face, do not be tempted to go with their Tinder monitoring service.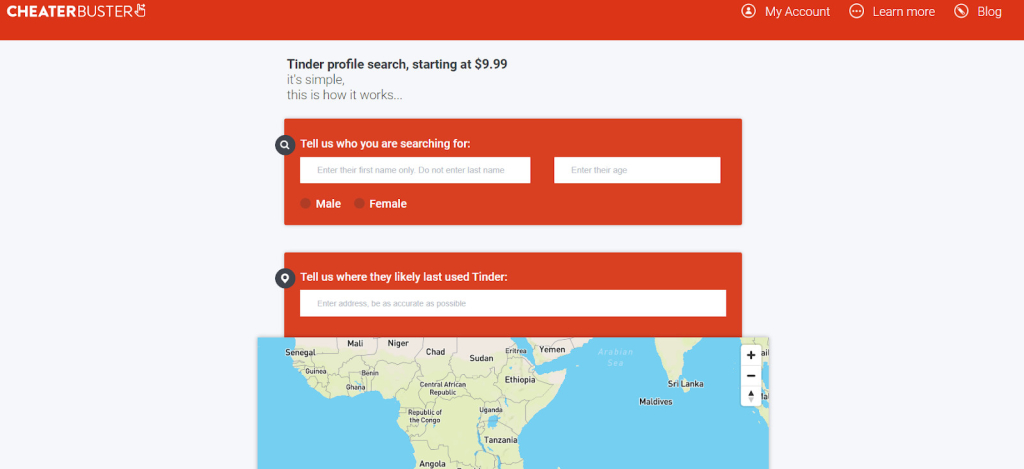 Find Out if Your Girlfriend Is on Tinder For Free
Many websites promise to find out if your girlfriend or boyfriend is on Tinder. These websites are just like Swipebuster, but even worse in some cases. Tinder Finder is just one example.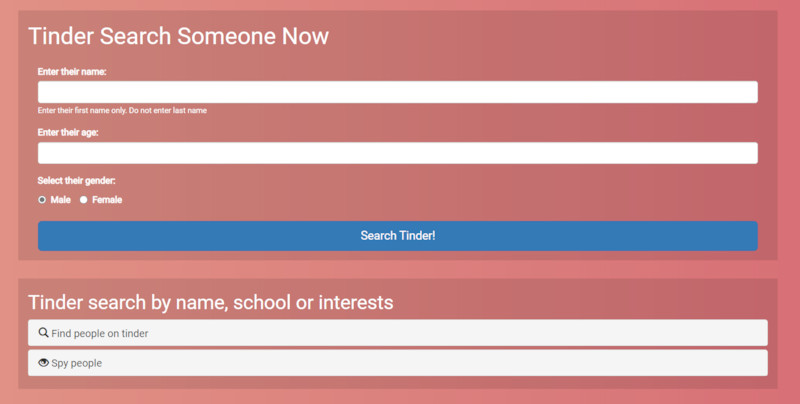 To get the information, the websites will require you to sign up using your personal details, email, and password. Some people have had their identity stolen simply from using such websites!!!
For example, clicking on the search button in the above screenshot will redirect you to Cheaterbuster.
Some may also ask you to download malicious files. These files often contain ransomware, malware, and spyware. You may lose important information such as your life's work, just for trying to go the free route.
A great option is to use spying and remote monitoring tools like Spybubble. Yes, they require a subscription. However, they offer all the features you would want and there are no risks of identity theft or getting ransomed.
How to Find Someone on Tinder Without Them Knowing?
Many people wonder how to find their boyfriend or girlfriend by creating a fake profile. Do you copy their profile? Do you create your fake profile? Well, you are in luck because we are going to tell you just how.
But first, why create a fake Tinder profile? In our opinion, this is the only truly free way you can find your boyfriend on Tinder for free. However, it does depend on luck and there is a possibility it may or may not work.
Nevertheless, it's a free opportunity that many people have tried.
How to find your boyfriend using a fake Tinder profile:
Step 1: Create a profile that you know will attract your target. Start by filling in the charming characters you know they like and adding creative photos that will attract them.
To create a Fake Tinder profile on Android:
Step 1:
Download the Tinder app for Android from the Play store
Select your preferred login method
Enter and verify your phone number
Set up your profile as advised above
Grant Tinder access to all required permissions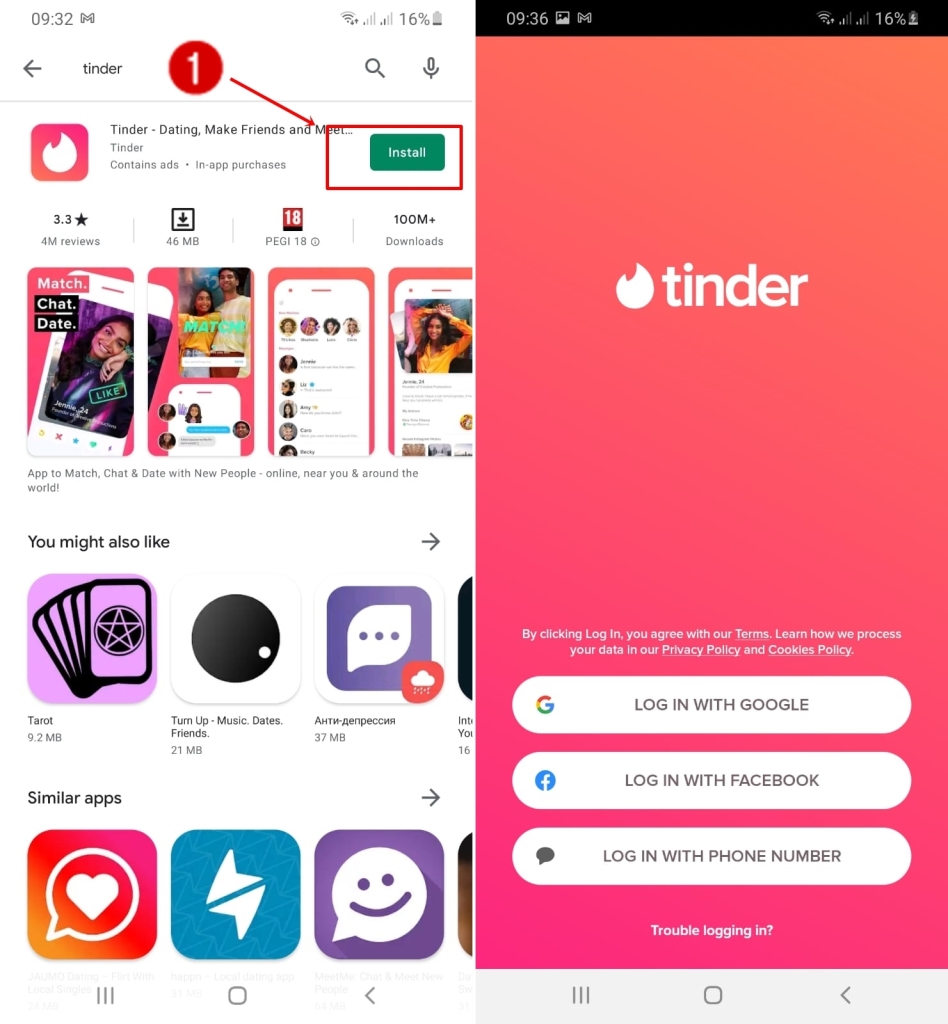 You are ready to rock!
Step 2: Go to your boyfriend's profile and swipe right on them. This shows your fake profile's desire to mingle.
Step 3: If your boyfriend swipes right on the fake profile too, you will be a match. If he doesn't, then he might not be cheating or they know you are testing them!!
Let's face it, people are smart nowadays. When things are too good to be true, they might get spooked. This is where Spybubble comes in to save the day.
Because it runs in stealth mode, you can know every detail of their Tinder account activities. If you get a more premium subscription, you can even monitor Facebook, WhatsApp, and Instagram without risking getting caught!!
Can I Tell If My Boyfriend Is on Tinder?
Yes, you can definitely tell if your boyfriend is on Tinder by using one of the methods we described in this article. The most reliable way of finding out is using a spy app because it will copy all his phone data, including Tinder activities.
How To Find Out If Your Girlfriend Is On Tinder?
The smartest thing you could do is install Tinder yourself and hide it from your phone. This might be a bit unethical, but grab a picture of one of your friends from Instagram or Facebook and upload it to Tinder. Now, make sure you disable all notifications, so your girlfriend won't see these popping up when you're laying together.
The next thing you do is, set the Tinder settings so that you only seek people who are less than a mile away from you.
Have a morning coffee while your girlfriend is still sleeping and keep on swiping until you find her profile.
Can I Find Someone on Tinder By Phone Number?
If you're wondering whether it's possible to find someone on Tinder by their phone number, the short answer is no. There is no search function on the Tinder app that allows users to look up other people by their phone numbers.
Do You Need Facebook to Set Up Tinder?
Yes. Nowadays, you need to have a Facebook account to sign up for most dating apps, and no Tinder is not excluded. However, Tinder ensures that your personal, sexual, and romantic information is not disclosed to bad people because of their great security and privacy. If Facebook is absolutely not an option, you can set up Tinder using a phone number.
Can I Sign up for Tinder Without a Phone Number?
No. If you sign up using an Android smartphone, you can't spy on Tinder without a phone number. However, if you don't want to use your own number, you can easily get a phone number online to receive SMS. This allows you to easily create a tinder account without a phone or using your own number.
Is Making a Fake Tinder Account Illegal?
Yes. Making a fake Tinder account to spy on Tinder is illegal since it is identity theft. If you don't use your picture, whose is it? Have they permitted you to use it? What if you land them in trouble with their boyfriend or girlfriend? This is why it is recommended that you spy using Spybubble to track device activities. The cell phone may have to be rooted, but you won't get into trouble for identity theft to Tinder messages!
How Can You Find Out If Someone Has a Tinder Account?
Some apps claim to use bots to swipe through user accounts. However, there is no direct way of searching for someone's Tinder profile and having it pop up conveniently. Tracking apps on the other hand work stealthily on the target device and slowly siphons even location-based information from the target device. This means you can read Tinder messages, get GPS location, monitor social media data, and have other premium features.
How to Find If Someone Is on Tinder for Free?
The only free way to find out if someone is on Tinder is to grab their phone and check their app list. However, this is also the riskiest method because you can easily get caught. The easier way to see if someone uses Tinder is to try one of the affordable methods we mentioned in this blog.
Conclusion
It is heartbreaking to bank your time and emotions on someone, only to find out they are back on Tinder. You may also suspect your teenage daughter is on the dating app! Whatever the reason, you need to conveniently monitor target devices remotely, to prevent getting caught.
While fake websites, apps using bots, and opening fake accounts look promising, they often do not give us the results we want from the target device. This is why I recommend Spybubble for your Tinder spying and other smartphone monitoring features.