5 Best Antivirus with VPN Included That Don't Suck
Gone are the days where you could protect your device with just a basic antivirus scanner. As online threats multiply and become more sophisticated you now need comprehensive security software to keep your phones and computers safe. To ensure you are protected check our list of the best antivirus with VPN in 2021 that you can try out right now!
Need to Find the Best Antivirus With VPN in 2021 Now? Here Is Our Quick Summary:
Bitdefender Total Security – Our champion! – Get a virus and malware scanner with a 100% detection rate, real-time web protection, and a VPN with access to over 1000 different worldwide servers!
Norton 360: Online Privacy and Security – Protect your devices behind an impregnable firewall, receive real-time protection malware, and a world-class VPN that always protects your IP address and lets you connect to servers all over the globe!
McAfee Total Protection Just behind in 3rd place! – Encrypt your files, remove all spyware and malware instantly and of course browse the web securely with a lightning-quick VPN!

Bitdefender Total Security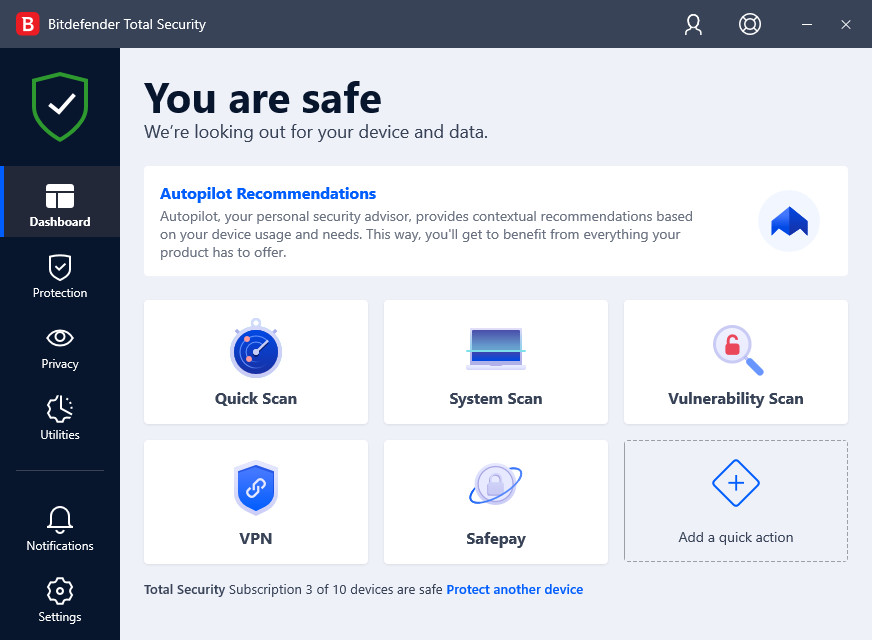 Top Features
VPN – Bypass any geo-blocking while hiding your IP address.
File shredder – Delete sensitive files so they are no longer recoverable.
Safe online banking – You won't have to worry about spyware stealing your bank details because Bitdefender will open a secure window every time you access your bank account.
Privacy firewall – No nefarious outside connections will take place as long as you have Bitdefender's powerful firewall backing you up!
Webcam protection – 3rd parties won't be able to hack your webcam as they will be quickly blocked.
Bitdefender is one of the top antiviruses with VPN and has been safeguarding people from all over the globe for 20 years! Bitdefender's Total Security has all the features you need to remain safe no matter what you are doing on your device.
Bitdefender Total Security is compatible with all platforms including Windows, Mac, iOS, and was recently voted the best antivirus with VPN for Android! To start using Bitdefender you can access a 30-day free trial right now and do not have to share your payment details.
After your trial is up, keep using Bitdefender's VPN with antivirus by purchasing one of these subscriptions:
5 devices – $44.99 for 1 year subscription
10 devices – $49.99 for 1 year subscription
5 device – $112.49 for 2-year subscription
10 devices – $127.49 for 2 year subscription
5 devices – $149.99 for 3-year subscription
10 devices – $172.49 for 3 year subscription
No matter if you are a beginner or tech whizz, Bitdefender's antivirus with VPN package offers comprehensive protection and access to the latest security technology including an easy-to-use VPN, malware removal tool, ransomware blockers, file shredding, and a whole lot more! Start your Bitdefender 30 day free trial today!
Norton 360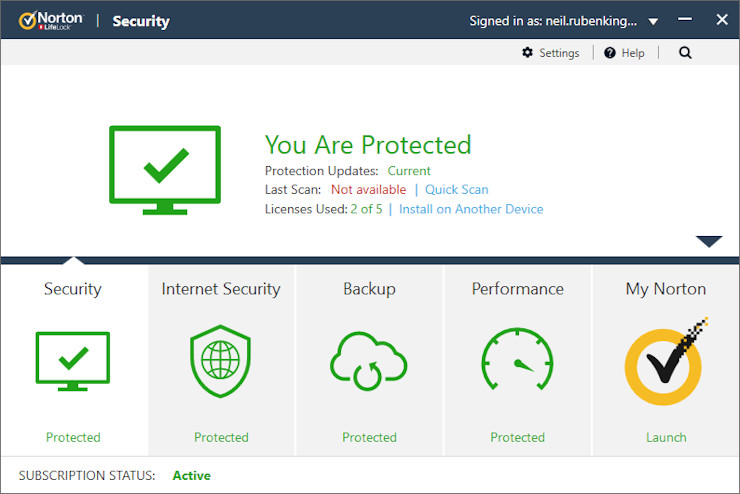 Top Features
Real-time web protection – Norton will scan links and files before you even have a chance to open them and quickly neutralize any infections!
Password manager – Encrypt and store personal information so nobody can access them even if they breach your device!
Firewall – Block all outside attacks with a world-class firewall typically reserved for enterprise clients.
Dark web monitoring – Instantly find out if your personal details are being shared around the dark web.
VPN – Maintain your privacy by hiding your IP address and keep your device secure on public networks by encrypting your traffic!
Norton 360 is the best antivirus VPN combo on the market! You not only get a wide range of security features but you get to take advantage of the latest technology produced by Norton who has been battling malware and viruses since 1991!
Norton 360 antivirus with VPN can be run on any device including iOS, Android, Mac, and Windows. And you can try out this amazing security software for free for 7 days!
Once your trial is up you can purchase one of the Norton antivirus with VPN plans:
Norton 360 Standard (1 device, 10GB) – $84.99 for 1 year subscription
Norton 360 Deluxe (5 devices, 50GB) – $104.99 for 1 year subscription
Norton 360 Premium (10 devices, 100GB) – $124.99 for 1 year subscription
If you are looking for comprehensive antivirus protection and a VPN that can bypass any geo-restriction, is fast enough to stream video, and will always hide your IP address and encrypt your traffic then try out Norton 360 for free now!
McAfee Total Protection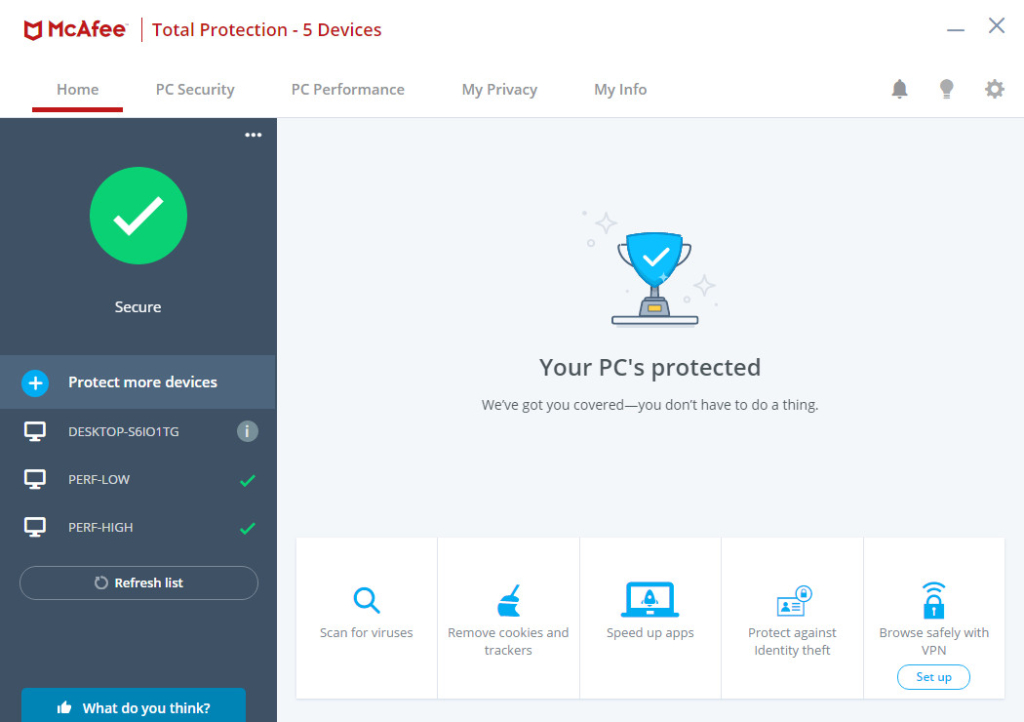 Top Features
Fast VPN – Switch between servers, stream content in HD all while hiding your IP address and encrypting your traffic!
Identity Protection – Instantly find out if one of your online accounts or email has been breached.
Secure Browsing – Be alerted to all infected malware sites, links, and popups in real-time so you never have to worry about accidentally infecting your device with pesky malware!
File Encryption – Safeguard all of your personal details behind state-of-the-art encryption, preventing even the most skilled cybercriminals from getting their hands on your info.
McAfee is one of the pioneers in security software and with their Total Protection antivirus and VPN package you get world-class protection from all angles! This easy-to-use software allows you to browse the internet and connect to public wi-fi safely and remove all viruses instantly!
McAfee Total Protection (antivirus with VPN included) offers a generous 30-day free trial where you don't have to enter your credit card details. During the trial, you can access the software on 10 devices including Mac, Android, iOS, and Windows.
Once your trial is finished to continue using McAfee Total Protection simply pick one of the following subscriptions:
Basic (1 device) – $34.99 for 1 year subscription
Plus (5 devices) – $39.99 for 1 year subscription
Premium (10 devices) $49.99 for 1 year subscription
Unlimited (unlimited devices) – $69.99 for 1 year subscription
If you are looking for virus protection and VPN for below market price but still want the latest security technology then McAfee Total Protection is a great choice. Not only can you connect to servers around the world and fully encrypt your traffic but you effortlessly block and remove even the most sophisticated malware. Try it for free for 30 days now!
Kaspersky Security Cloud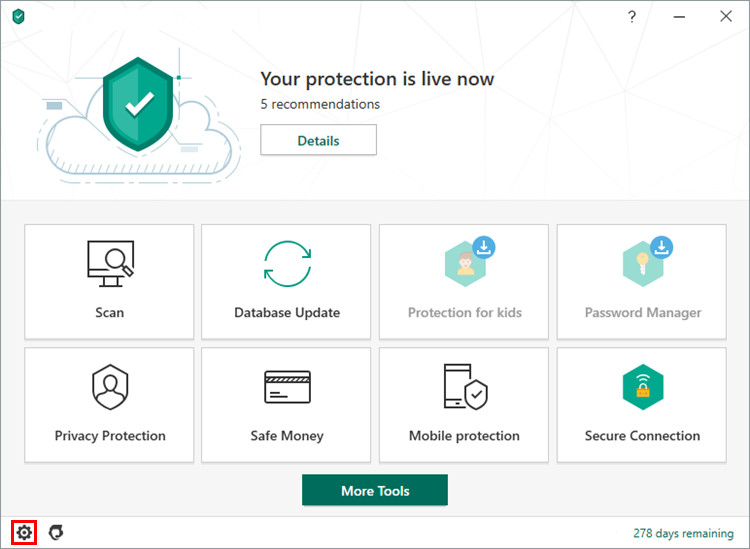 Top Features
Account breach checker – Find out if your email address and online accounts are secure!
Malware removal tool – Remove any and all malware and spyware from your device with the click of a button.
Reliable VPN – Ultra-fast private servers, hide your IP address, and securely connect to any public wi-fi.
Effective parental controls – Keep your children safe by limiting what websites and content they can access.
Powerful password manager – Encrypt all of your private information and keep them hidden from all nefarious 3rd parties.
Kaspersky has developed one of the best Mac antivirus with VPN that is absolutely jam-packed with every security feature you need to keep your device safe!
Kaspersky Security Cloud is the ideal software to have if you regularly make online payments. With Kaspersky's safe money feature every time you pay online you will be brought to a secure new and encrypted window!
Kaspersky is filled with incredible features such as device optimization. With this feature, Kaspersky will scan your device and immediately detect areas where your security is lacking and make helpful recommendations.
Kaspersky Security Cloud also has one of the highest performing antivirus scanners which has a near 100% detection rate and can overpower even the most stubborn malware. And of course, this software comes fitted with a powerful VPN that can virtually transport you around the world while giving cybercriminals no chance of accessing your device through public networks.
Kaspersky Security Cloud is available on all devices including iOS, Mac, Android, and Windows. You can try this great software out by accessing a no strings attached 30-day free trial!
To purchase Kaspersky Security Cloud once your trial concludes buy one of these packages:
Unlimited VPN – $4.99 per month or $39.99 per year
All Access – $99.99 per month or $99.99 per year
Kaspersky is the perfect solution if you are looking for the best antivirus suite with VPN and want to fully protect your devices. Start your free trial now and forget about malware and having your device breached ever again!
Avast Premium Security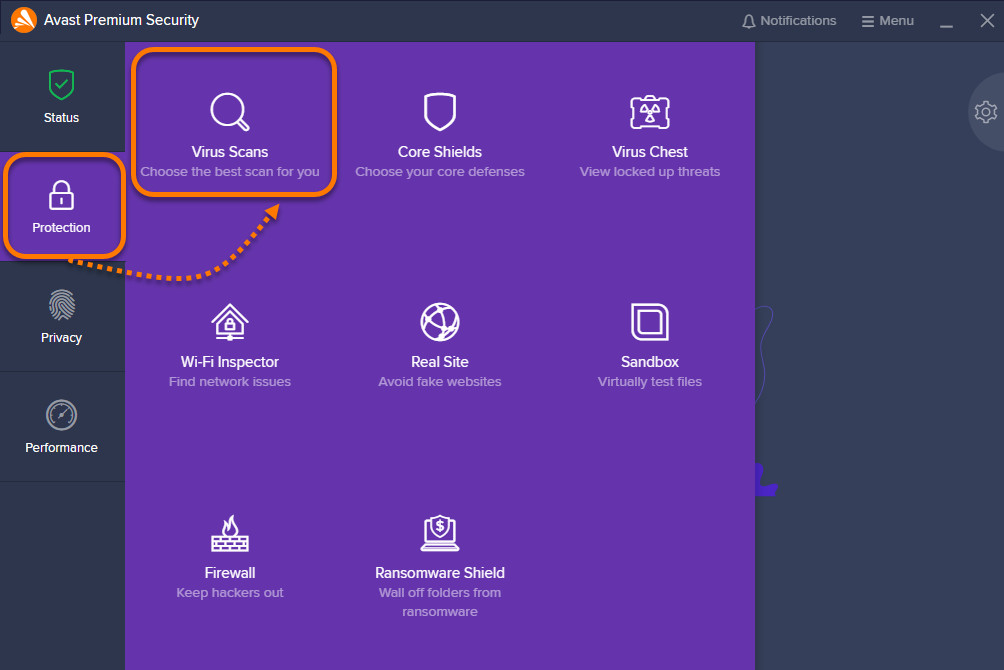 Top Features
Smart scans – check your entire device in just a few minutes and quickly identify and remove any malware, viruses, or spyware!
Site blocker – Stay safe when browsing the internet with a site blocker that will automatically neutralize any malware-infected sites, links, or popups.
Ransomware shield – This shield encrypts sensitive files so you hackers can't access your personal information even if they do access your device.
VPN – Avast's VPN integrates flawlessly with the other security features and allows you to connect to servers in over 20 different countries!
Avast has built a reputation as a leading antivirus developer thanks to its solutions routinely scoring highly under independent testing. With Avast Premium Security you get a range of different security features for a bargain price and can achieve peace of mind knowing your devices are always protected.
Avast offers a 30 day free trial for Windows users and a crazy long 60 day free trial for Mac users but you must enter your credit card details to start the trials.
If you are satisfied with this antivirus with VPN you can keep using Avast by upgrading to one of the following subscriptions:
1 device – $39.99 for 1 year subscription
10 devices – $49.99 for 1 year subscription
If you are looking to say goodbye to malware and bolster your online security with a top-performing VPN, then you need Avast Premium Security. This antivirus with VPN has everything you need to keep your device secure. Try it out for free today!
Which Antivirus Provides VPN?
All of the antivirus software on our list comes equipped with a VPN. Try out any of these top antiviruses with VPN today:
Do You Need An Antivirus With a VPN?
It is highly recommended that you choose an antivirus with VPN included because a VPN plays a crucial role in keeping your device secure when connecting to public wi-fi. A VPN encrypts your traffic, making it almost impossible for 3rd parties to access your device.
Does Avast Have a VPN?
Avast does produce a VPN, however, it does not come with Avast's antivirus software. To access the VPN you have to purchase a separate subscription but it integrates with Avast Premium Security.
Which Antivirus Comes With VPN and Firewall?
If you want to find the best antivirus with VPN and firewall then BitDefender is a great choice. BitDefender is known for providing comprehensive protection and you can take advantage of their powerful firewall and reliable VPN.
Conclusion
To keep your device protected at all times whether you are browsing the web, connecting to public networks, or scanning your device for breaches you can't go wrong with BitDefender. BitDefender has everything you need including a world-class malware scanner and remover, firewall, VPN, and real-time web protection. Try it out for free for 30 days right now!