4 Easy Viber Spy Tutorials – No Root & Jailbreak
There are several reasons why you might want to spy on Viber. Your staff member might be using a corporate device for personal gain, or you might fear your child is being bullied online. Either way, it is important to monitor Viber without their knowledge.
There are several Viber spy ways for both Android or iOS devices. Luckily for you, there are several safe ways if you want to keep spying on someone's Viber messages. In this article, we will discuss how to:
How to Spy on Someone's Viber Without Them Knowing?
Use Viber Backup to Restore Messages: Using the restore function built into Viber to transfer stored backup to a new device.
Use Viber Web to Spy on Their Viber Messages from Your Computer: Log into Viber Web using PC or Mac to access messages online.
Use Free Viber Spy Websites: Commonly, people have tried to spy on Viber using "Hack tools". These have been proven to be malicious and will harm you by installing malware and ransomware on the target phone.
Use Viber Spy Apps: Viber spy apps allow users to access call logs, date, and time stamps, and other app data.
Spy on Someone's Viber By Using Viber Backup to Restore
One of the safest ways to spy on Viber activities without installing anything on the target phone is through the Viber backup and restore function. If your child/spouse or employee has a ready backup of their messages on an Android phone, then you can restore it with ease.
This is because Viber lets them link their Google Drive or iCloud account to their devices to back up Viber activity. Luckily for you, it simply means you can conveniently restore this previously taken backup to another Android/iOS device. Here are step-by-step instructions on how to restore a Viber backup and spy on Viber messages.
Step 1: Install Viber on the new phone and connect it to your child's/spouse/employee Google account.
Step 2: While setting up the Viber account on the new target device, you will get an option to restore an existing backup. NB: If the option does not appear, go to Settings -> Viber Backup and tap on the "Restore" option. 
Step 3: Confirm the details of the backup file and tap on "Restore" to get back to the saved Viber messages. NB: Activating Viber on the new phone will deactivate Viber the target device! This means your target may know something is wrong if they are tech-savvy.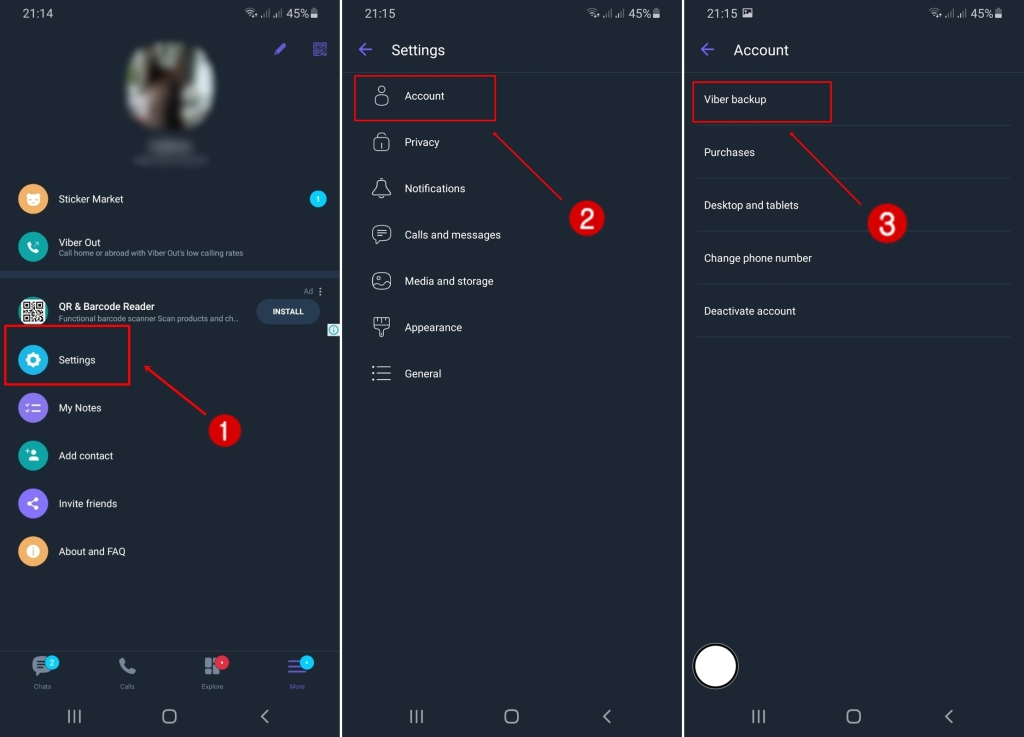 If there's no backup files on the target device, follow these instructions:
If there is no backup file on the target device, you will have to do it. This is very simple.
Open Viber on target device>Select the more options screen>Select "Settings">Tap on "Account">Select "Viber Backup">Choose "Back up".
Use Viber Web to Spy on Their Viber Messages from Your Computer
The backup and restore technique may not be everyone's cup of tea because it deactivates the target device. Fear not because you can use Viber web for PC or Mac to spy on their Viber calls and messages. With Viber web, users can sync seamlessly across devices and spy on the target's instant messages. Unlike backup and restore, this will not deactivate the target phone. Besides, you will be able to:
View all Viber calls and message logs
Participate in group text messages
Create stickers
View all contacts, photos, and videos
As a parent, this means you will have a great level of control. However, if you start a Viber chat, the child/spouse/or employee will know they are being monitored.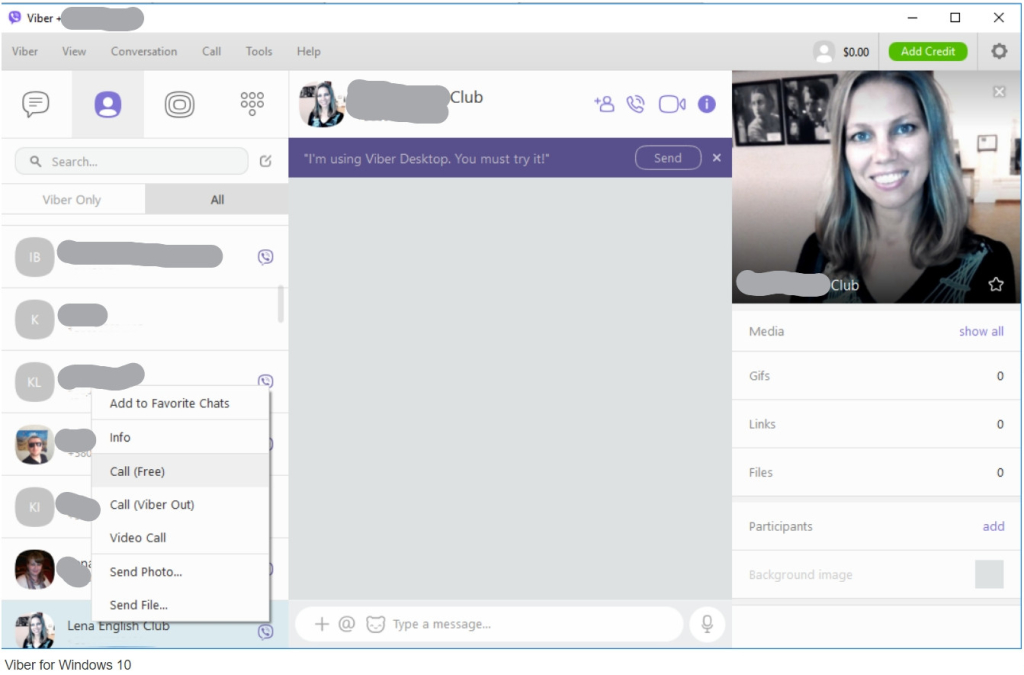 Here are step-by-step instructions on how to spy on their Viber messages from your computer:
Requirements
The latest version of Viber on the target phone
Strong internet connection on both the target phone and your computer
Physical access to Android/iOS device
Step 1: Download the Windows/Mac version of Viber for Desktop
Step 2: Click on the finished download file at the bottom of the screen
Step 3: PC: click Install and follow the instructions once Viber opens. Click Yes to confirm that you're downloading from a reliable source when prompted and complete the installation.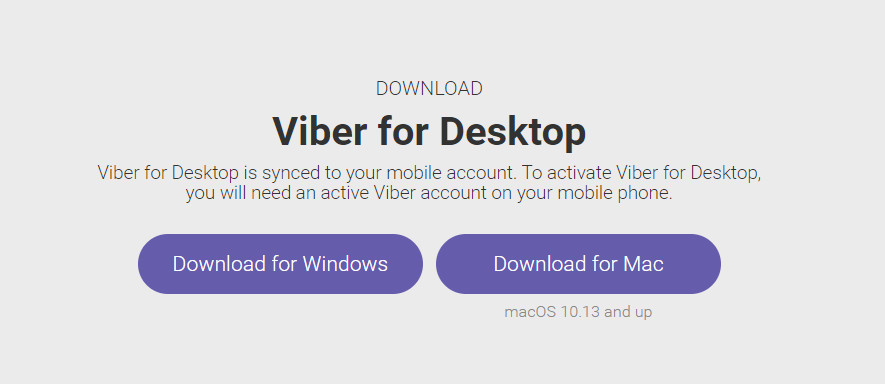 Step 4: Mac: drag the Viber icon into the Application folder. Double click on Viber after the redirect. Click Yes to confirm that you're downloading from a reliable source when prompted and complete the installation.
Step 5: Sync Viber on the target phone with your computer by opening Viber on the phone->Tap on More-> Tap on the QR icon and scan it on your computer.
Step 6: Select Approve/Yes in all prompts. Finally, Tap Sync to begin uploading data to your computer.
Spy on Viber Messages With Free Viber Spy Websites
"Viber hacks" have broken many Viber spy app users' hearts. Many of these hack tools for spying on Viber messages promise to spy on the app remotely but it is a huge scam!!! They are stealing a lot from uninformed internet users. You cannot simply hack Android phones remotely. Also, Viber, like Facebook, Twitter and Instagram have very good security.
This is why users trust that what they say is secure. The exception to this is when you use a spy app like mSpy to track Viber activity. mSpy will offer you a lot of insight into your spouse's or child's Viber, without compromising your security.
Websites that let you enter the target's phone number and promise to hack their Viber like the Viber Hack tool and Viber Hack Spy require a survey or a software download. Be warned !!! These websites are malicious and will scam money off your wallet.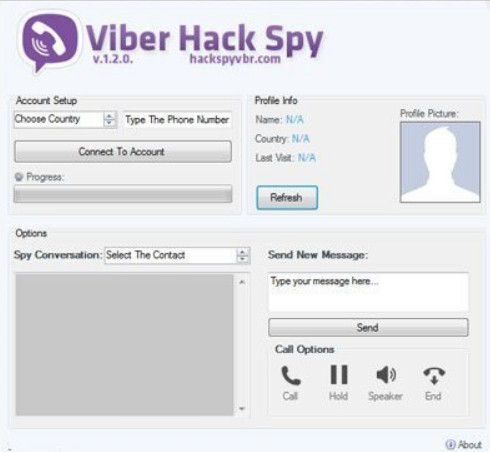 How to Spy with Viber Spy App – mSpy
If you want to monitor your child's Viber activity without them knowing, a spy app like mSpy is your best choice. With its advanced features, you can protect them from dangerous or unwanted interactions all from the convenience of your computer screen. mSpy allows users to spy on Viber messages and find bullies and predators who lure kids, spouses, or employees into harmful traps.
mSpy allows you to:
Monitor all sent and received Viber messages including deleted ones
View Viber calls logs and activities
Block/restrict unwanted features
View group conversations
Access tracked data
View other messengers – spy on their WhatsApp, Messenger, and other accounts.
Access social media – spy on their Facebook account
Track device remotely and conveniently from a Control Panel
As you can see mSpy gives its users much more tools and functionality for Viber spy. All you have to do is install mSPy on the rooted/jailbroken Android/iOS device and you can begin monitoring from the mSPY dashboard in the three simple steps.
Pros
Advanced and cool features like location tracking
Allows for true remote Viber spy operations 
Many other monitoring features available 
No security concern unlike hack tools
Access even deleted information 
Cons
Root/Jailbreak required
Requires a Premium package
How Can I Read Viber Messages From Another Phone for Free?
They say cheap is expensive and rightfully so! I once had an ordeal with a ransomware attack after trying to score me a windows activator. Needless to say that this didn't end well. This is often the case for many people like you and me who try spying on Viber without a spying app subscription.
While there is software that can access app activities without a subscription, we only recommend monitoring Viber chats using the Backup and Restore technique, or Using Viber for the web. However, the most ideal way to go about it is using apps like mSpy. Even though it may require a subscription, root, or jailbreak, it can spy Viber seamlessly once set up.
Conclusion
Scammers, unfaithful partners, uninformed children, or untrustworthy employees are a guarantee at one point in life. Chat apps that allow free account opening will also continue to exist. If you want to take care of your loved ones and your interests, monitoring online activities on apps like Viber is necessary.
The Backup and Restore technique, and Viber for the web are our recommended monitoring techniques without a Viber spy apps installation. However, because of how they work, it is easy to be discovered. This is why we recommend a spying app like mSpy; once purchased and installed on the cell phone, you can monitor and control a Viber account remotely and conveniently from the control panel.