10 Best Antivirus Apps for Android in 2023
Did you know that Android devices are 50 times more likely to get viruses and malware than iOS devices? And every year millions of new malware and viruses are detected. Fortunately, there is a way to keep your Android tablet or phone safe, antivirus for Android apps! In this guide, we are going to show you the 10 best antiviruses for Android that you can download today. Check them out below!
Want to Know the Best Android Antivirus App? Here Is Our Quick Summary:
McAfee Security: VPN & Privacy – Hide your data and IP address when using the web, instantly remove spyware, leading antivirus scanner and remover, VPN and so much more!
Norton 360: Online Privacy and Security – Access bank-grade encryption with their state of the art VPN, dark web monitoring, real-time protection against viruses, and first web protection which blocks shady websites and pop-ups instantly!
Bitdefender Mobile Security for Android Solid 3rd place contender! – Learn about account and email breaches instantly, connect to public wi-fi securely thanks to a great VPN, remotely wipe your device and receive amazing web protection which will alert you to any nefarious links or sites!

McAfee Security: VPN & Privacy – The Best Android Antivirus

Key Features
Effective spyware and malware removal
Email and account breach monitoring
Awesome web protection
Fast VPN
McAfee is a leading antivirus Android software company and has developed a comprehensive security app for Android. With this antivirus app, you can encrypt your device, remove malware and receive real-time protection while browsing the web!
If you suspect your Android device may be infected, simply use McAfee's scanner which will not only identify any malware but will quickly remove it from your phone or tablet. McAfee's scanner will also alert you to any holes in your security and make helpful recommendations.
This incredible antivirus Android app has a fantastic feature known as dark web monitoring. Thanks to dark web monitoring you will be alerted in real-time if anyone is caught sharing your personal details on the dark web. This tool is incredibly valuable if you want to catch and neutralize identity theft before cybercriminals can do damage.
Do you enjoy connecting to public wi-fi but are concerned about the security risks? Worry no more because with McAfee's VPN all of your traffic will be encrypted and your device will be secure. McAfee offers a healthy 500 MB of data per month for free, multiple different locations, and great speeds. If you need extra data you can upgrade to the premium version.
To get started with McAfee Security download it for free from Google Play. To receive higher levels of security including an unlimited VPN and world-class real-time web protection you can purchase these packages:
Basic – $2.99 per month or $29.99 per year
Premium – $9.99 per month or $99.99 per year
We recommend McAfee Security if you take your Android security seriously and want to ensure that no cybercriminal can access your personal information. To secure your device today try out this fantastic app now!
Norton 360: Mobile Security – Trusted Android Antivirus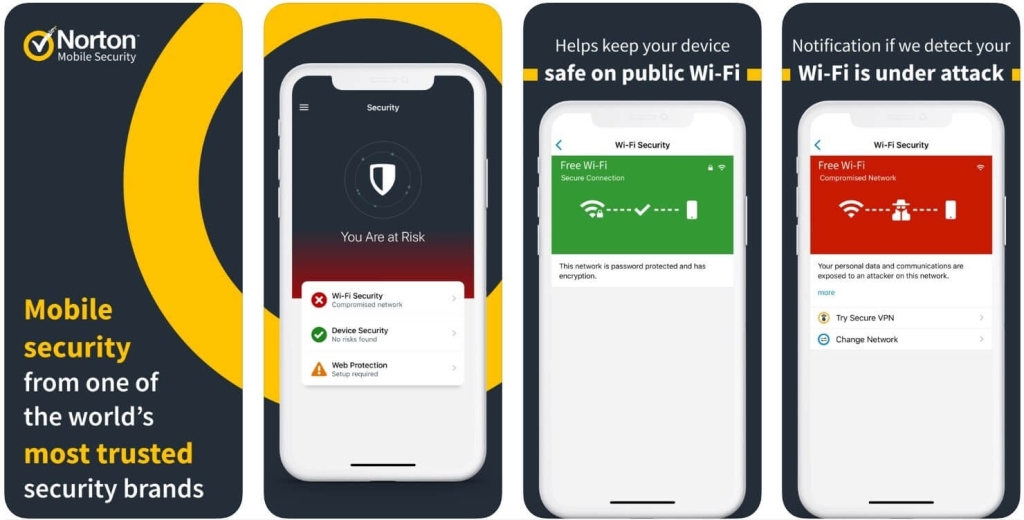 Key Features
Secure browser mode
Wi-fi scanner
Malware scan
Super quick VPN
Norton 360 is used by over 50,000,000 people worldwide and has an impressive 4.6 rating on Google Play making it one of the best antiviruses for Android. This Android antivirus comes loaded with features including a fast VPN and incredible web protection. Thanks to the app's great interface you can access all of these great features instantly!
Surfing the web just got a whole lot safer! Norton 360 features incredible web protection that will automatically detect nefarious sites, preventing any spyware or malware from coming near your Android. Norton 360 also has a great VPN which allows you to bypass pesky geo-restrictions and keeps you safe when connecting to public wi-fi.
If you are looking to boost your overall security you can use this antivirus Android app to scan your settings and make recommendations. The scanner will also help you spot any malware or spyware that may be wreaking havoc on your device!
Currently, you can download Norton 360 for free from Google Play. But if you are looking for an unlimited VPN and higher levels of malware protection you can upgrade to these deals:
360 for Mobile – $49.99 per year
360 Deluxe – $104.99 per year
Norton 360 is an incredible brand and they have once again created an amazing security app. If you want access to the best features and never worry about malware or spyware again then try out Norton 360 for free now!
Bitdefender Mobile Security for Android – Good Antivirus App for Android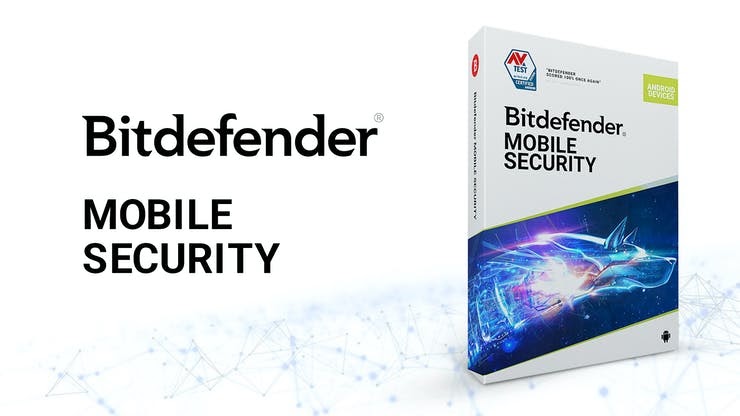 Key Features
Highly accurate virus and malware scanner
Powerful VPN
Remotely wipe and clear data from your Android
Automatically block infected pop-ups and links
Bitdefender Mobile Security is easily one of the best Android antivirus apps on the market! With this free antivirus for Android, you receive total protection whether you want to encrypt files and passwords, browse the web or connect to unsecured networks!
To protect you against identity theft Bitdefender will tell you in real-time if any of your online accounts have been breached which ensures you can instantly secure your accounts and prevent theft. Bitdefender also can monitor your emails and alert you if there is any suspicious activity.
Bitdefender has an incredible secure browser feature that is capable of detecting and automatically blocking sites, links, and pop-ups that have spyware and malware. With this security app for Android, you can safely browse the web without accidentally infecting your device.
Thanks to Bitdefender you never have to worry about compromising your security when you connect to public wi-fi. This app comes equipped with a top-performing VPN that is fast, can easily get past geo-restrictions and Bitdefender will even give you 200 MB of data for free!
To access Bitdefender Mobile Security Android head to Google Play and download it for free. If you would like an unlimited VPN and real-time secure browsing then purchase then upgrade for the following prices:
Premium VPN – $6.99 per month or $39.99 per year
Premium Web Protection – $1.49 per month or $14.99 per year
With its abundance of features, real-time protection capabilities, and near-perfect results in lab tests against spyware and malware, you can't beat Bitdefender's award-winning app. Try it for free now!
Kaspersky Security Cloud – Scan for Viruses on Android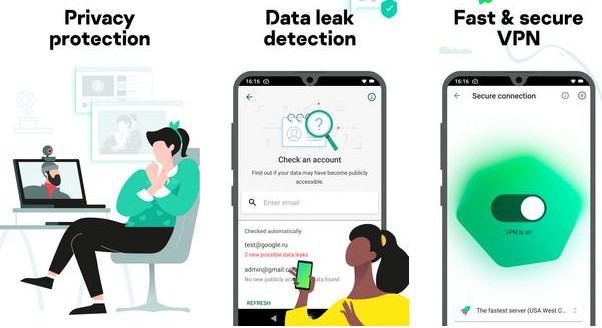 Key Features
Live security recommendations
Easy to use VPN
Website filters
Encrypt all passwords
Kaspersky has developed a highly rated antivirus for Android which is used by almost 1 million people! This freemium app features the latest technology, a wide range of features all in a well-designed interface that is incredibly user-friendly.
Kaspersky has a unique feature known as Security Live which is able to study your phone's settings and tell you exactly how to heighten your security. Kaspersky also alerts you to the newest spyware and malware and informs you of the latest strategies that cybercriminals are using which ensures you won't be tricked by the latest scam!
Are you worried about your passwords, medical, records, and bank details being accessed via your phone? The Kaspersky antivirus Android app is ready to help!. Kaspersky has a powerful password manager which hides all of your personal information behind state-of-the-art encryption so even if your phone security is breached hackers still won't be able to view your private details!
A great way to secure your Android is to block access to nefarious websites which is easy to do thanks to Kaspersky's web filtering feature. With this feature, you can choose exactly what sites you can and can't access. This web filter is also a great way to protect the content that your children can view online.
Kaspersky Security Cloud is available for free on Google Play. To access additional features including an unlimited VPN and receive real-time security advice, you can upgrade for the prices:
Unlimited VPN – $4.99 per month or $39.99 per year
All Access – $99.99 per month or $99.99 per year
We recommend Kaspersky if you want to achieve peace of mind knowing that your Android device is completely protected against 3rd party threats. Download it for free now and ensure your device is malware-free and your personal details are hidden!
Panda Dome – Smart Phone Antivirus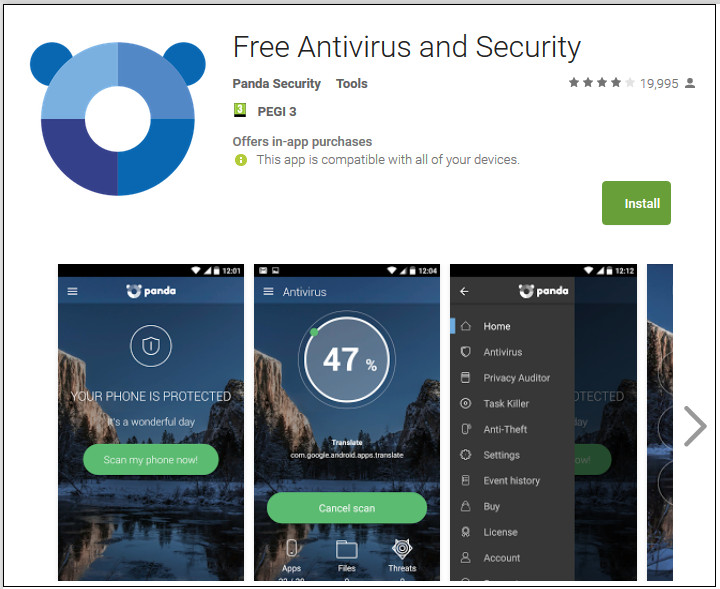 Key Features
Parental controls
Awesome VPN
Anti-theft and location finder
Panda Dome is a highly rated Android antivirus app that has proven its ability to keep your phone and tablet secure. If you are looking for a VPN, parental control and device locator Panda is a wise option!
If you think you are safe connecting to public wi-fi then think again! Cybercriminals love to prey on Android users connected to insecure networks. Luckily Panda Dome's VPN will encrypt your traffic and prevent even skilled 3rd parties from getting a hold of your personal information.
If you are worried about losing or having your phone stolen, Panda Dome has a solution! With this mobile antivirus app, you can always know the exact location of your device because Panda leverages GPS technology in your phone.
There are millions of dangerous websites out there that not only have horrible content but are riddled with viruses. With Panda Dome's parental control feature, you can instantly and automatically block these nefarious sites and keep your children safe!
You can download Panda Dome for free right down on Google Play. If you need an unlimited VPN with a whole host of locations try one of the premium deals:
Panda VPN – $37.99 per year
Premium VPN – $54.99 per year
Sophos Intercept X for Mobile – Decent Android Virus App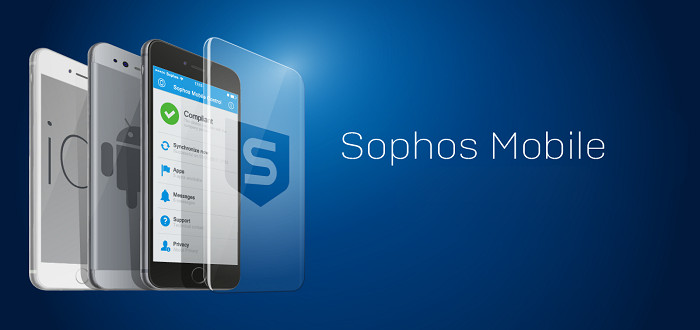 Key Features
Secure Browse
Malware scanner
Password Manager
Wi-fi scanner
Sophos Intercept is a reliable Android antivirus that protects you from malware, spyware, and other attacks. With this security app for Android, you will always be protected no matter what you are doing with your phone!
Sophos provides real-time protection against every kind of malware and spyware imaginable. With their Android antivirus scanner, you will be alerted to any potential threats and you can quickly discover if your Android device is infected.
Do you want to add an extra layer of security to your online accounts? Sophos' password manager is the perfect solution! Sophos will hide all of your passwords and log-in details behind state-of-the-art encryption so no cybercriminal will come close to accessing them.
Sophos antivirus for Android has even more features such as secure browsing which instantly neutralizes spyware and malware-infected pop-ups and links and a wi-fi scanner which stops 3rd parties from accessing your device when connecting to networks.
Sophos Intercept X for Mobile is 100% free, they do not offer a premium version and you can access it via Google Play today!
TotalAV – Great Android Mobile Malware Removal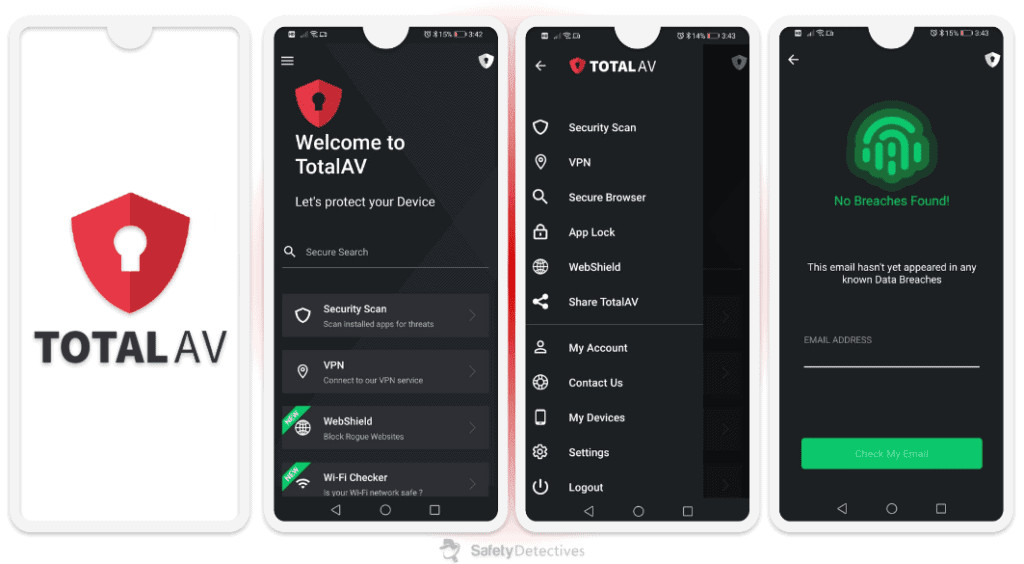 Key Features
Antivirus scanner and protection
Simple VPN
Identity Protection
Device locator
TotalAV is a fantastic antivirus for Android thanks to its well-designed user interface and extensive features. TotalAV has great reviews and is a great choice if you are looking for all-around protection.
Most people are not even aware of the dangers of connecting to free wi-fi. To keep you safe TotalAV offers an awesome VPN that fully encrypts your traffic, preventing even the most skilled hacker from breaching your Android device!
TotalAV is a highly rated Android antivirus app thanks in part to its impressive web protection. By activating TotalAV's WebShield you receive 100% protection when visiting all sites no matter if they are riddled with malware and spyware.
Do you often lose your phone? Well with TotalAV you can receive the exact location of your device based on GPS. Another great feature is data breach monitoring which ensures that you will be instantly altered if your email or one of your online accounts is compromised.
TotalAV can be downloaded for free in Google Play but if you want to use TotalAV's VPN and receive real-time web protection you need to upgrade for:
Premium – $53.99 per year
Lookout Mobile Security for Android – Great Security App for Android Phone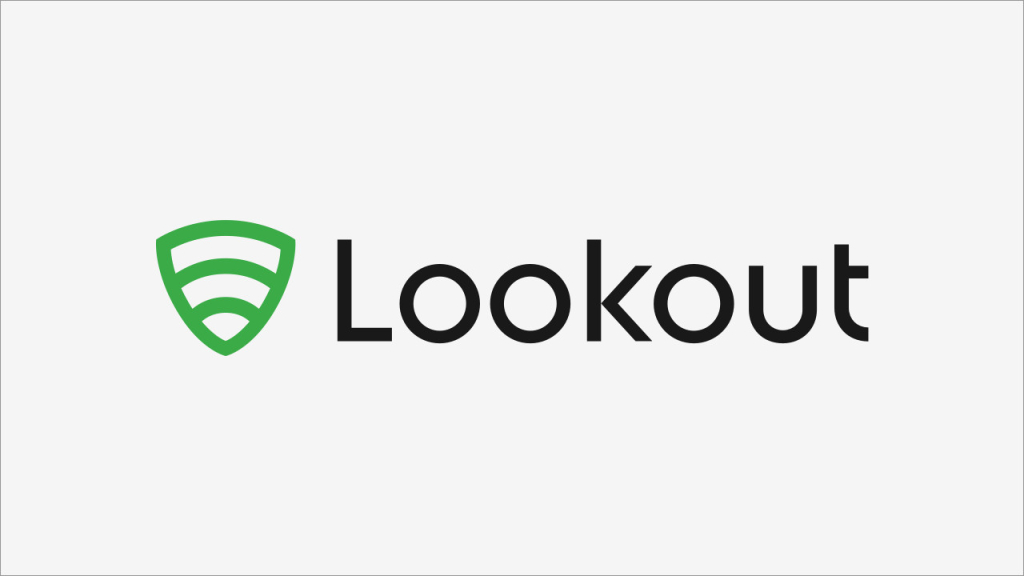 Key Features
Locate your device anywhere
Secure online browsing
Remotely clear device
Account and email breach alert
Lookout Mobile Security is a top-of-the-line Android antivirus app that is overloaded with features designed to keep you safe while online. With this antivirus for Android, you get web protection, data leak alerts, and even the ability to track your device via GPS!
Lookout ensures that whenever you use the internet you are protected from malware and spyware. With this Android antivirus app, any site, link, file, or pop-up that is infected with malware or viruses will be instantly blocked!
Are you concerned about the information a 3rd party could access if they got ahold of your Android? Well, you can breathe a sigh of relief thanks to Lookout, which allows you to completely wipe your phone or tablet remotely!
You can use Lookout for free and take advantage of their basic scanner and device locator. However, to clear data remotely, automatically block malware-infected links, and receive account breach alerts you will need the premium version which can be purchased for:
Premium – $4.99 per month or $29.99 per year
Avast Security and Privacy – Antivirus App for Android Phones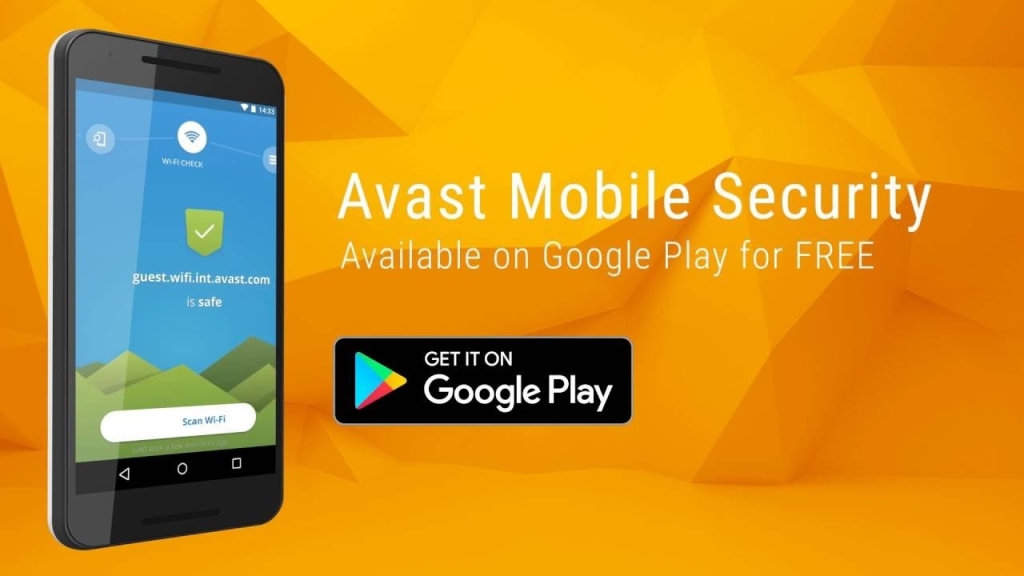 Key Features
Strong web protection
Reliable VPN
Email and account breach alerts
Spyware and malware scanner
Avast antivirus for Android is designed specifically to keep Android devices protected at all times. This is one of the top Android antivirus apps based on its fantastic features including, spyware scanning, file encryption, and a very reliable and fast VPN.
If you even have the slightest suspicion that your Android may have spyware or malware all you need to do is try out Avast's scanner and it will tell you within a few minutes if your device is infected. Avast's antivirus Android scanner is highly accurate and super quick!
Did you know your Android could be hacked every time you connect to public wi-fi? To keep safe Avast provides a top-of-the-line VPN that encrypts all of your details and prevents hackers from getting inside your phone!
Avast Security also has a great web protection feature which in real time can identify any sites that are infected with malware or spyware!
Avast antivirus for Android can be downloaded for free from Google Play but if you want to use their awesome VPN and encrypt your personal details you must purchase the premium version for:
Premium – $4.99 per month or $19.99 per year
Avira Mobile Security for Android – Malware Scanner for Android Phone
Key Features
Reliable secure browsing
Identity theft protection
Fast VPN
Anti-theft
Avira has been battling viruses and malware since the 90s and consistently produces strong security products. Avira's Mobile Security for Android is no different with a 4.7 rating on Google Play based on over 600,00 reviews!
If you just want to enjoy the internet without worrying about infecting your Android device with all kinds of nasty malware Avira has a solution! With Avira's web, any infected sites and links will be automatically blocked before you can click on them.
Avira is a leading Android app antivirus app with some great features. One of the most popular features is Safeguard which can alert you if your email or online accounts have been compromised. Other awesome features include a built-in VPN which ensures you can connect to any public wi-fi securely and anti-theft technology which provides you with exact GPS coordinates of your phone at all times!
Avira Mobile Security for Android has a basic free version available on Google Play. If you are looking for added features such as an unlimited VPN and real-time web protection you upgrade via one of these deals:
Identity & Web Protection – $14.99 per year
Pro+Unlimited VPN+Spam Caller – $34.99 per year
What Is the Best Malware Protection for Android?
McAfee offers the best malware protection as it has a real-time scanner that can quickly neutralize any threats and fantastic web protection which blocks any links and popups infected with malware.
Does Android Need Antivirus?
Yes, Androids are not nearly as secure as iOS devices and there are millions of new viruses, spyware and malware created every year. To keep your device secure and be able to enjoy the internet without being hacked we recommend you install an antivirus app for Android.
How to Protect Your Android Phone From Viruses?
The most effective way to protect your phone from viruses is to install a reliable antivirus for Android. You can also further protect your device by not visiting high-risk websites, not clicking on pop-ups, and being very careful with the files and apps you download.
Conclusion
What kind of financial and emotional harm could someone do to you if they managed to get access to your phone? To ensure your personal information stays private and your Android device is 100% malware-free you need to grab the best Android antivirus, McAfee. Thanks to McAfee, you can browse the internet safely (real-time web protection), securely connect to any public wi-fi (state-of-the-art VPN), and instantly block and remove spyware and malware (mobile device scanner). Try it out for free on Google Play now!